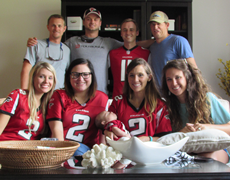 We're Atlanta Falcons fans, so there was no doubt Joy Belle would be too. (At least in our minds.) Weeks ago I snagged this adorable, #11 jersey and we couldn't wait for her to wear it for the first, Falcons game of the season.
I wish I could say Joy Belle enjoyed the game, but it was more terrifying for her than fun. Anytime anything exciting happened, everyone would clap and cheer – it would scare her to tears! And covering her ears didn't help; so she and I watched most of the game in another room.
Despite the fact that Joy Belle didn't love the cheering, I'm standing by the fact that she's still a Falcons fan… And possibly the cutest one too!
xo,
Brianne
facebook // twitter // instagram // pinterest // bloglovin'