A little late sharing, but our big girl is 9 months old last week! She's growing like a little weed & continuously conquering milestones. She's on the move, which is obvious from these blurry shots of baby below.
Joy Belle, nine months.
How old is baby?
 9
 months, 2 days.
Best moment(s)?
Hands down, when she said, "Mama!" It melted my heart.
Favorite food(s)?
Still
m
ilk. She was really enjoying sweet potatoes and carrots, but lately she won't eat any foods. She's tried peas, apples, bananas, mangos, peaches, oatmeal, and millet. 
Sleep?
She doesn't. She doesn't sleep at night or naps. Ah, we just dream of sleep.
Activity?
She's all over the place! She started crawling last month & is into everything. Just last week, she began pulling up – on the couch, her crib, me Daddy, her toys – everything.
Mood(s)?
Happy, happy, happy. We are so blessed to have a happy baby. She pretty much only cries whenever she doesn't want to sleep.
Growth?
We haven't had a check-up, but she's growing way too fast. She's outgrown almost all of her 6 months clothes & is wearing any 9 – 12 months clothes.
Favorite toy(s)?
Her dolls. She's a babydoll girl. She's obsessed with her Glowworm and really loves her new, Mooshka doll. She loves to kiss them & give them love.
What is baby's favorite thing to do with Mommy?
She loves to build block castles with mommy. She loves for us to take walks, swinging, and for me to blow bubbles for her! She also loves to blow raspberries on mommy. And acts like she's going to eat me! She really loves for me to sing to her – Old McDonald & any made-up song with animal sounds. Turns out, there are lots of animals you can replace for the fox to the beats of "The Fox" by Ylvis.
What is baby's favorite thing to do with Daddy?
She loves to sit on Daddy's shoulders & for him to flip her over his head. Lately, she loves when Daddy takes her to play disc golf. She rides in her wagon & holds the discs for him. She just smiles & laughs the whole time.
Likes?
She loves clapping, dancing, walking outside/strolls, anything she can chew on, using a straw, FaceTime with Aunt Bethany, music, daddy, mommy, her grandparents & Chipper, her puppy. She likes to cuddle before naps and bedtime. She's into grabbing and reach for things. She likes to swing and bounce. She's really into hearing herself make noises, so she squeals and giggles a lot. She likes to chase Chipper & watch him catch bubbles.
Dislikes?
She's still not a fan of putting on her new shoes/brace. She doesn't like for mommy or daddy to leave the room. She doesn't like to take naps or going to bed – basically sleep. She (like her mommy) hates to be aggravated. She doesn't like to have her nose wiped.
And I'm adding a couple of new questions,
Is baby doing anything new?
Yes, she's crawling & pulling up! She's all over the place. She's also started to make this squishy look that I'm convinced is her "fake smile." She's also got this super cute, kissy face that she makes when we ask her what does the fish do. And she's a pro at the high five!
How many (if any) teeth does baby have?
Two, her 2nd tooth popped in about a week after the 1st one.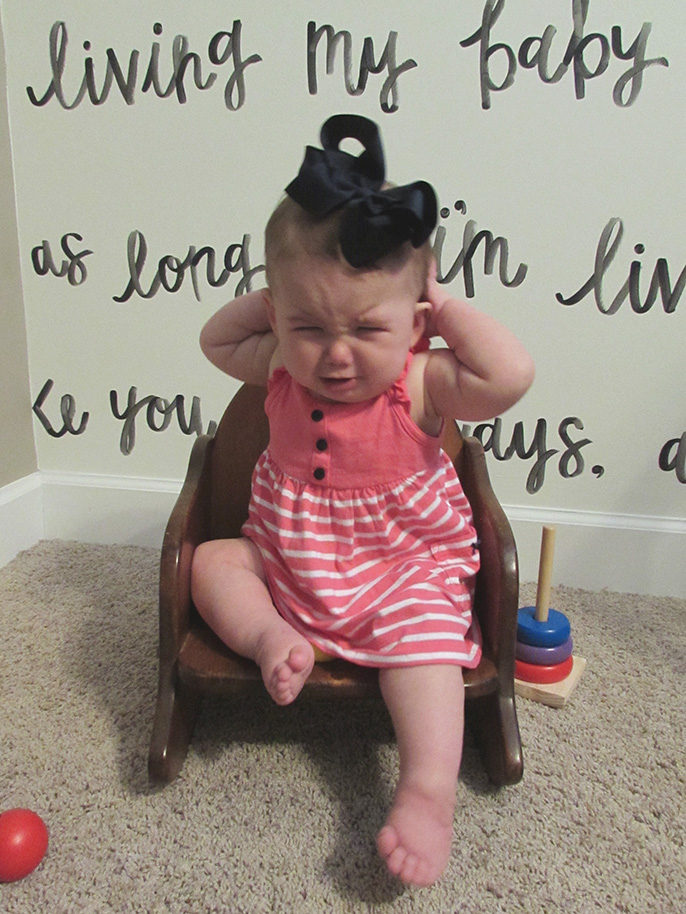 And that is Miss Smile-a-lot, saying she's over the mini photo shoot and proof that she isn't always smiling. And in case you need further proof, I shared this pitiful photo of her crying here.
facebook // twitter // instagram // pinterest // bloglovin'