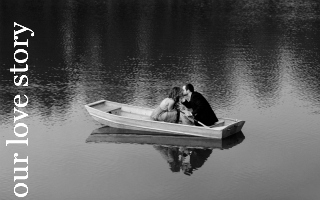 After years of homeschooling, we met in the halls of Sherwood Christian Academy. (Yep, we were both home schooled children.) Back then, neither of us would have ever predicted our future relationship. Despite our grade difference, it seem implausible that we'd ever date. At the time we were both in relationships and socialized in different circles, yet… I can't deny my attraction towards his fun personality and bulging biceps. And, whose to say I didn't have Mr. Heape's interest? Apparently on my last day of high school, we both gained the courage to sign his/her year book. I still have a vivid memory of standing outside the guys gym, beside my Senior year locker and asking him if he'd sign my yearbook.
Fast-forward through high school and here we both are at Darton College. I don't remember the date or time but I was sitting on a bench in the middle of campus, when low and behold Justin appeared. I remember us standing around talking for awhile, discussing the next semester's schedule, and realizing we would share a few courses. One, very special kiss and two semesters later, we were to the just friends status.
After Darton College, we began to master the long distance relationship. While Justin attended Auburn University, I attended Columbus State University. (approximately a 40 mile distance) After my graduation in 2009, I temporarily moved to Valdosta, Georgia to live with my sister – and he moved back to Albany. (approximately a 90 mile distance) In the fall of 2010, he transferred to the University of Georgia and I made the move to Savannah. (approximately a 230 mile distance) That's 10 different zip codes we've lived in throughout our relationship.
In the fall of 2010, Justin asked my daddy if he could marry me. I had no idea until… September 1, 2011 when Justin asked me to be his wife. After spending months planning the details of our wedding and preparing for our marriage – we said, "I do" on May 5, 2012. Today, we are busy with new jobs, settling into our first home, and enjoying each minute together. Our Love Story is a never-ending tale of our growing love for each other. If you would like to keep up with Mr. and Mrs. Heape, follow our blog and get to know us!
If we love one another, God lives in us, and His love is perfected in us. 1 John 4:12