Wedding plans consist of lots and lots of details. From flowers to invitations, each decision is vital when planning a wedding. Throughout the decision process, I've tried to keep one common factor in mind – uniqueness. Over the summer, I attended a shower for a good friend. It was here that the idea of mix & match china first came to mind. At this shower, we dined on hors d'oeuvres served on various scalloped edged, round, and square everyday china. Seeing the variety of dishes, allowed me to envision a unique idea for my one day reception.
Well one day is here and I decided mix & match china is what I want for our wedding reception. After much thought, I decided it couldn't be too difficult to find various china plates at estate sales, garage sales, or antique shops. With my mind made up, I set out on a mission – to find mix & match china.
To be honest, I hit a goldmine. After two yard sales, I found tons of old, fine china. I asked for a box and began stacking dinner plates, salad plates, and saucers. Before I knew it, I'd packed two boxes full of miscellaneous plates. Total… $15.00! Like I said, I struck gold.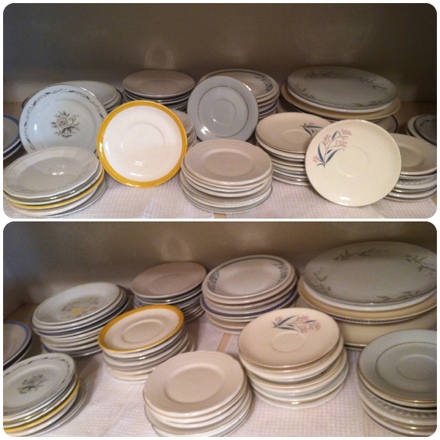 Anyone who would like to assist in collecting various china pieces for our wedding day, it would be greatly appreciated. We still have a long way to go!