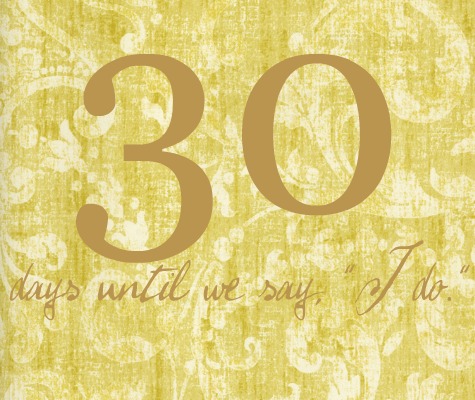 With only 30 days left until Justin and I become Mr. and Mrs. Heape, we thought we'd share with you a few of our favorite times together. Over the last few years, we've managed to create a lot of memories.
30 of our favorite memories together
New Year's when Justin first told me, "I love you."

when Justin surprised me with tickets to see the Hawks in the play-offs

Spring Break 2007 with some of

our best friends

A-day in Auburn

breakfast from Michael's in between classes at Darton

sneaking corn dogs into a movie for our Halloween date

taking turn reading out loud

Decision Points

on our road-trip to Helen, Georgia

our road trips to the beach with Bethany (all of them)

our first kiss

being snowed in at the airport in Colorado, sharing a veggie wrap, and playing cards

dinner at the Red Bar the night of

the proposal

skiing down the mountains in

Steamboat Springs, CO
our New Year date

to the Falcons game

watching fireflies on a hiking trail in Athens

 seeing Justin's name on a list of

graduates at the University of Georgia

a spontaneous, Sunday afternoon date to the Falcons vs. Saints game in Atlanta

a pizza and DQ blizzard date in the Jeep before Brianne had to head back to Savannah for the week

double date with Kyle and Kaitlin to a hole-in-the-wall pizzeria in Helen, Georgia
brunch at Girasoles

in Athens

the Braves game where we ended up below the stadium with the players

the trip to the Bear Hollow Zoo in Athens

our date to the midnight showing of Twilight

Brianne's 21

st

birthday dinner at The Catch

a day in Auburn when we packed a lunch and went to see a secret waterfall

the first year Justin came on my family beach trip – we had a blast on the party barge

UGA

football games
Justin's 23rd birthday date

to see the Falcons stomp the Titans

our

Valentine's day

in Savannah
Please note, this list is in no particular order.
If you have a fond memory you've shared with the two of us, please share  – we'd love to hear!