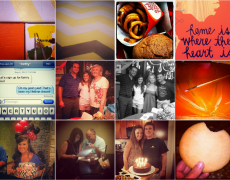 That whole, let's-slow-down-life concept I've been trying to incorporate into the Heape home… it's failing. As much as we try, it seems our lives are just flying by and we stay so incredibly busy. So busy, last week is somewhat of a blur but I'll do the best recap I can muster. (Maybe it was the short week we had?)
For me, there has been a lot of painting going on! Painting has always been my passion, specifically crafting. Something about the hobby is relaxing and has a way of relieving stress – so, it's been great to be busy and to paint with a purpose. Sorry for the plug, but if you haven't checked out our Etsy shop, Chevvy & Ron's – you should and can do it by clicking here. (For those of you who don't know what I'm talking about, you can read more about me following my dreams here.) I said all of that to explain why lots of my Instagram photos include paint/paintings these days.
On September 6th, Arby's offered their new, Turkey Roasters free! I'm not a big fan of Arby's, but I love free food. (Is that embarrassing to admit? Okay, no shame. Free food is great!) So, I took them up on the offer and added a side of curly fries for the full, Arby's experience. My opinion… it was eh. It was great for free (like I said before, free = great), but I probably would have been disappointed if I'd paid $7ish for a turkey sandwich with bacon! Just being honest. I'm a Chick-fil-A/Zaxby's kinda gal when it comes to drive-thru dining.
Later that same day, I received possibly the best text message ever from my sister. It said, "Let's sign up for Family Feud." Yes, please! It may or may not have been something I dreamed of as a child. Not to mention, we'd rock at that game show. In fact, I feel certain we'd have good odds at winning! Now, if I could only convince Brian and Justin to get excited about this…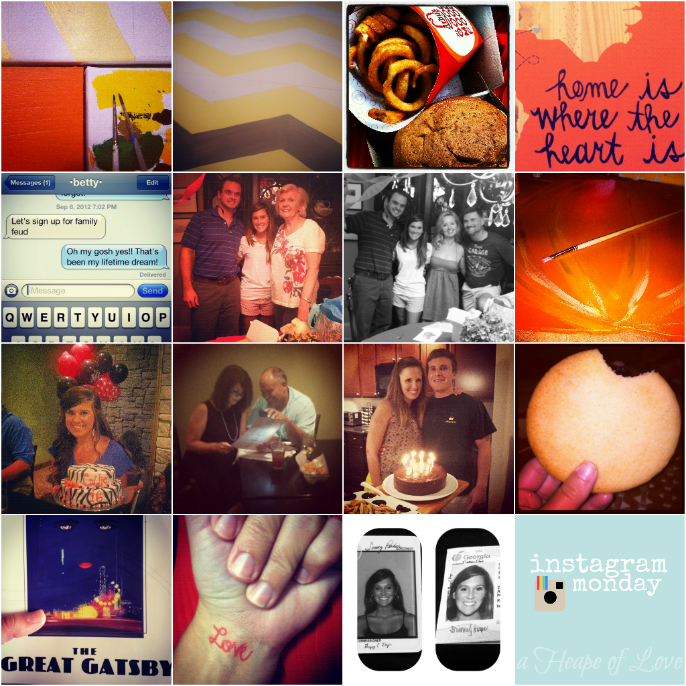 On Thursday evening, my in-laws invited us to dinner to celebrate my birthday. (Better late than never, right? Agreed.) Surprised I was when I noticed pink streamers, confetti, and gifts! Not to mention, they cooked all of my favorite foods. Shrimp & fish tacos, black bean & corn salsa, jalapeno poppers,… is your mouth watering yet? Mine is! Oh, did I mention homemade, sugar cookies? No? They were a-mazing!
Friday evening was spent with our awesome, Sunday school class at the Harris' house. (Thanks for having us over, Julie & Scott!) We had a blast getting to know other couples (along with more about each other) during the Newlywed Game. Quite frankly, I was surprised at how difficult the questions were.
Examples:
Do I use Justin's razor? My answer, no. J's answer, yes.
What is Justin's favorite band? My answer, ACDC. J's answer, the Eagles.
What is Justin's dream job? My answer, managing a plantation. J's answer, a professional baseball player.
We did get a point for these two, so obviously J knows me better than I know him,
What's Brianne's favorite food? We answered, tacos! Ding, ding, ding.
What's Brianne's shoe size? We answered, size 5! Ding, ding, ding, another point for us!
Sadly, we lost this game. But, we're ready for another round if there are any takers!
We continued the birthday celebrations on Saturday. Surrounded by family, we surprised Callie for her 16th birthday party! Happy Sweet 16, Callie!
It was at her birthday dinner that the photo of my Mama and Daddy was snapped. It was a moment worth capturing – Daddy using his cell phone light to help Mama (in the reading glasses) read the menu! It. was. a. sight. Although, I'm not poking fun because I'm sure I'll be the same way (if not worse) in 25 years.
Oh wait, another birthday? Yep, our new, newlywed friends and neighbors, the Jones' invited us over for David's birthday! We enjoyed some fabulous hamburgers (grilled by the birthday boy), met more new friends, and challenged each other to a game of Scattergories. Not bragging or anything, but…. the Heapes dominated! We may not be good at the Newlywed Game or Cranium, but we've got that word game thing going on.
Our weekend drew to an end, like they always do – not quite long enough. However, I enjoyed many more of those homemade, sugar cookies and finished rereading The Great Gatsby. (I'm so, so excited about the new movie coming out!)
And… I'm proud to announce that I finally completed my "change your name" checklist! This past week, I renewed my driver's license. Why do they have to zoom-in for that super, close-up angle that makes no one look good? Yuck.
hope you have a great week!
the newlyweds
ps. Sorry for the abundance of posts, we experienced some technical difficulties over the past couple of days. So, you're getting lots of late posts – our apologies!