It's that time again; it's Instagram Monday. Why are Mondays so challenging? Two cups of green tea and I'm still fighting the Monday morning drowsiness. There is something about the weekend ending that just makes Mondays so blah and dreaded. To change up this weekly post a bit, I'm going to start by attempting to list listing 5 great things about Mondays…
Monday Night Football, especially since the Falcons play tonight
today just so happens to be this sweet girl's birthday
it's the start of a new week (could be good, could be bad)
we're alive, healthy, and extremely blessed with a new day
Marcy at the Post Office, this lady is awesome (we typically ship out Chevvy & Ron's products on Mondays, so I see her & she makes me smile)
Ah-ha! I did it. And, I may could have listed more.
Now we can move onto more monotonous things, like my Instagram photo recap from the last week and weekend.
Please let me preface, Justin and I both had quite a busy week which resulted in me spending a lot of time with Mallory and her sweet littles. Which explains why there are so many pictures of the McBride littles. Besides, it's not like I can resist a little paparazzi action when they're around – they are just too adorable.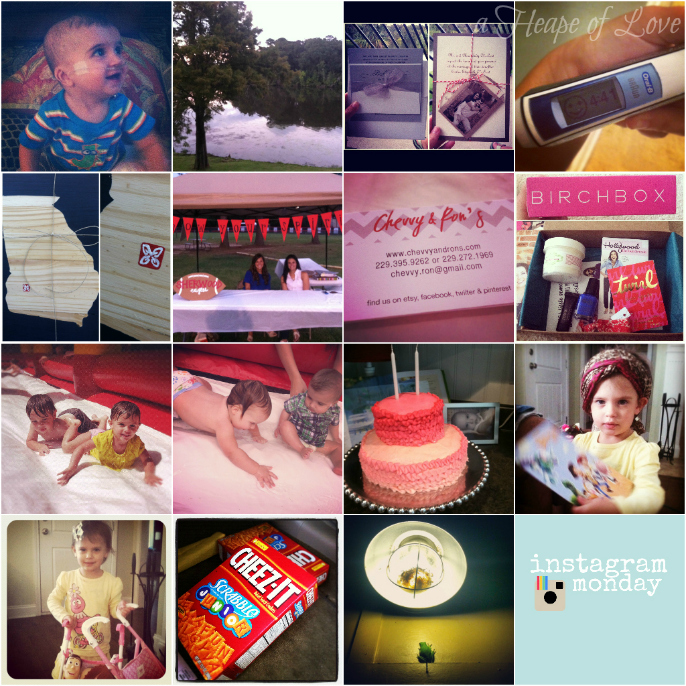 Aside from the weekends, Mallory and I try to use Monday evenings for our Chevvy & Ron's projects. It's kind of a brainstorming, regrouping, get our business in order, knock-out the orders session. And, Mondays work best because our husbands are preoccupied with their Monday night, flag-football games. Last Monday was no different, which is when I snapped the sweet photo of baby James. He's such a happy baby.
On Tuesday, Justin and I enjoyed a little R&R on our back porch. It's always a good day whenever the evening is filled of quiet time with my husband. Together we sat, talked, laughed, and soaked in the crisp breeze, while enjoying our view. Saying it was great, is an understatement.
Don't be alarmed, photo #4 is NOT a pregnancy test. Most of my Instagram followers thought I had a really big announcement this week, wrong! The photo is actually of my new, very nifty toothbrush. It's so neat; I get a smiley face whenever I've brushed for over 2 minutes. Not to mention, I've only been using it for a week and I've already noticed visibly whiter teeth.
This past week, I made a Chevvy & Ron's delivery to a very sweet friend. She ordered a custom, state art of Georgia with the Hilton Garden logo over Albany for a gift to the General Manager. Not to brag, but I think it turned out darling! (We love all of the custom orders, so keep 'em coming.)
On Friday, Mallory and I geared up for a night at Sherwood Christian Academy's home game. As a fundraiser for the cheerleaders, Chevvy & Ron's will be donating a percentage of the proceeds from all SCA door hangers sold. You can read more about this project here. It was that evening that we debuted our new, business cards. How cute are they?
Saturday was big for us. First, I received my September Birchbox. It was filled with lots of awesome goodies, including this lace twistband® – perfect for fall. Maybe my favorite box yet! After unveiling my goodies, it was time for Beau's 2nd birthday party – complete with Pinterest activities and inflatables. The littles had a blast and so did the adults. See that ombre, pink cake above? Um, homemade. Way to go, Mallory! It was as delicious as it looks.
After the party, Justin and I headed to the Barbre Family Reunion. Our first, family reunion since, you know – we've been married. (The Barbre family is Mr. B's side of the family.) It was a hope, skip, and jump to get there, but we made it just in time for family photos!
As quickly as we arrived, Justin hustled us away because… well it's hunting season, duh. So as Buddy and Justin drove off on their hunting expedition, Mallory and I enjoyed watching Beau play with all of her new toys. She may have put Woody and Jessie in the buggy, out of the buggy, in the buggy, out of the buggy, etc. a half a bazillion times. We literally laughed out loud though, whenever she put stickers in her hair and I tried to snap a picture. It went something like, "No, Me! Noooo! No, Me! Nooote!" It was hilarious. Two seconds later, she wanted to see the pictures. Little, bossy baby. Isn't she just darling in that turban? She's showing off her new, "Oody" card she got at her birthday party.
When our weekend came to an end, we were greeted at home by our little friend. I've named him Kermit, even though Justin thinks that's too original.
Somewhere in this past, crazy, busy week, I tried a hummus recipe. I'll be sharing more on this later!
for now, that's all folks!
the newlyweds