Some of you may know, Liz (if you don't… you should!) from that weekend in Foley Beach or that time we assembled 100s of invitations; yea, she's pretty awesome. I met Liz in Savannah (according to the Book of Face, that would be December 2010) and she made my time in Savannah incredible. She's not only beautiful, but a great friend, the best hostess, hilarious, darn good cook, and phenomenal generally. And… it just so happens today is Liz's birthday! A special thank you to Kelly Solomon for this super sweet lady, without her my life wouldn't be the same.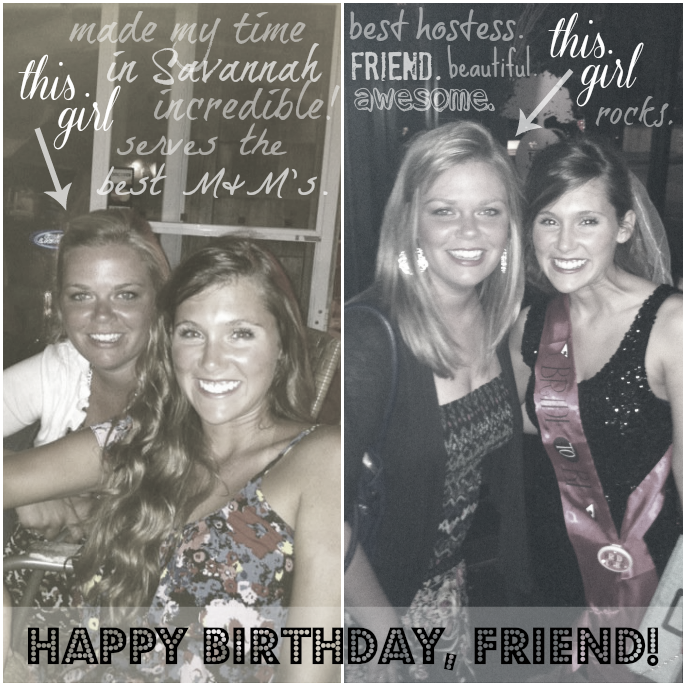 To celebrate, I'm sharing a few of my favorite things about Liz and reasons I love her. (Brace yourself, Liz and get prepared to laugh!) Please note: these are in no particular order, other than the order they came to mind.
memorable St. Patrick's Days, from early mornings to loosing iPhones to barging into old lady's apartments, the list could go on
walks with Lola
Sunday afternoons at Social
spontaneous, midnight Haunted Hearst Tour
hours of the Casey Anthony Trial and seriously contemplating driving to Flordia to watch it live
many, many networking socials (even in the rain!)
the weekend we met Lanier, aka Taylor Swift
the awesome shower you (& others) hosted for me
incredibly scary, possibly life-threatening cab rides
numerous beach days on Tybee
late night karaoke
laughing, talking/yelling, and crying on your couch
Julie demonstrating how she'd be doing laundry in Atlanta
the Wild and Wonderful Whites of West Virginia
sushi dinners
game nights
our last dinner at the Rocks on the Roof, where we may have both cried
the weekend Bethany and BR visited
teaching me how to make Nini's… forever grateful
meeting that random, Disney star
all the wonderful dinner parties you hosted
the hours of Kevin Hart comedy
helping me pack by throwing everything in the box with hangers & labeling the boxes, "what were you thinking?" and "clothes from high school"
my last week in Savannah, you helped me survive and we managed to eat at all of my favorite spots = success
tying 100+ pieces of twine around each of my wedding invitations, only a true, really awesome friend would do that
teaching me how to cook broccoli the Schorr way – which is now a Heape home favorite
our night out on the town with Lindsay
when my bags were packed, the car loaded, & I had no where to go on my last day in town… you made it A.O.K. as we lounged on the beach, watched Bobby fish, & reminisced on all the good times
For more posts about Liz, you can click here, here, here, or here.
Just a few more for fun… according to Facebook:
we have been friends since December 2010 we've attended the Savannah Craft Brew Fest and Bon Voyage Sam Evans You Won't Be Missed together we have 56 mutual friends we share 10 common interests
I miss you, Liz! You and your mister. I hope your special day is at least half as awesome as you are! Please celebrate your birthday like it's 2 AM, we're at Wild Wings, and Bobby doesn't know we just ordered a round of jager bombs – because that would never happen!
I love you, friend. Happy Birthday, Liz!
xoxo,
Brianne