It's so hard to believe that just 6 months a year ago, two of us four ladies would no longer be Savannah residents. After two proposals last fall, Julie and I packed our bags and moved. Julie moved to Atlanta to be with her fiancé and I moved back home to be with my love. We shed tears, complained, reminisced, cried some more, and used every occasion you could imagine to spend time together. We counted down the days until we had to say good-bye. Now, we count down the days until we see each other. Thank God for shower, weddings, and parties!
How we met.
I've known Megan most of my life. In fact, we met shortly after I was born in the nursery at Poulan Baptist Church. During my time in Savannah, we became closer than ever – we even worked together! Which is how we met Julie and Liz. Julie and Bobby (Liz's husband) actually worked with Megan, until right before I started my job at Visit Savannah. Now backup a bit more… Julie is from Albany and our dads have worked together at Mitchell EMC for over 20 years together. Crazy, huh? We never met in Albany, but the Lord took us 4 hours from home to work in the same office and finally meet!
Summary, we are all connected through Visit Savannah/Savannah Area Chamber of Commerce one way or another. And, these special people are the reason I love Savannah so much. They made my time in Savannah so much fun!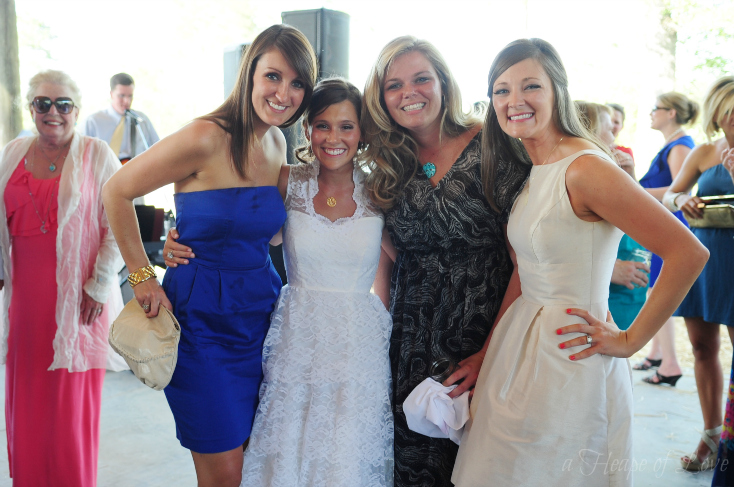 (Left to right: Julie, me, Liz, and Megan.)
During our time together, we spent countless nights gossiping on Liz's couch, flipping through magazines, attending/hosting dinner parties, watching YouTube videos, eating sushi, complaining about work, celebrating engagements, sipping Nini's on the beach, talking weddings, dreaming about a pay raise, singing karaoke, and everything in between.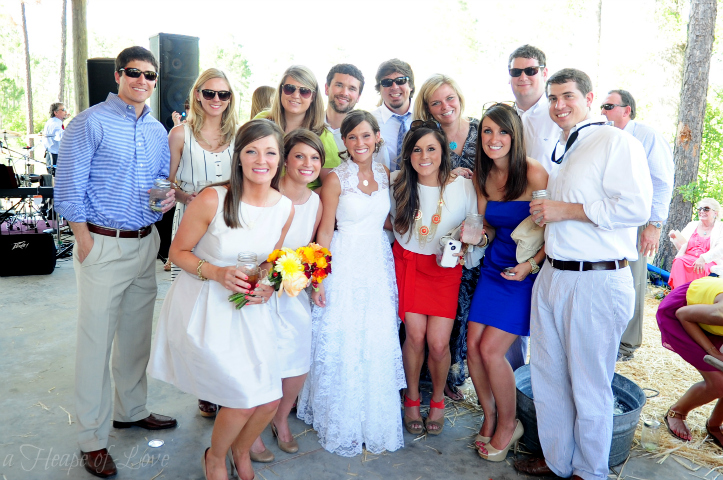 (Top Row, Left to Right: Matthew, Holly, Kelli, Greg, Derrick, Liz, Bobby, and Sam. Bottom Row, Left to Right: Megan, Sarah, me, Roxy, and Julie.)
Now, I could write a book about how I met each of these people and how incredible each of them are – but, I'd rather ramble about how much I miss each of them. In a matter of time, life happened and we were torn in all different directions. Engagements, new jobs, promotions, and marriage. Albany, Atlanta, Douglas, Tifton, and Savannah. Miles apart, but close at heart. I've been blessed beyond words to have such amazing, Christian friends (Justin seconds that!) and I miss them.
Don't get me wrong, I love my life in Albany… I love being married to Justin, coming home to the man of my dreams, and having our families nearby. I love it. But, nothing can replace afternoon walks, late night lounging, beach dates, and crafting with these people. I miss them every day. Everyday.
Now enough with the sentimental blah, I needed a good laugh and I think you all may enjoy this. For Bobby and the rest of the gang…
I miss you all so much! Especially on Friday's, when we'd normally be making plans for dinner and a late night…
happy Friday, friends!
love, B