It's Instagram Monday… again! And, it's been one extremely busy week.
Last Tuesday, it was baby galore. Seriously. First, I received a picture from former co-workers, Larry and Shelley holding a sign that said, "Hey B! Question: Are you pregnant yet??" To answer the question for those who are curious, NO! We are not expecting any babies, nor are we trying – and for the record, we would not make a big announcement in that manner. (Just a little FYI.) Now, this photo may seem weird to you – however, coming from Larry – it's not weird at all. In fact, during my time at Visit Savannah I'm pretty sure he asked me this question on a daily basis. It's just become a running joke. Second, I received a call from these sweet, Giles girls letting me know the baby was on her way! Sure enough, Preslee Layne Sutton was born on July 17, 2012. Congratulations to my childhood friend, Lindsey and her husband, Robert. She is such a doll. I was able to meet her that evening and she is beautiful.
That same evening, Justin and I had a very special house-guest. Justin's college roommate was in the area and stopped by for dinner – my (new favorite) fish taco recipe! Thanks for stopping by, Ty.
Later in the week, we made it downtown for lunch at Cafe 230. I ordered the special for the day: fried chicken, with black-eyed peas and collards! The atmosphere, food, and service is impeccable and it's convenient for us to meet during a work day. If you're in the area, you should definitely stop by and try the special – it's always a winner.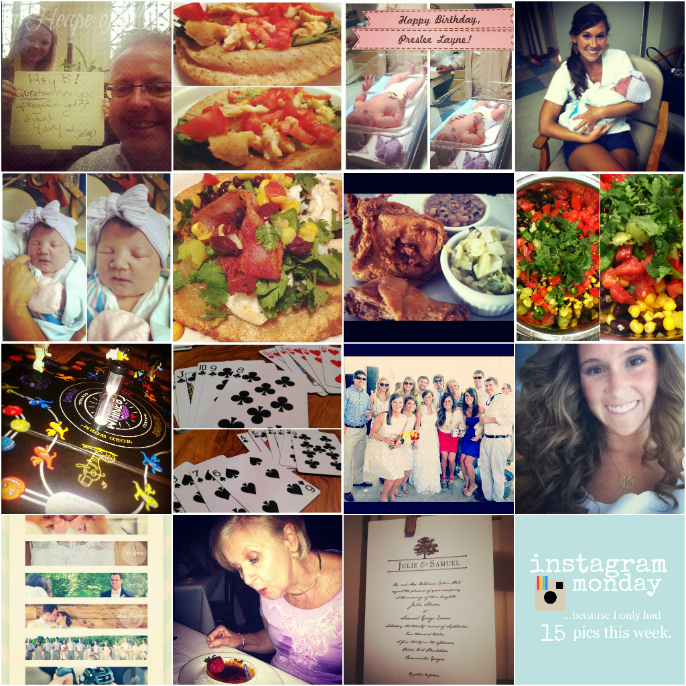 The photos don't lie, I'm pretty obsessed with good eats – especially fresh, summer veggies. Living in south Georgia is such a treat during the summer months. We have an endless supply of tomatoes, peas, peppers, herbs, watermelon, peaches, and peanuts! Yep, the south is near to heaven. With so many fresh favorites, I've been making this healthy snack often. As in almost every night of the week, with slight additions – like banana peppers. It's too easy not to, especially when Justin loves it as much as I do.
One lazy evening together, we whipped out the cards (one of our favorite, together things) and played a hand or two of Gin. Not bragging or rubbing it in anyone's face, but I won. Every time.
We also challenged these friends to a game of Cranium… and we won. Man, I'm on a roll with this not-bragging thing.
Friday, I was really missing my Savannah friends. As most of you know, I lived in Savannah for two years and recently (as in two weeks before this day) moved back to Albany to be with my love. So… I'm still (and probably always will) missing my closest friends and co-workers. I said all of that to say, that's the reason for the group photo above and for this post.
To kick-off the weekend, Justin took me on a double date with the McBride's to see The Dark Knight Rises. Our overall review was 7 squirts – it's Batman, it can't flop… but, The Dark Knight was easily 10 squirts. In my opinion, there just wasn't enough of the Batman. I wanted to see more. Not to mention, who the heck is Bane? Okay, I know who he is but in comparison to the Joker… If you've seen The Dark Knight Rises, I'd love to hear what you think! (In all seriousness: Our hearts and prayers go out to those in Aurora, Colorado.)
On Saturday, I finally finished uploading our wedding photos. You can view them all here. And, we celebrated Meme's birthday! (We love birthdays!) We went to Henry Campbell's (the location of our rehearsal dinner) and enjoyed creme brulee for dessert. It was all so delicious. Perfect for a fancy, date night in Albany – very romantic, delectable eats, and great service.
How did you spend the last week? Did you celebrate anything special? Share your week's highlights with us, we'd love to hear about your week and weekend!
happy Monday,
the newlyweds