Ever since the day our cake topper arrived in the mail, I've known that one day I'd frame it. With our silhouettes chiseled into acrylic and the details so precise, I envisioned a shadow box frame with a chevron print backdrop. Unfortunately I couldn't find a chevron pattern that I really loved, so I was inspired to use pages from an old hymnal I've been hanging on to. (This old hymnal has been used for many of my various projects, including props for our engagement session – see here.)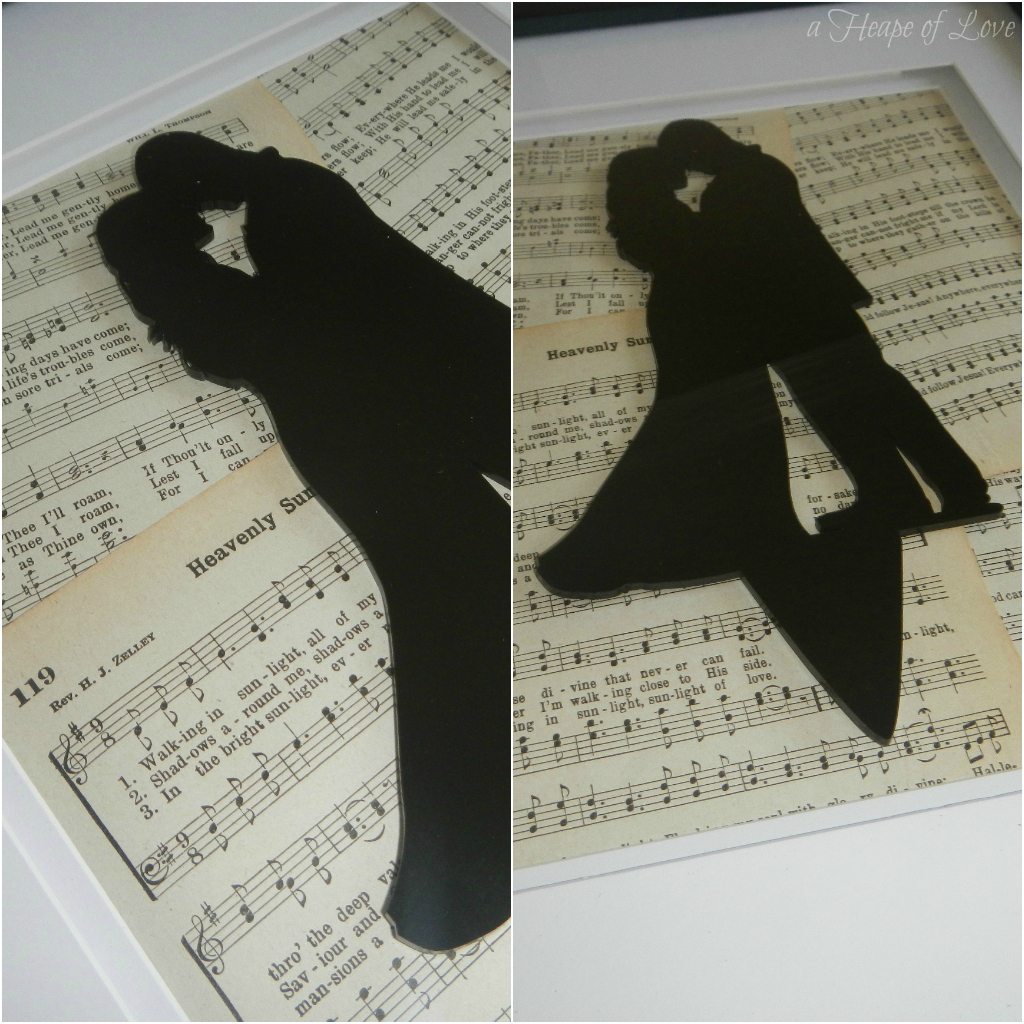 With a frame I found on sale at Michael's, a few special hymns, a cotton ball* and the topper… voila, finished product. Maybe I'm bias, but I love it and am positive it will look exceptional on our future gallery wall!
*Cotton ball, random I know. I couldn't find a way to keep the topper from sliding all around – so I stuck a cotton ball between the topper and the back of the frame. Worked like magic. Talk about creative.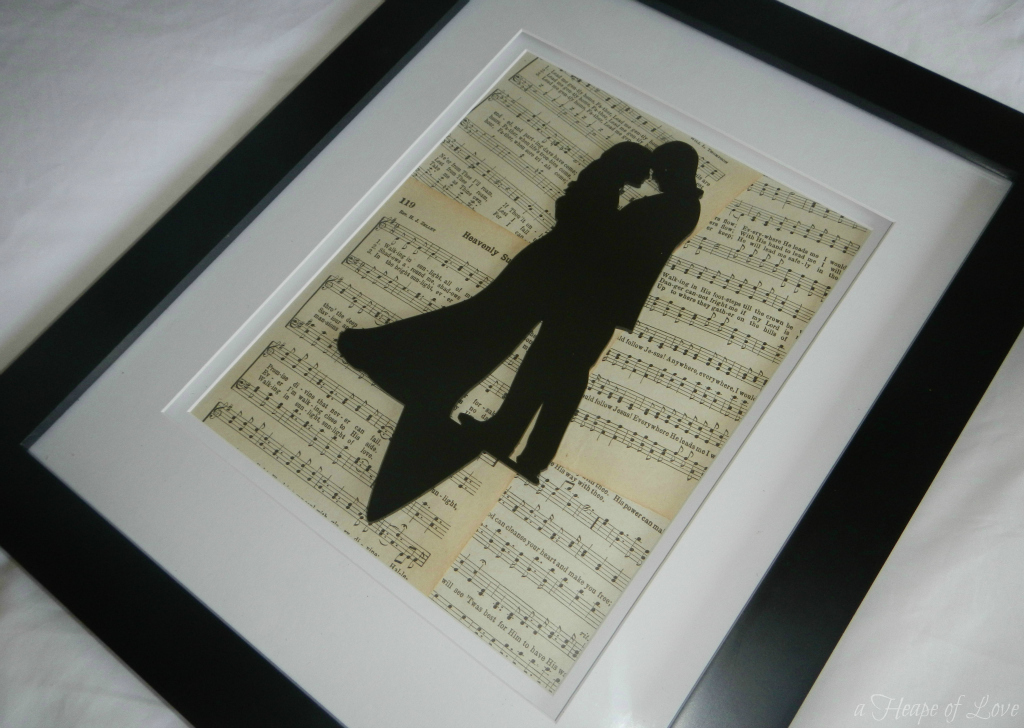 Our cake topper came from Simply Silhouettes – which was actually one of my first pins ever on Pinterest, long before the proposal. Not only were we 100% happy with our purchase, but Angela was great to work with and extremely timely. We are such big fans of Simply Silhouettes – I've promised her future business for years to come!
If you look closely at the silhouette, you will notice that it's us – yep, it's actually the bride and groom! In fact, you may recognize our silhouettes from this photo taken during our engagement session. How awesome is that? (You can actually see my eyelashes, although it's too small to tell in the photos above. Now that's incredible detail!)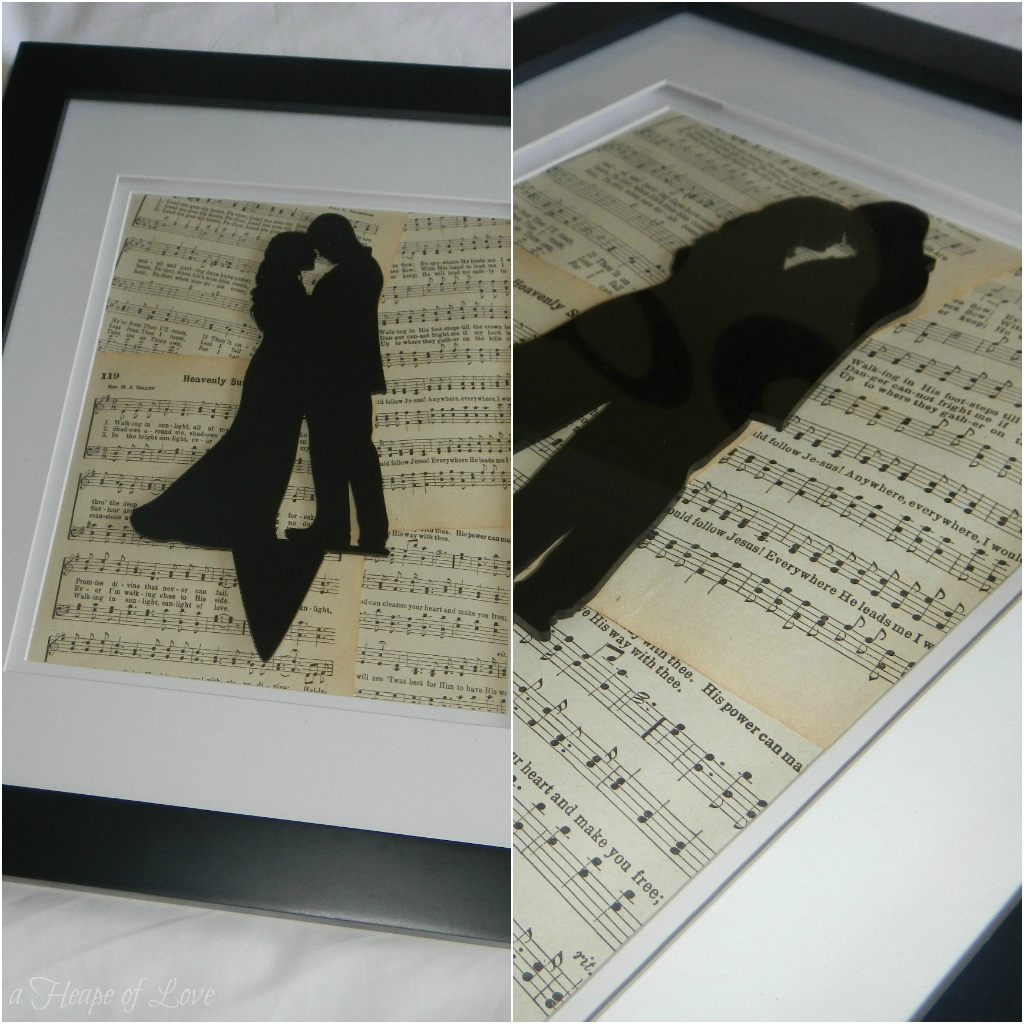 Now, you may be curious as to why I've titled the post Lead Me Gently Home. Well if you're really observant, you may have noticed the phrase is in the lyrics of one of the hymns we used as the backdrop – Lead Me Gently Home, Father.
Lead me gently home, Father
Lead me gently
Lest I fall beside the wayside,
Lead me gently home.
Throughout scripture, we are continously reminded that the Lord will never leave us or forsake us.
Psalm 16: 7-11 (NASB)
I will bless the Lord who has counseled me; indeed, my mind instructs me in the night.
I have set the Lord continually before me; because He is at my right hand, I will not be shaken.
Therefore my heart is glad and my glory rejoices; my flesh also will dwell securely.
For You will not abandon my soul to Sheol; nor will You allow Your Holy One to undergo decay.
You will make known to me the path of life; in Your presence is fullness of joy; in Your right hand there are pleasures forever.
The Lead Me Gently Home, Father lyrics and the scripture above serve as a reminder, for Justin and I to set the Lord before us. He will not abandon us. In Him, we will not be shaken. In His presence, we will be filled with joy. He will make our path of life known. He will lead us gently home.
As you go throughout each day, how are you reminded of the Lord's unconditional love?
hope you have a wonderful Wednesday,
the newlyweds