Another busy week in the Heape household, with birthdays, painting, travels, spending time with family and friends, and the everyday tasks – we're back with Instagram Monday. It's our recap of the past week through Instagram photos.
On Monday, I was really missing my long lost, Savannah friend, Liz. So much, I had to show her that she's plastered to my fridge (on my new, Instagram magnets), just so we can see her pretty face everyday!
A trip to the post office brought home these incredibly awesome, Ronald Reagan stamps!
In attempt to correct the two-totally-different-blues in our living room, I went to Lowe's on a mission to bring home the perfect orange paint. (We ordered a blue, accent chair for our living room, but I forgot about the color & painted our coffee/side tables blue too. The wrong blue!) However, my love for the color yellow made it complicated. I just couldn't decide… orange or yellow? Pumpkin spice or Late Afternoon Sun? Toughy, huh? After going to my Instagram friends for advice, I surprised myself and went with a neutral. (More on this later!)
One mug full of milk and a peanut butter, whole wheat bagel served as our late night snack on evening. Any one else drink Almond milk?
On Tuesday, this pretty, pregnant lady cut and styled my hair. Thank you, Lindsey – it was much needed. Hair done, check. Nails done, check. I'm stylin' and profilin' for my husband this week!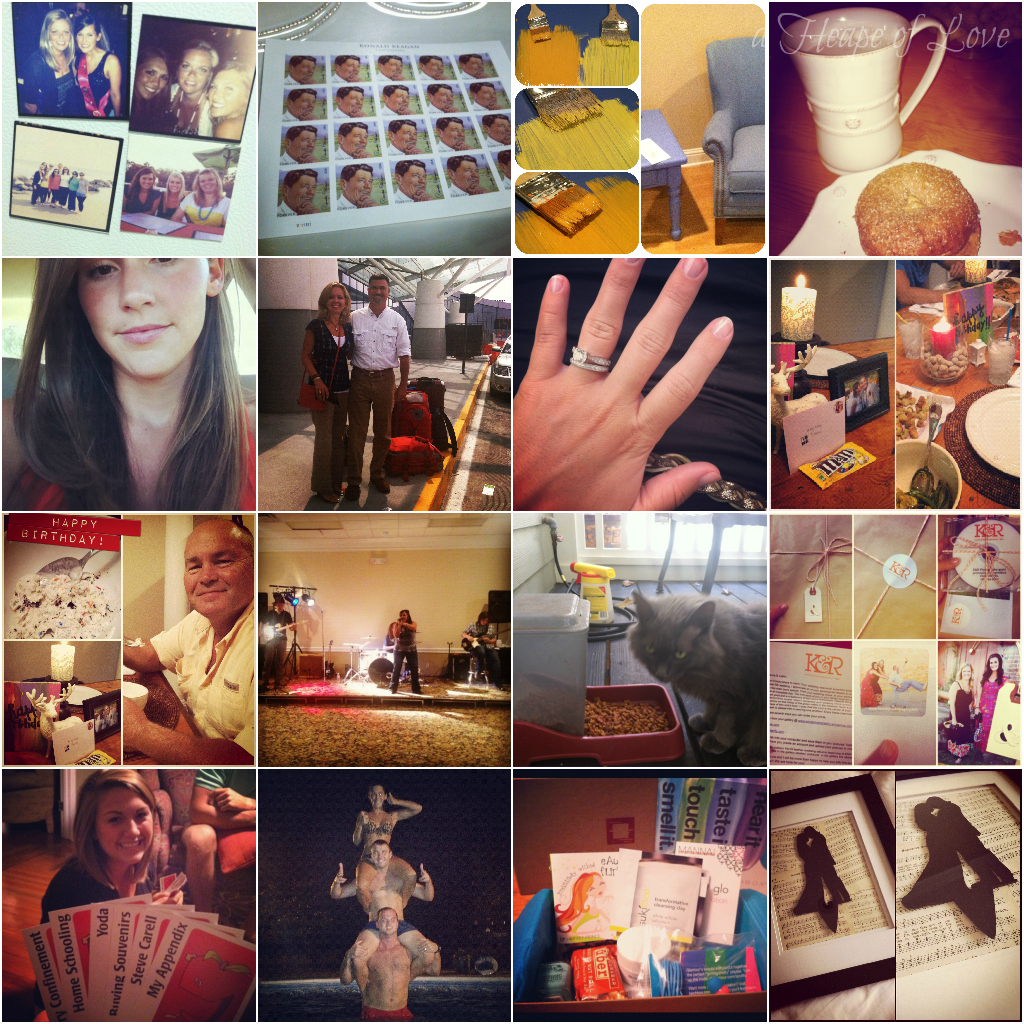 We invited my family over to celebrate Daddy's birthday with us and dinner was delicious. It was a great treat to spend some time with my family and to have them over to see our new place. It was my first time trying fried okra – so glad my Mama was there to oversee.
Thursday night, Justin and I attended DOCO Credit Union's Memories and a Mustang raffle to benefit the Alzheimer's Association. It was a backward raffle for a 1966 Ford Mustang – too bad our ticket was one of the first 25 drawn. Above is a snapshot of Faith Jackson performing for the benefit.
On Friday, we stopped by the in-laws to visit and see their stray cat that they've basically adopted. I'm not a cat person, sorry if that offends anyone. Later that afternoon, I was surprised with a lovely package from our wedding photographers. Kim and Emily (with K&R Photography) delivered our wedding photos! Feel free to clap, cheer, yell, jump up and down – I did. Hopefully, we'll have them up on here any day now. With 1700+ photos, we are trying to pick our favorites.
We spent Friday evening with the Glows, the future Griffins, Trevin, Justin G., Kelly, and Wesley. The intent was to grill out (steaks), but we were a bit late –  so with DQ burgers in tow, we arrived fashionably late. We ended the evening with a game or two of Apple to Apples – which Justin nor I had ever played before. I'm a fan.
Saturday was the day we'd been counting down for… Carolyn and Trae were coming to visit! We spent the day by the pool and catching up on life. By the end of the night, we were mastering circus acts in the pool. Yep, that's talent.
My July Birchbox finally arrived and it's amazing. It's a monthly box of beauty products and samples. Since Justin consented to my subscription of this monthly package, I consider it my personal gift from him! It's such a nice surprise to receive it each month.
To conclude the week, Wesley and Kelly came over to watch the Hatfields and McCoys series on the History Channel. It's so good! And, I finished my DIY project – framing our cake-topper. I'm obsessed with the finished product and can't wait to hang it on our gallery wall.
The end. Until next week.
hopeful for a happy Monday,
the newlyweds