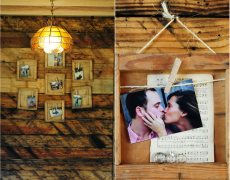 I know I've said this before, but let me reiterate… it took a lot of very special, patient, kind, hard-working people to make our big day perfect. People who clearly love me, Justin, and our families. People willing to sacrifice their time. People willing to sweat and tolerate the gnats. People willing to lend a hand… like I said, very special people.
To add to the growing list of thank-yous, we would like to thank all of the people who put a little, "a Heape of Love" stamper to paper and cloth. We would like to thank those who painted signs, hung signs, and gave us signs. We would like to thank the people who nailed and tied, just to make this possible. Thank you to those who stuffed seeds into our wedding favors. Thank you, thank you, thank you!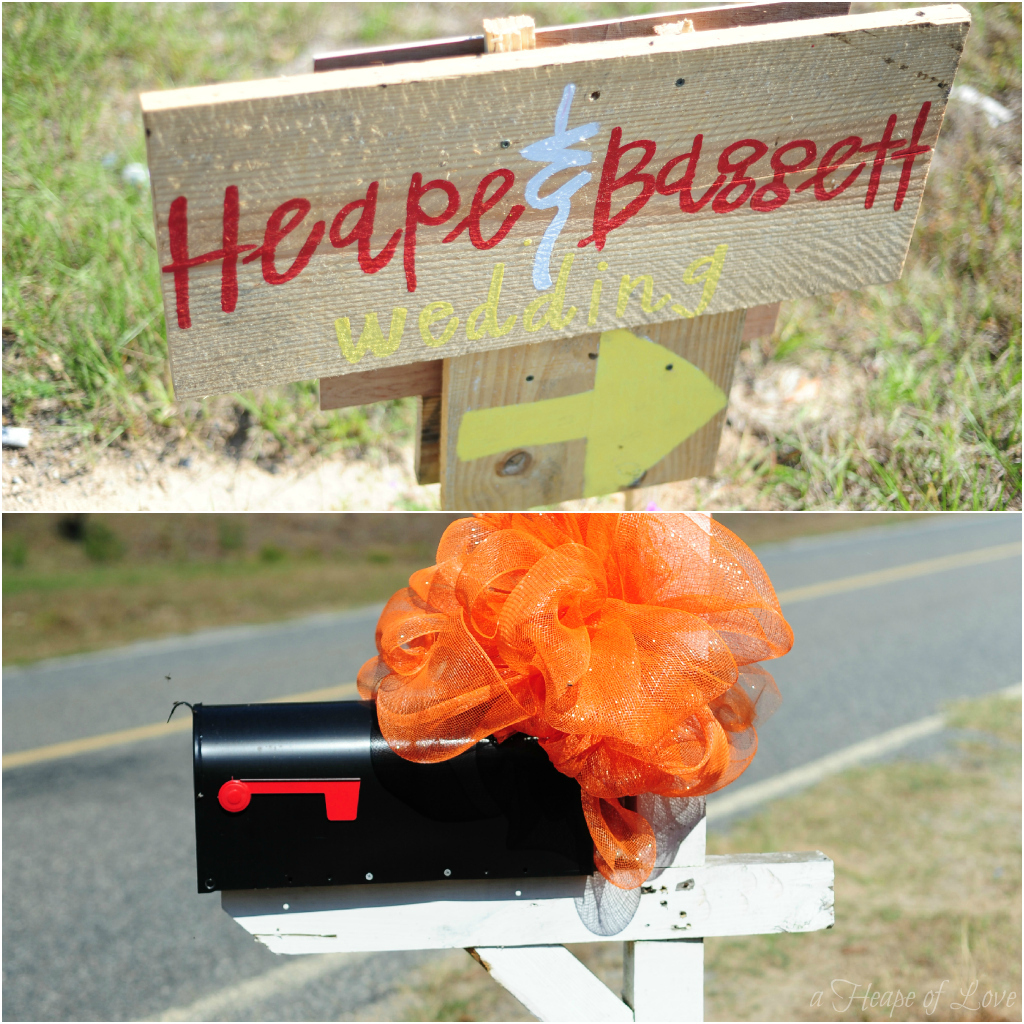 From near and far our guests came from Albany, Athens, Atlanta, Auburn, Florida, the Carolinas, and Savannah, all to attend our wedding ceremony. To be sure they all found our little hideaway, we painted directional signs, tied balloons, and put a giant, orange bow on the mailbox. (People probably still got lost. Let's be serious, who really knows where Poulan, Georgia is?) To all the ladies who helped me paint, tied the bows and balloons… thank you!
Amy Ferguson, cousin
Bailey McDonald, cousin
Glenda Giles, like-family
Jean Wingate, aunt
Lisa Baggett, Mama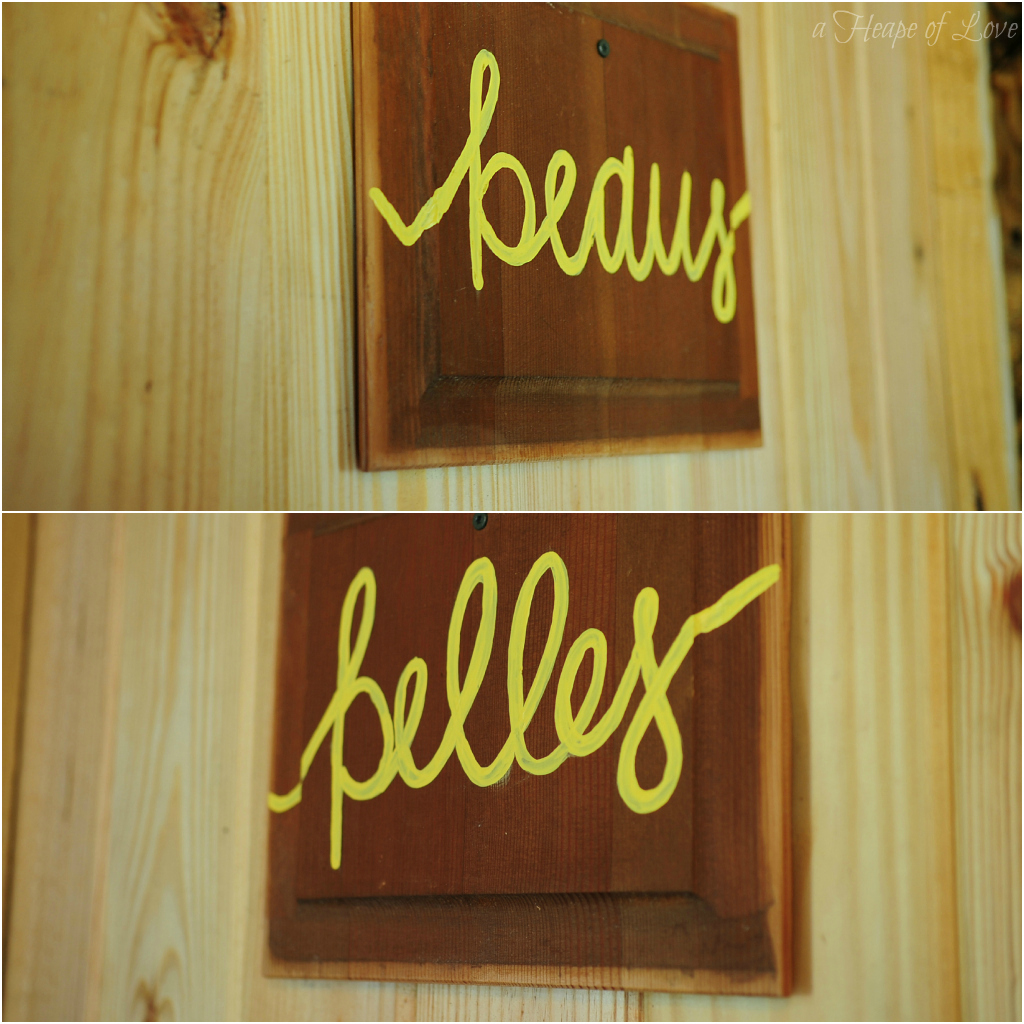 Amy and Bailey spent one long afternoon, in the heat, painting signs for the wedding day. I appreciate it – because, I really didn't want to do it alone. We painted directional signs (with lots of arrows) and cute ones too – like these to adorn the bathroom doors, "belles" and "beaus."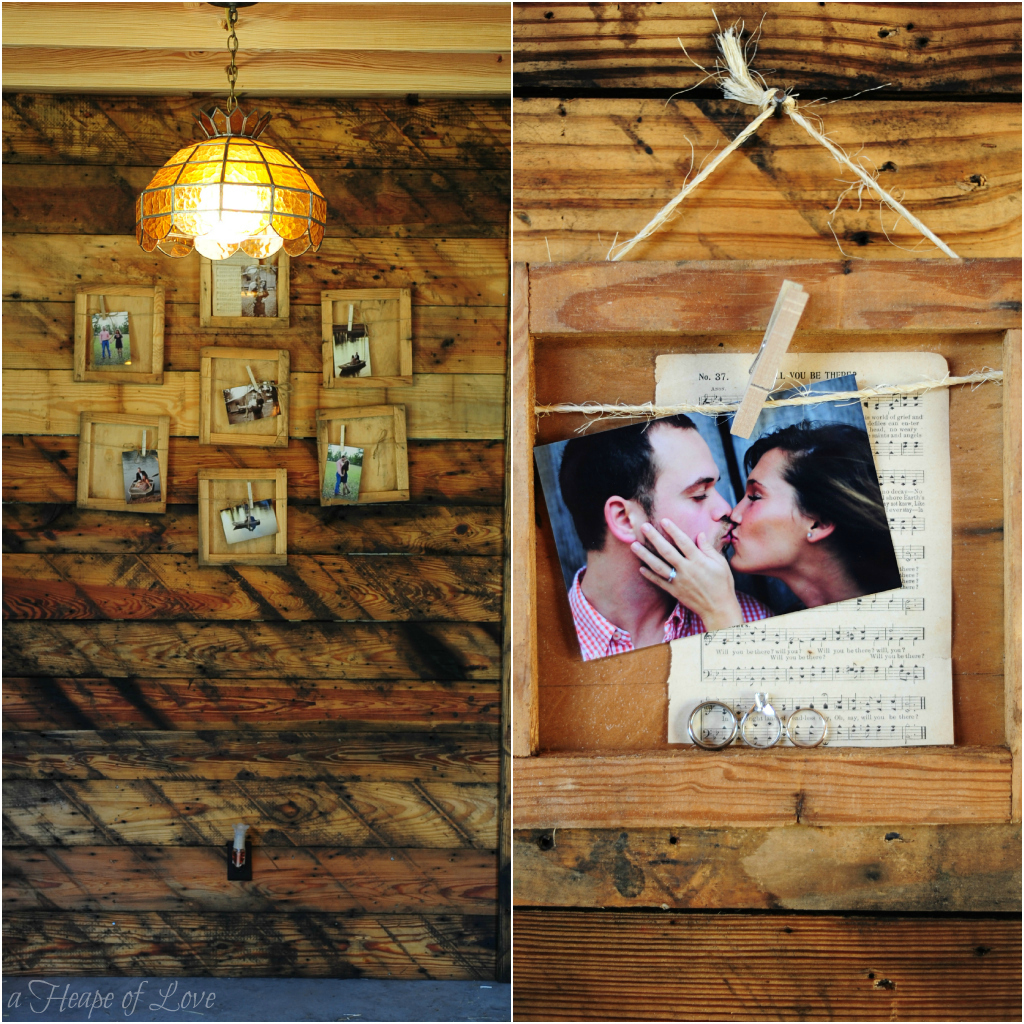 We have these people to thank for tying lots of twine, picking out old hymn sheets, and clothes-pinning lots of our engagement photos into these nifty, old pallets pictured above. (We re-purposed these old pallet things into frames to decorate the barn.)
Bailey McDonald, cousin
Bethany Baggett, sister
Jean Wingate, aunt
Jennie Leggett, grandmother
Lisa Baggett, Mama
Teresa Heape, mother-in-law
Now, before I dive into the next
set of thank-yous
… Let me warn you that we may or may not have gotten a wee-bit carried away with the "a Heape of Love" stamper I ordered from
here
. I can say though, that this is probably one of the best purchase I've ever made and for only $12.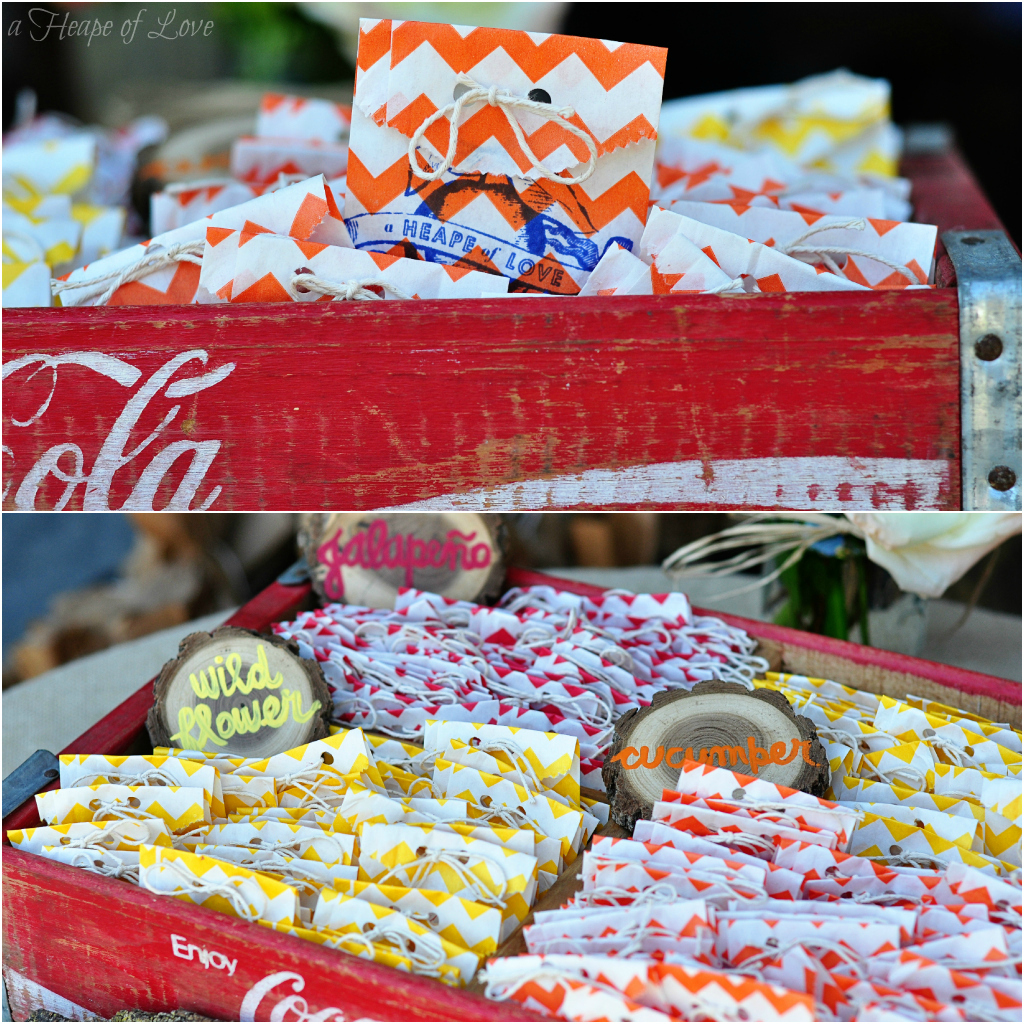 First, we stamped chevron print,
bitty bags from Whisker Graphics
.
(We bought this baker's twine from here too. You know, what we tied each of your invitations with…)
Then, we stuffed them with a variety of pepper, cucumber, and wild flower seeds and sealed them with more twine to serve as our wedding favors. We have a ton leftover, so I'm not sure how much of a hit they actually were –  but, I loved the finished product. Especially once we stuffed them into an old, Coca-Cola crate.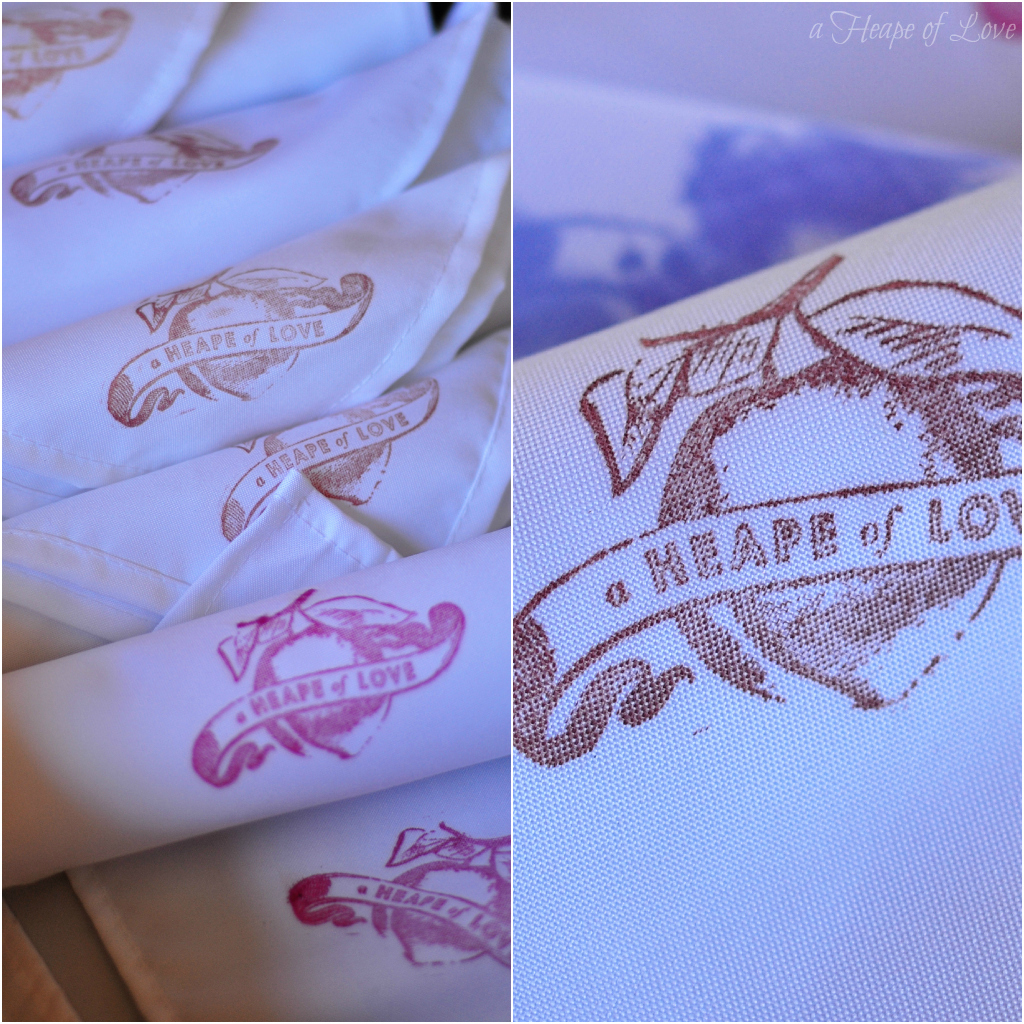 Then, somewhere amidst the planning we had this brilliant idea to stamp 400+ napkins with the same stamp. I have to confess, they did turn out quite darling. But, ask anyone who touched that stamper… it was tiresome and tedious. In the words of my younger brother, "Oh what we do to make the bride happy."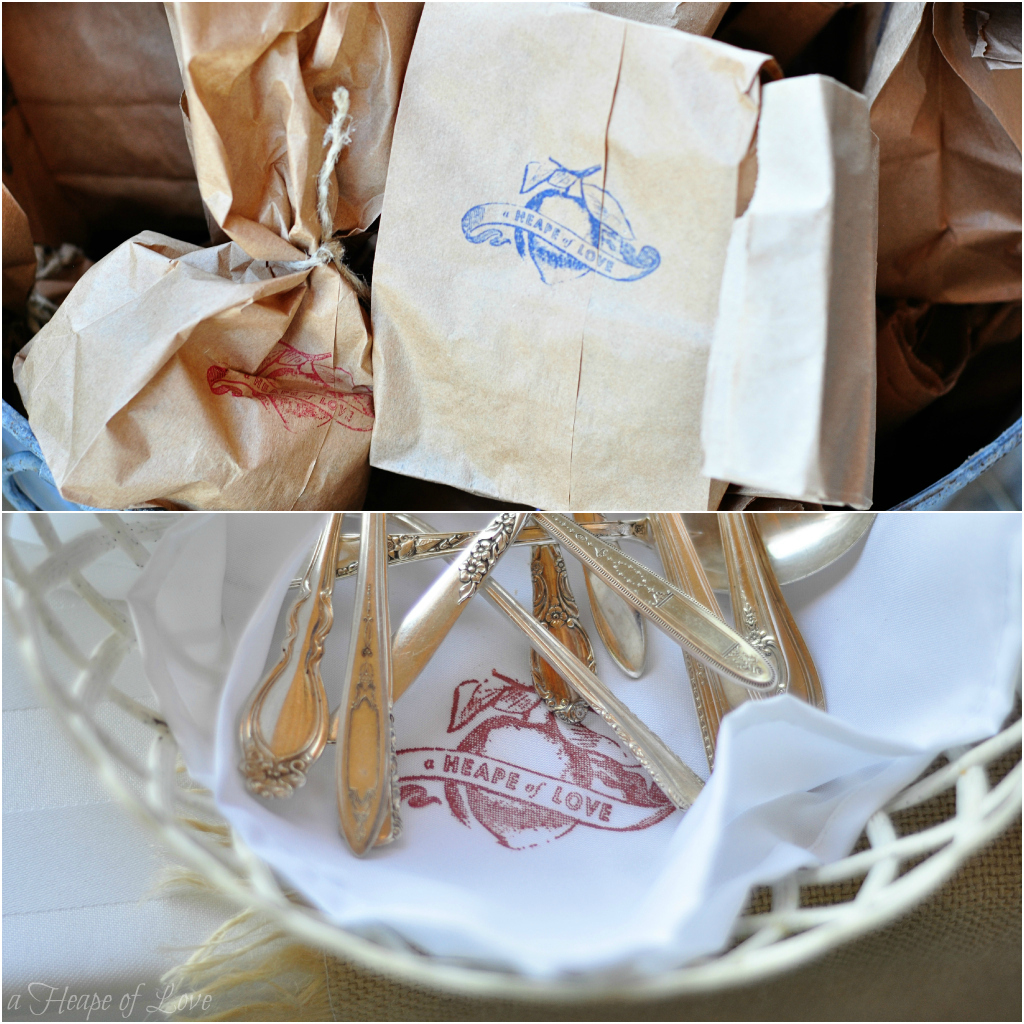 Why stop with the napkins, just keep the stamp moving… right on to the paper bags we used for boiled peanuts. Yep, this was a true, southern wedding – from the barn and pasture, to the Georgia peaches and peanuts.
To each of you stampers, thank you!
Bailey McDonald, cousin
Bethany Baggett, sister
Jean Wingate, aunt
Jennie Leggett, grandmother
Lisa Baggett, Mama
Sarah Hobby, friend
Teresa Heape, mother-in-law 
I saved a very special thank you for Mr. & Mrs. Harrison. Thank you so much for your generosity. Since my first discovery of Chocolate Butterbean, I've dreamed of having a custom sign by Joni on my wedding day. The two of you (& Joni) made this happen for me. So, thank you!
Not only did Mr. Mike & Mrs. Jean give me one sign, but they gave me two custom signs by Chocolate Butterbean – both of which are hanging in our new home. Below is a photo of one of the designs, with a favorite scripture of ours,
I am my beloved's and my beloved is mine… Song of Solomon 6:3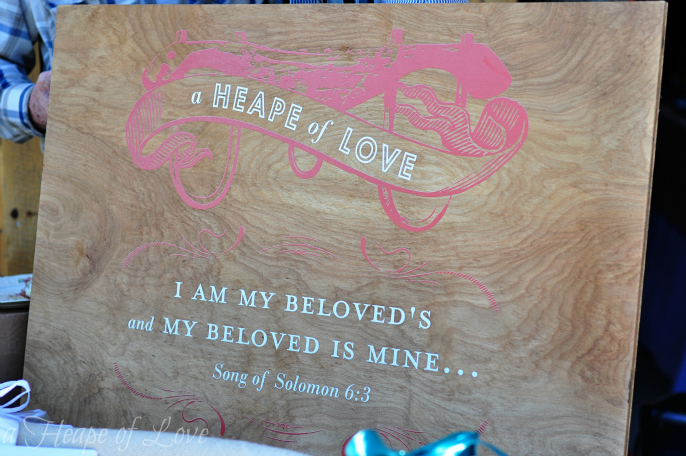 To each of you who gave your time, painted a sign or two or three, and stamped away – thank you! Without you, our guests would've had to wipe their grimy hands on not-as-cool napkins, used their GPS to find the wedding destination, and maybe walked into the wrong restroom, so thank you – from the Heape's and our guests.
many thanks,
the newlyweds