As I mention here, Justin and I invited my family over for dinner to celebrate Daddy's birthday. Since we're big fans of birthdays around here and Daddy hasn't seen the apartment since we've moved in, I wanted everything to be perfect. On the way home from work, I stopped by CVS to pick up a few wedding prints (including this one of me & Daddy) and made a pit stop at Publix for some fresh, steamed salmon and talapia. (Confession #1, I'm a procrastinator – hence why I stopped on the way home from work. Confession #2, I see the Publix chefs at least once a week & pretend I cook the fresh meats. It makes me feel better as a wife and it's delicious.) 
Once home, it was back to work tossing pillows on the bed, lighting candles, and cutting fresh-from-the-garden veggies. With the table set and veggies in the oven, we greeted our guest of honor. Soon after, Mama, Bailey, Brian Ray, and Adarah trickled in the door. (With a little help from Mama and the girls, we fried some okra and finished setting the table.) Everything was ready.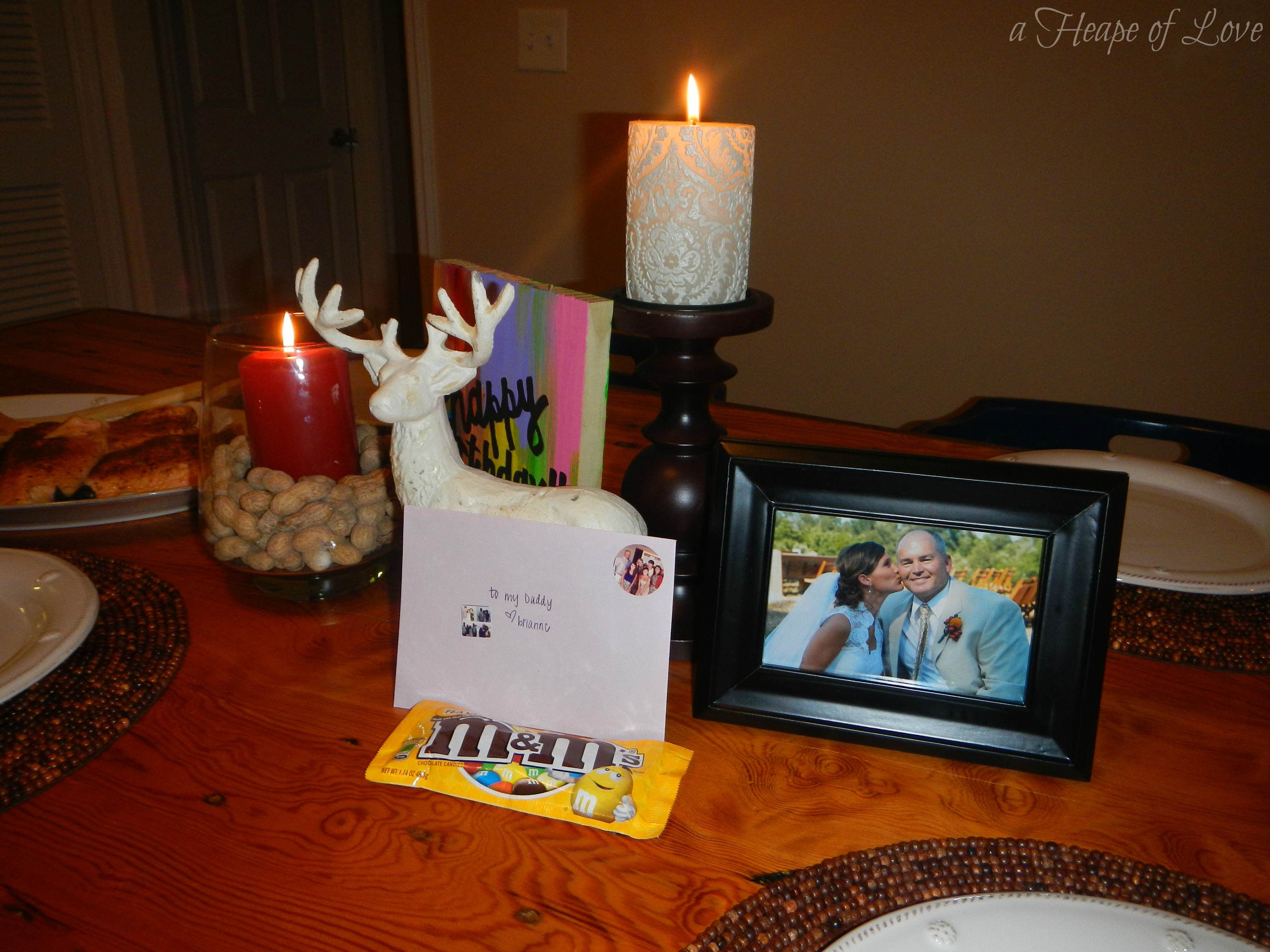 For a simple birthday gift, I had one of my favorite photos of me and Daddy from the wedding framed and tossed in a bag of Peanut M&M's – his favorite! Plus, a handwritten version of the letter I wrote him here.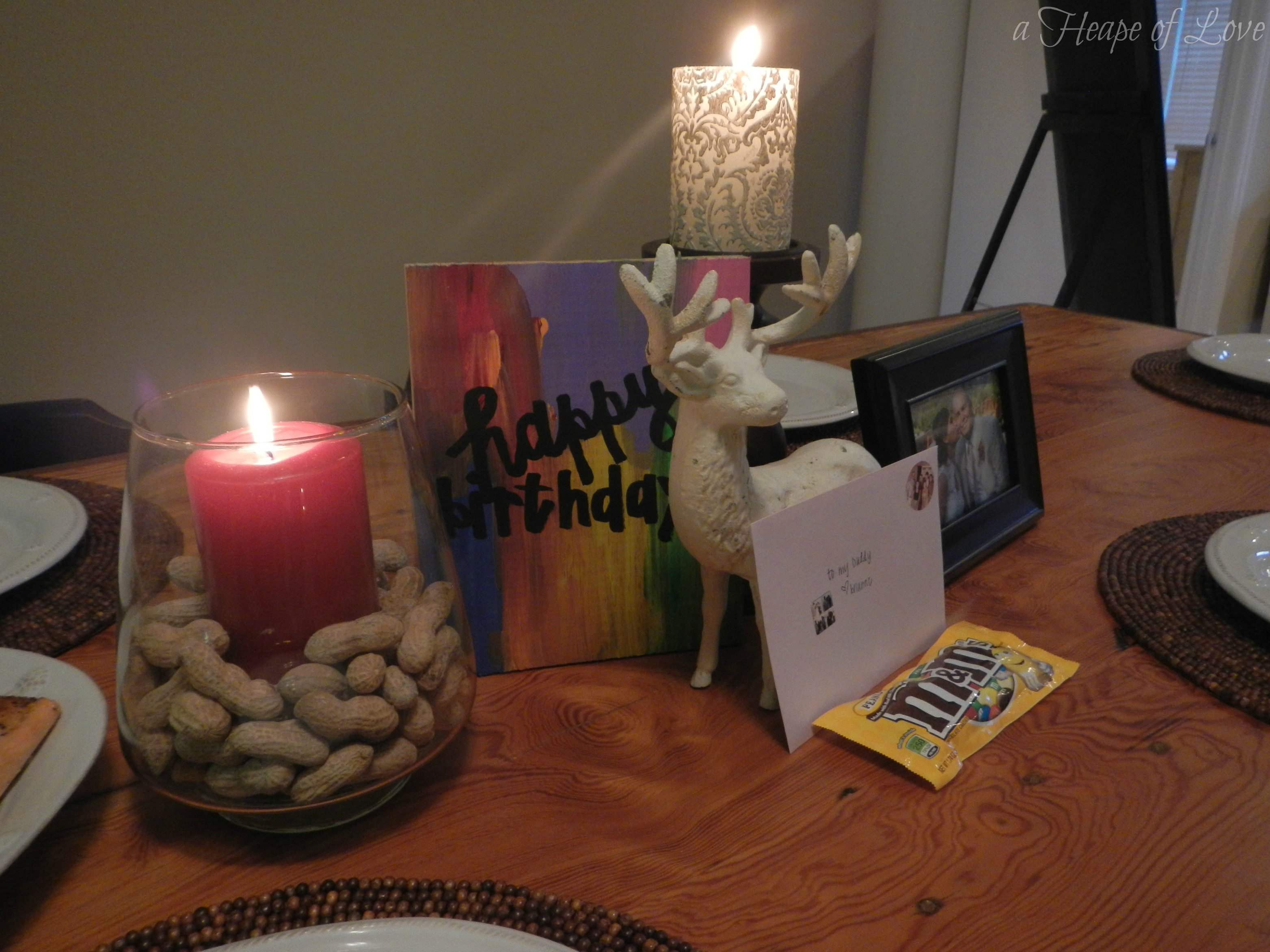 (I used a piece of scrap wood to paint a little, happy birthday sign for the table. Similar to the one I painted for our 4th of July celebration here.)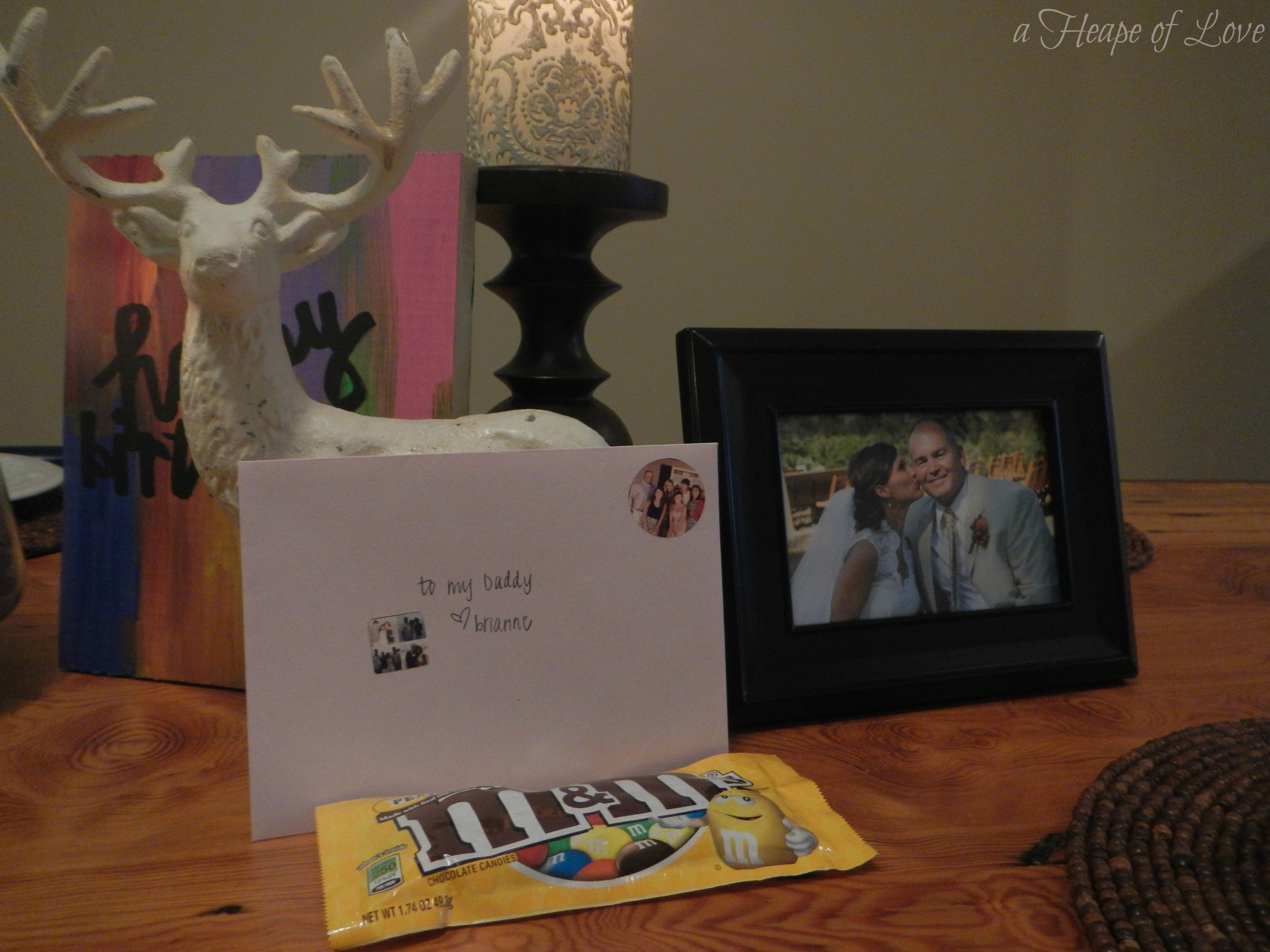 The random deer you may have seen here, here, or above, is part of our table decor and I've nicknamed him Michelangelo. (Yep, the deer is named after my favorite Ninja Turtle. No shame.) I bought it at a thrift shop in Dawson… As weird as some of you may find it, I thought it to be chic – yet masculine. I mean, look at those antlers.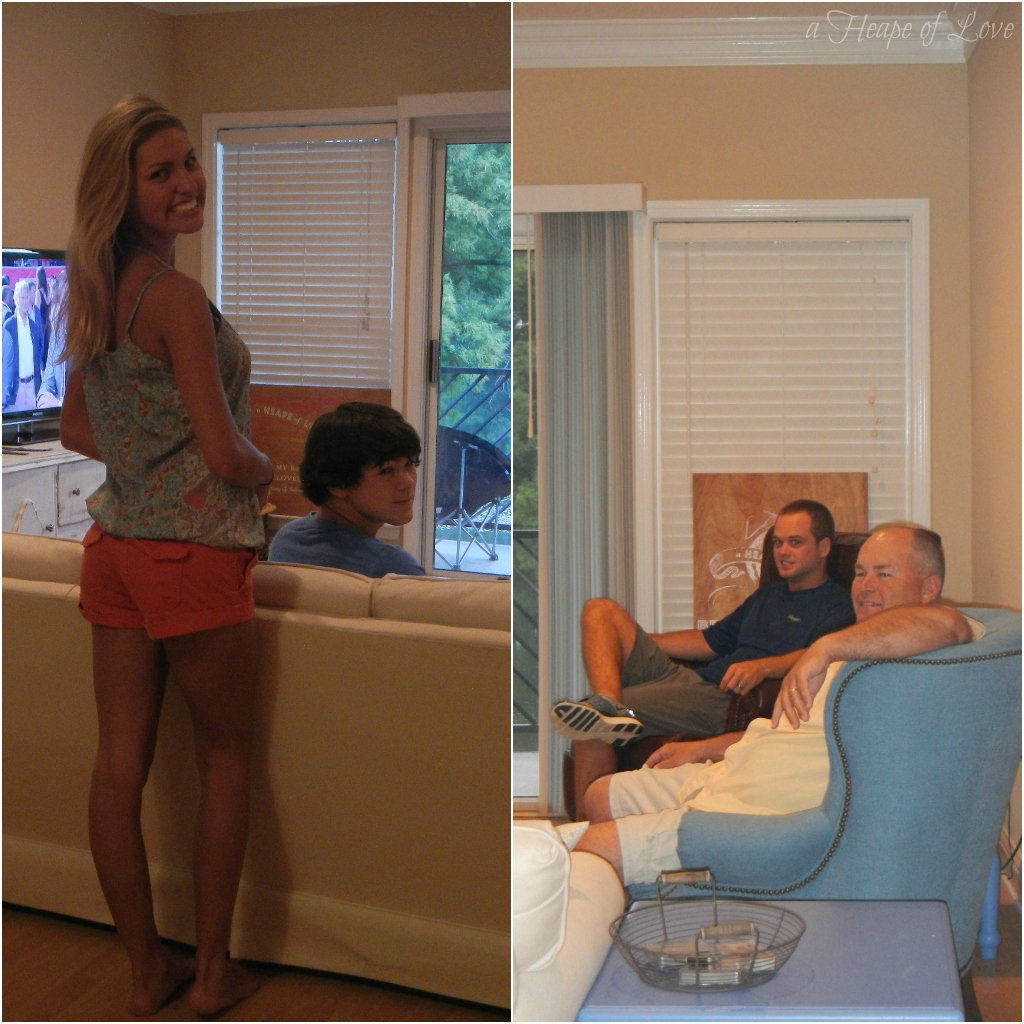 Just hanging out before dinner, watching the Espys. (Please ignore the clashing chair & side table and do not judge me for my blue obsession. We bought the chair after painting the side tables and didn't realize they'd clash so terribly. It'll be my weekend project to get them repainted.)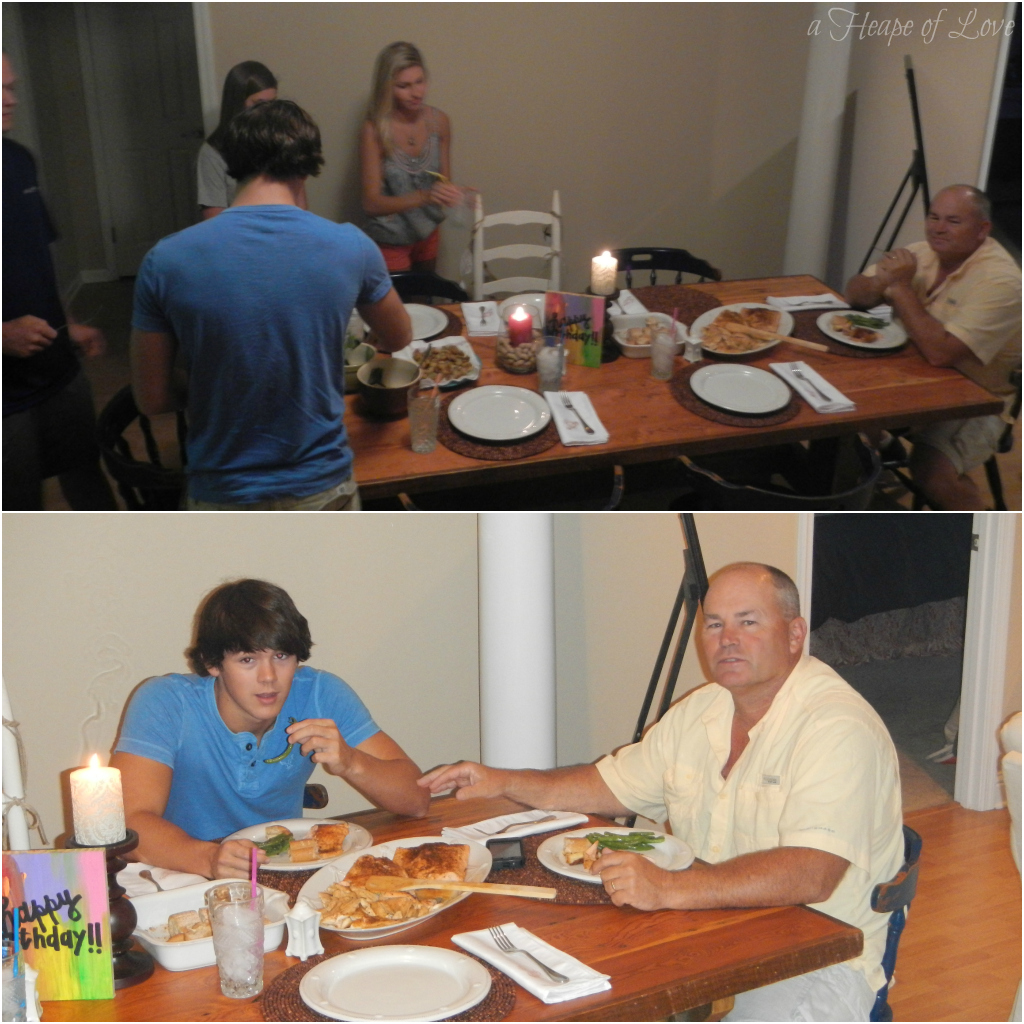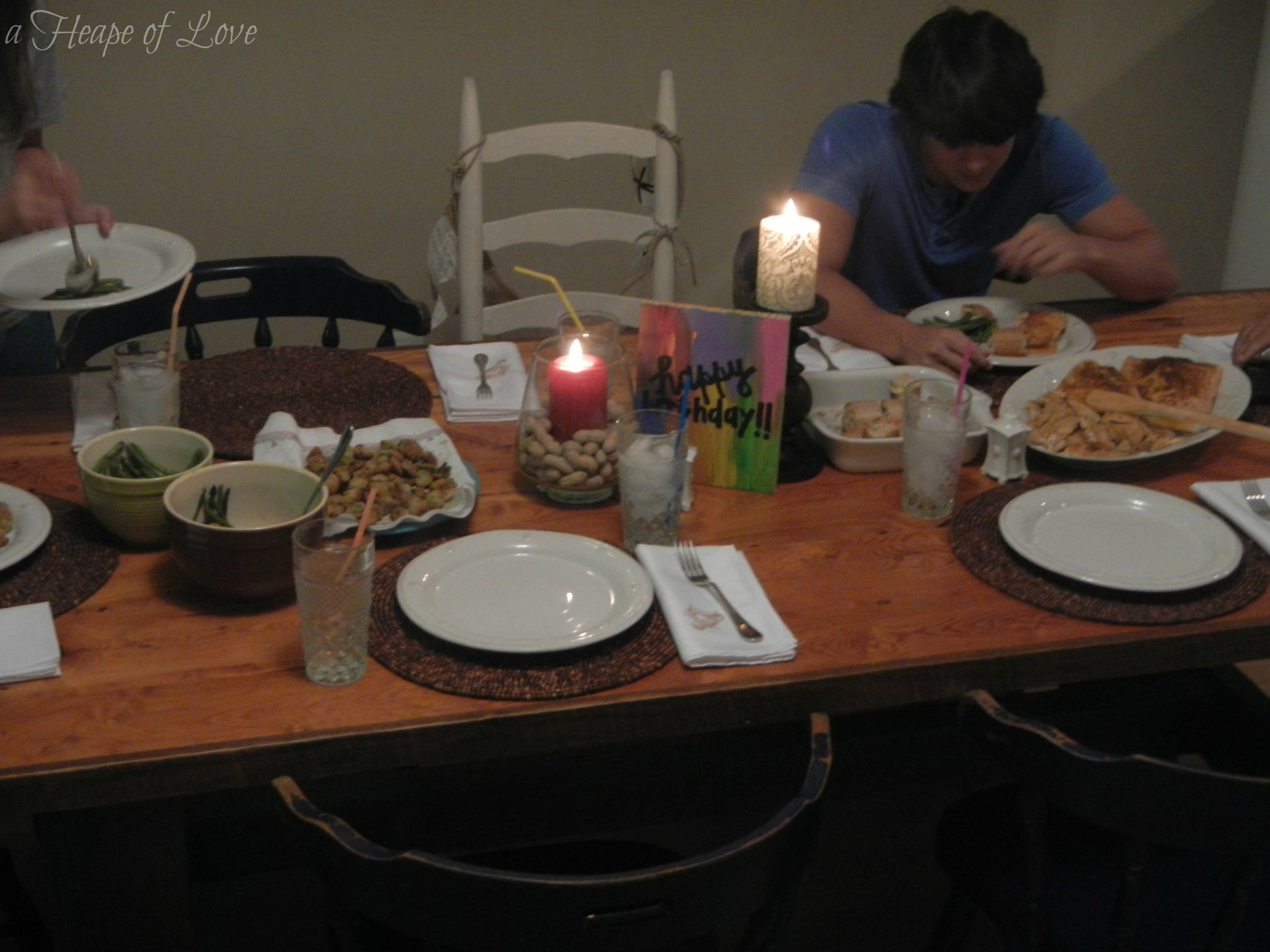 Menu: Steamed salmon and/or talapia, with green beans, squash, asparagus, fried okra, and sliced tomatoes, with mozzarella bread! Breyer's Birthday Cake Oreo Blast ice cream for dessert.
A special thanks to Justin, Mama, Bailey, and Adarah for helping me with last minute details. And, I can't end this post without saying how much we missed Bethany and JP. We all really wish you both could have been here for dinner and to celebrate.
Happy Birthday, Daddy!
we love you, 
your daughter and son-in-law