It's been a busy, yet fun week in the Heape home, so we are excited about this recap!
Last Wednesday, we hosted our first annual, 4th of July celebration at our house. After hanging red, white, and blue banners, I found myself baking, chopping, dipping, and mixing to prepare for the Hobby's and McBride's company. (Fresh cilantro was the it ingredient in the black bean salad I prepared the evening before – which called for a photo op on the cutting board.) With boiled peanuts and M&M's in the bowls, Justin lit some festive red and white candles before our guests arrived. Everything was perfect and we both enjoyed hosting the festivities.
On July 5th, we celebrated our two month anniversary. I know, I know… it's a bit early for celebrating anniversaries, but it's so hard not to remember that we were hitched two whole months ago. It seems just like yesterday. In fact, this time two months ago – we were relaxing on the beaches of Costa Rica. Oh what I'd give to be there right now! 
To confirm my obsession with Instagram (like any of you doubted it), I ordered magnets of my favorite Instagram pics. They came in on Friday and I love them. Love them! They definitely can be categorized as something that makes me smile. I ordered them from Online Social Print, here. The package included stickers of my Instagram pictures, which added to my excitement.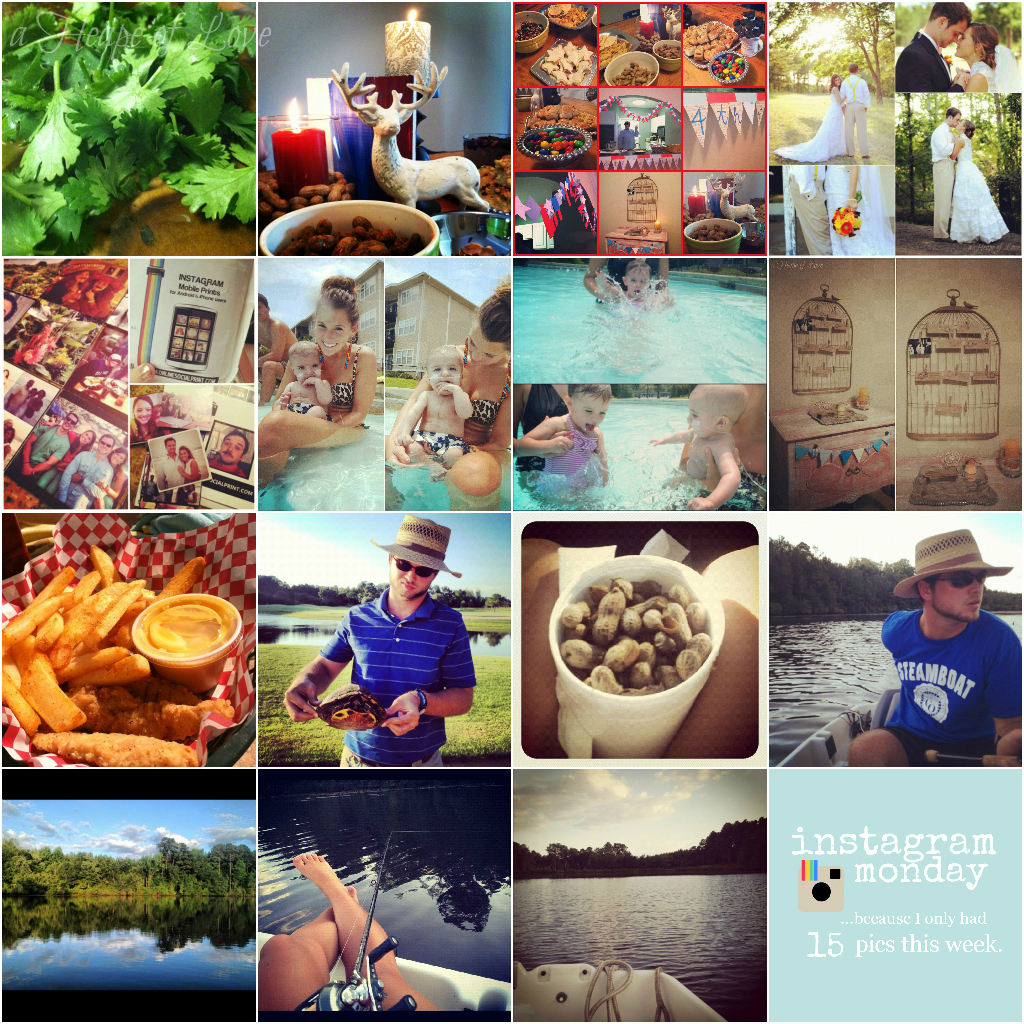 I had to share some of our 4th of July pool photos with my Instagram friends, so above you can see me with baby James and him with his big sister splashing around in the water!
Also, I shared with you the birdcage door we are using to remind us of prayer requests and to pray for our leaders. I'm obsessed with how well the finished project turned out.
On Saturday, we were visited by our good friends, the White's. As the guys took off to play a round of golf, Megan and I lounged by the pool, snacked on the best fries, and caught up on the latest news in our lives. She is definitely one of the many reasons I miss Savannah. Our time together reminded me, I must plan a trip to see all of my favorite, Savannah people very, very, very soon!
Above you will see an incredibly goofy picture of my love with a giant turtle… that's because he was so kind to stop and help the slow creature cross the street. He's got a heart of gold, I tell ya!
On Sunday afternoon, we grabbed fishing rods, stopped by Mark's Melon Patch for some boiled peanuts, and headed out to Parrot for some fishin'. As much fun as we had, we only managed to catch one fish. Yep, one. And, he was just a little Nemo. Although the fish weren't really biting, we managed to have a wonderful, relaxing time and enjoyed the sunset together. We left hopeful that future trips will bring home more than bug-bites and mud.
Now, it's Monday again. Time to dive into a new week, with promises of more time together and coming unplugged. As we were cruising down back-roads, heading home – we promised to come unplugged at least once this week. That means no texts, no calls, no camera, or T.V. – basically, no technology… just us. Now, there was no promise of how long –  but, we believe a good hour or two could do us (and any marriage) some good.
As you head into this new week, we challenge you to come unplugged. How often do we put down our iPhones (or other devices) and connect with those around us? Take 5 minutes or an hour to read, to pray, to talk to your significant other. Unplug. Are you willing to come unplugged? If you take this challenge,  be sure to let us know how it turns out for you!
happy Monday,
the newlyweds