Now that you've seen a peek into our abode in paradise and the nature of Costa Rica, we want to share some of our adventures!
After touring Manuel Antonio on our first day, we decided to sight-see and souvenir shop in the neighboring city of Quepos on Day 2. To give you a better understanding of our surroundings, Manuel Antonio is more of the tourist attraction with the National Park, resorts, and restaurants; while Quepos is where all of the locals live, dine, and shop. Tidbit: Natives of Costa Rica are called Ticos or at least that's how they reference themselves.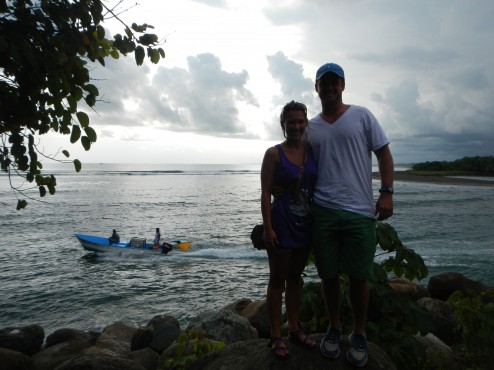 Flashback to Sunday evening when Justin and I first met Guido, our chef. While he prepared our meal and we toured the place, Justin nor I were prepared for the conversation we were about to have with our new friend. After the meal was served, he observed us praying over our meal… then, he proceeded to ask us about our faith. (In extremely broken English, but he asked!) It was through that broken English/mix of Spanish conversation that we discovered, Guido is a Christian. He invited us to his church (iglesia) to worship our Lord and Savior together. We were so excited! At the church Guido attends, they meet on Wednesday evenings to worship. So on Wednesday afternoon, we received a call from Guido asking if we still would like to go to church with him. Of course, we said yes! Below is a picture of Justin and I before our first Spanish church service.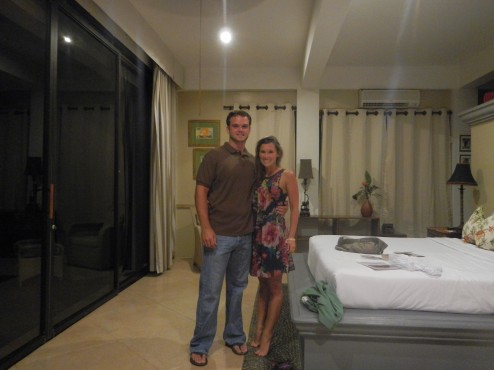 Despite the rain storm happening outside, people flooded into the auditorium – eager to worship our Savior. The service was incredible. No, we didn't understand every word that was said – but, it was so powerful and influential and amazing. They were singing, dancing, and jumping around – praising the Lord. We quickly discovered that Costa Rica church services, aren't much different from ours back home. We sang praise and worship songs, and were actually able to recognize several songs from the music. During the sermon, a translator sat with us explaining each illustration and quoting scriptures for us in English. Truly an experience Justin nor I will ever forget.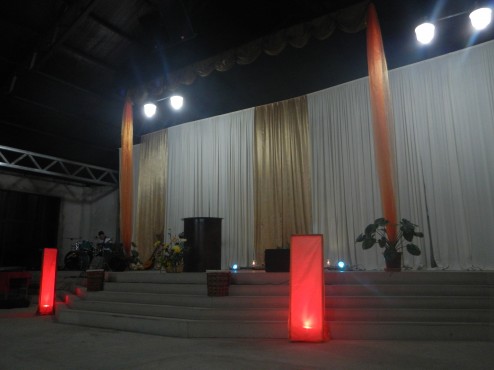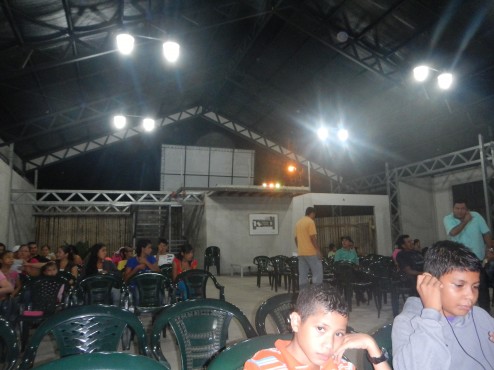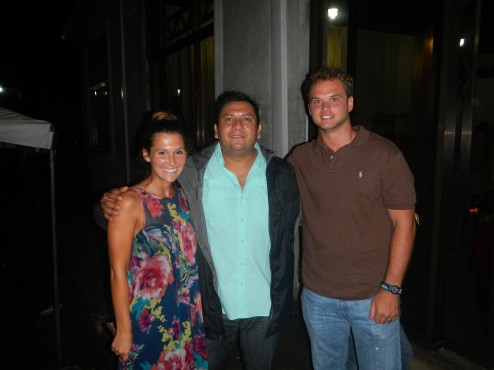 The above images are of the church we attended, including Justin and I after the service with Guido.
On Thursday, we went back to the Playa de Manuel Antonio to spend the day swimming and relaxing. The water was perfect – calm and beautiful. Although we didn't see any fish, we discovered coral and observed some sneaky monkeys.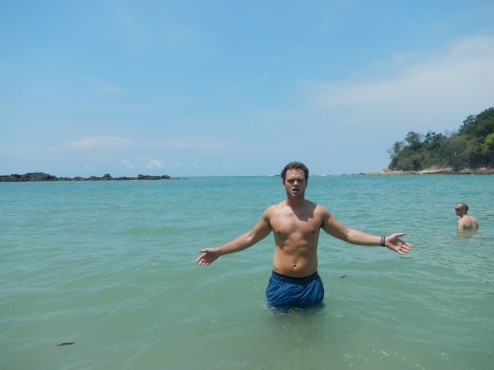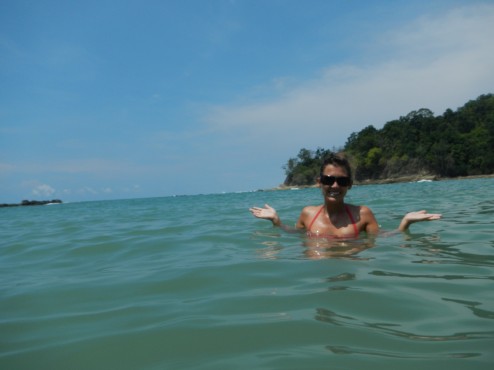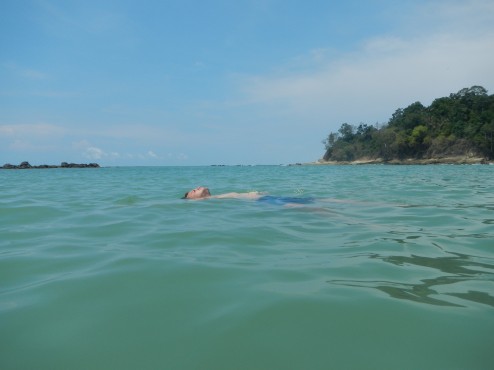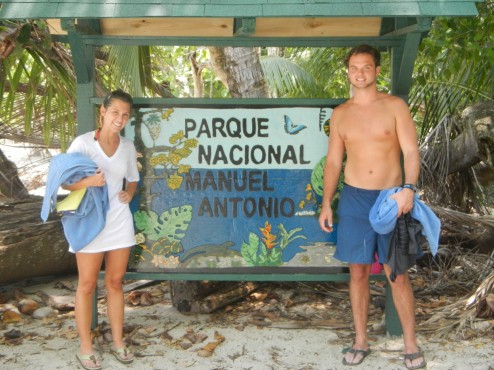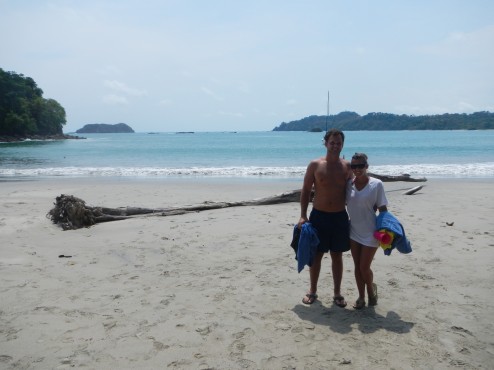 Friday's adventure was most definitely my favorite. We woke up early for a zip-lining excursion by MidWorld Costa Rica. Below is the "OMG bridge" that we drove across to enter the jungle; it was named after the reactions of Americans. It's narrow and extremely wobbly – yet, completely safe. Our tour guides enjoyed a good laugh after slamming down on the breaks about halfway across!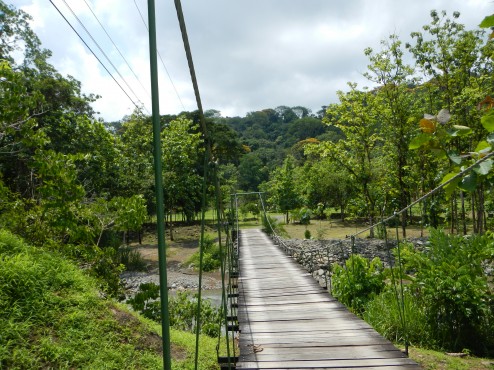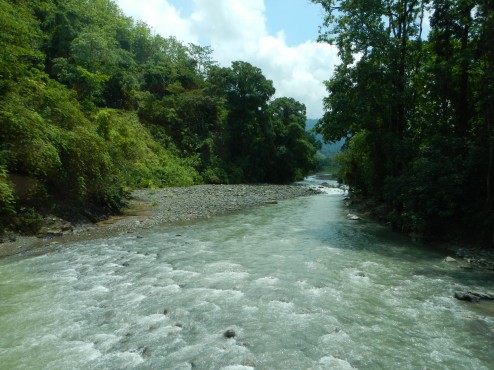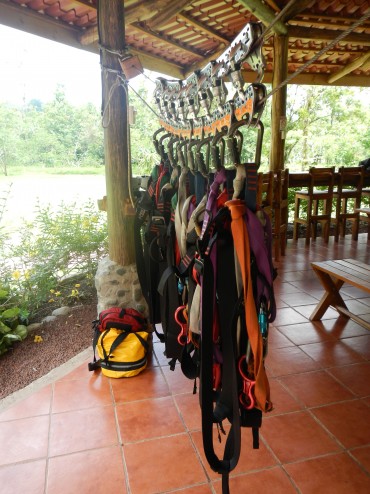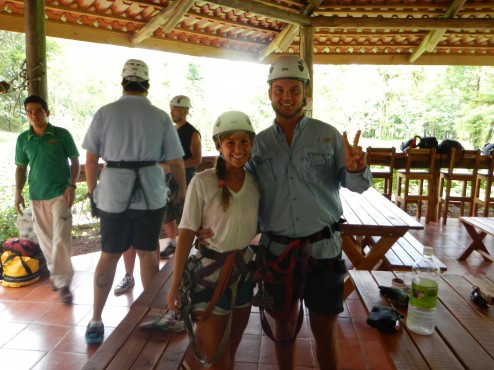 After strapping into our harnesses, we were anxious to try this new adventure!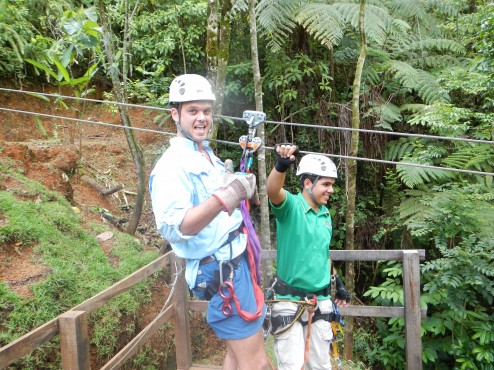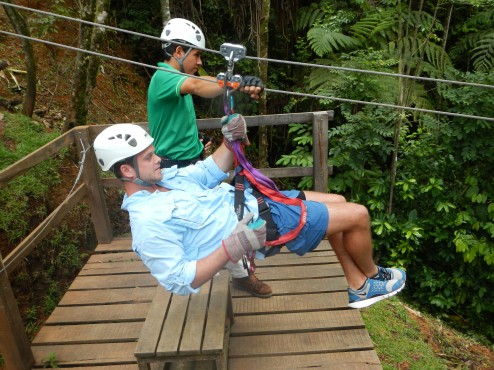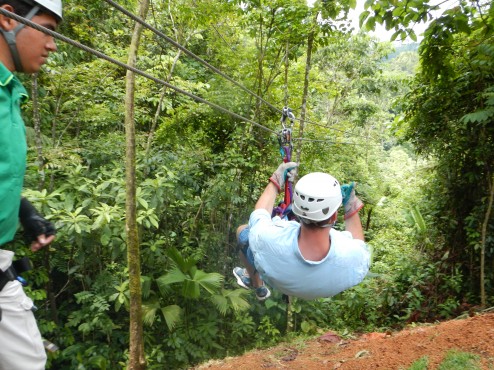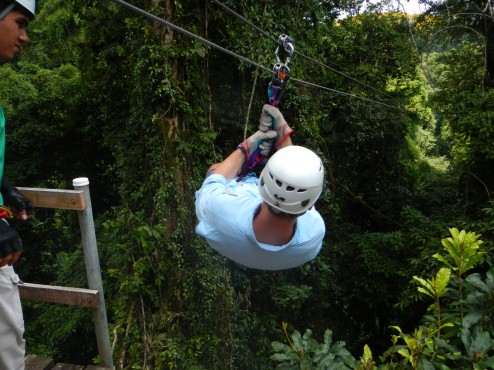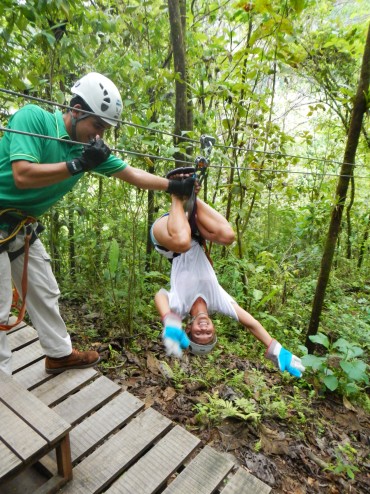 Look, no hands!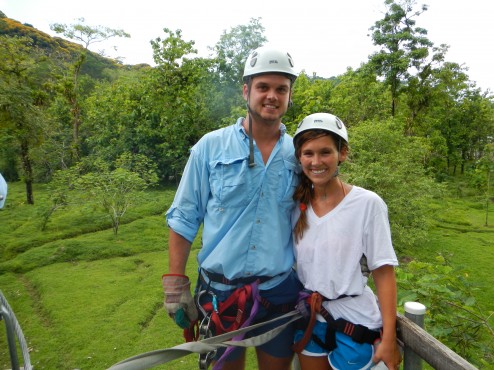 Our favorite part of the day was the Superman line – the longest line in Central America, over 1 kilometer in length. To experience the Superman line, you are strapped into the harness in the Superman position. While zipping through the jungle, we reached speeds as high as 50 miles per hour. Talk about an adrenaline rush, it was insane!
After 15 zip-lines, 2 rappels, and the Superman line, we had worked up quite an appetite. We enjoyed a local favorite, pinto gallo – a combination of rice, beans, and a meat. Justin and I chose the catch of the day with our pinto gallo. The best part was probably the homemade, mango tea!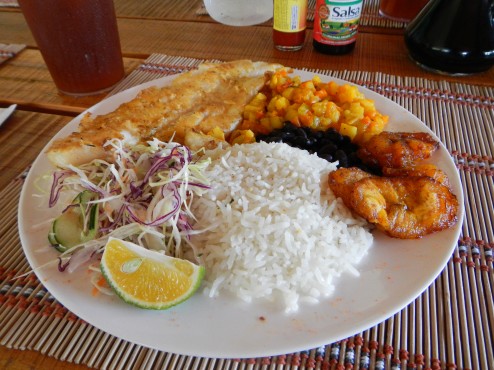 After our exhausting day zip-lining through the jungles of Costa Rica, we relaxed by the pool. Part of our entertainment came when we played a game of Life – in which, "Brianne got married."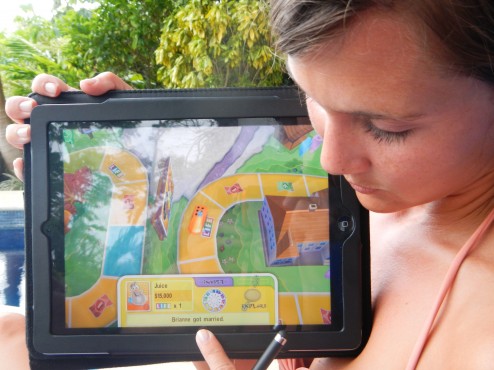 We spent our last day in Costa Rica souvenir shopping in Quepos and goofing around in the pool. It was nice to just relax and enjoy each other's company.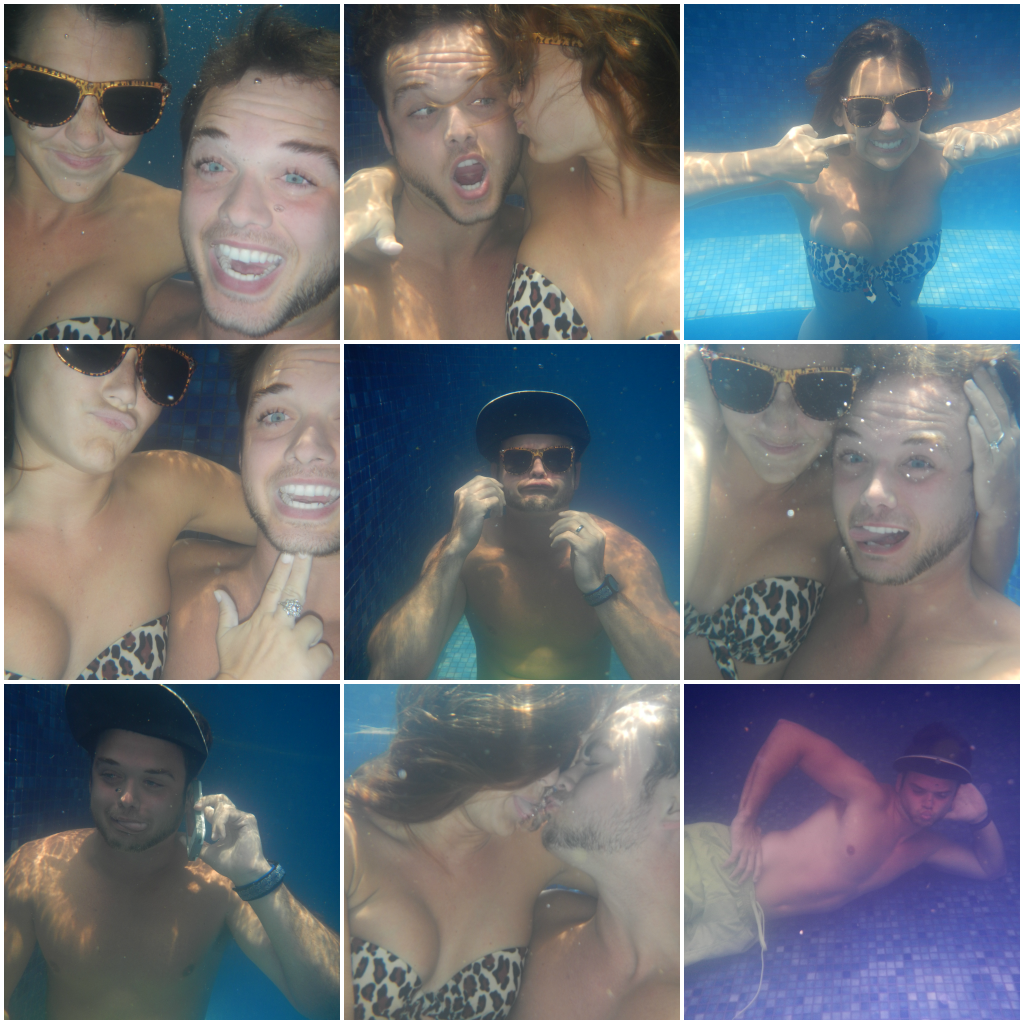 I couldn't resist sharing these last two in full size!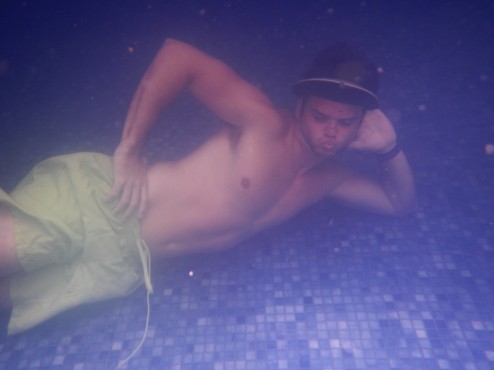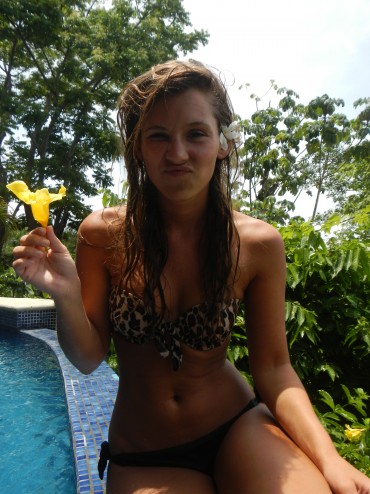 And, fish tacos for dinner! During the trip, we probably ate a dozen fish tacos… each!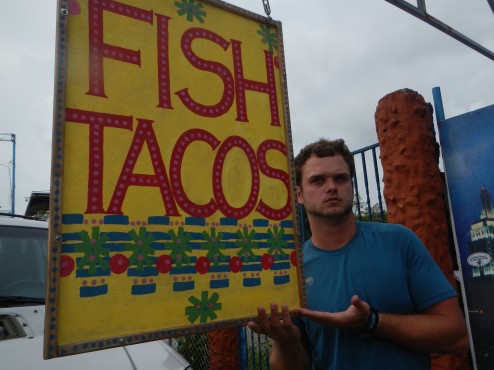 After a full week in Manuel Antonio, eating countless fish tacos, refreshing our knowledge of the Spanish language, praising the Lord in a local church service, swimming in the Pacific Ocean, talking to monkeys, and zip-lining through the jungles of Costa Rica… we were extremely sad to say good-bye. Our honeymoon was more than we could have ever imagined, we both had a blast! Now, we just have to plan our trip back.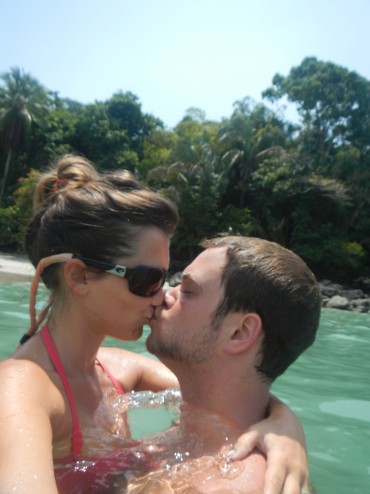 Happy Friday, friends and family!