Monkeys, sloths, and toucans… oh my! Monkeys. At our first dinner in Costa Rica, we were greeted by capuchin (white-faced) monkeys. It was our first time seeing monkeys in the wild and so close. They would swing from branch to branch and jump – oh so far! Here is a video of our first monkey sighting, Monkeys! (Note: By clicking, you will download the video.)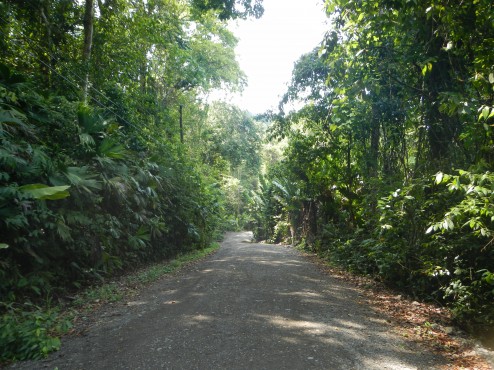 On day 2, we enjoyed a tour of the Manuel Antonio National Park – where we saw a slew of creatures and the neatest plants! Our guide, Mop was full of jokes. He realized quickly how terrified I am of snakes, so he enjoyed letting us know when we were hot a viper trail. Yes, viper – and I don't mean the car! Apparently, vipers don't travel far distances and a bright yellow viper had been spotted in the exact spot we were standing a few days prior. Scary to me. We were also on the look out for boas. Yep, boa constrictors are native to these parts too! Fortunately for me, we did NOT see any vipers or boas. I was relieved and Justin was disappointed. However, we did see several two and three-toed sloths, along with toucans, Jesus Christ lizards, and poisonous frogs!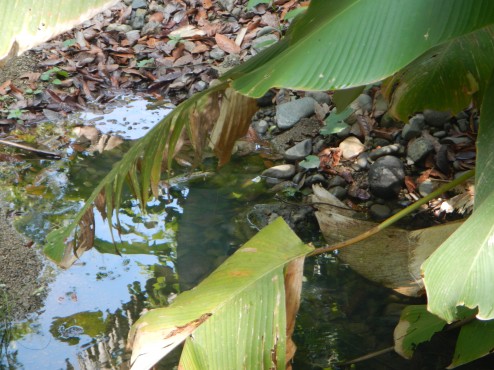 Can you spot the Jesus Christ lizard? The photo was taken seconds before he walked on water – the trait that gave him his name.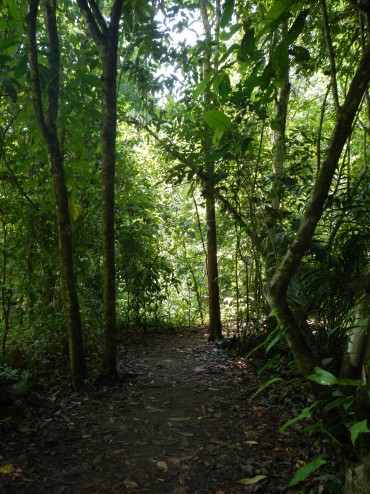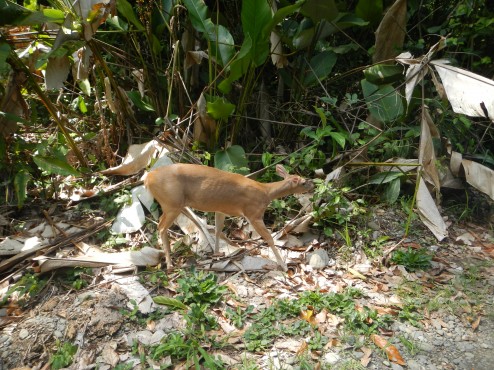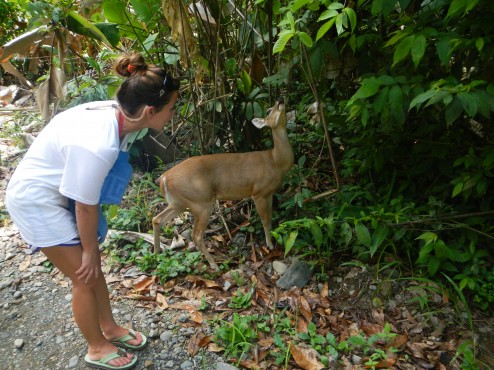 Above is a photo of a whitetail deer in the National Park, the same beauties we hunt here in south Georgia.
We enjoyed the National Park so much, we went back! This time we went to enjoy the lovely beaches of Manuel Antonio. While swimming in the Playa Manuel Antonio, we noticed some commotion up on the beach. Crowds were gathering  to see about 30 monkeys invading the beach. They were jumping around, climbing trees, wrestling with each other, and stealing fruit from tourists – seriously, putting on a show! It was quite the entertainment for awhile. In the midst of this monkey show – one couple had been lounging under a tree, when a monkey swooped down and snatched the mango right out of their bag! As the monkey swooped in, a Ctenosaur lizard (pictured below) darted in from the other side. Within seconds, she was sandwiched. Scared silly, she ran away screaming! On the other hand, her husband thought this was hilarious, so he decided to feed the monkeys.
Side note: Do NOT feed the monkeys. Not only is it dangerous to us, but it's dangerous for them. We carry bacteria on our hands and skin that is extremely harmful to them, enough to cause death – and vice versa. Also, may cause a group of monkeys to swarm you – don't say I didn't warn you.
Back to the story, the scared ladies husband stretched his arm out to feed a piece of mango to one monkey – then a dozen monkeys surrounded him! Mistakenly, he did it again! This time, two monkeys reached for the fruit which resulted in the fruit dropping to the ground. As fast as lightning, the Ctenosaur lizard ran in and snatched it! Not too amusing, until… the first monkey jumped down, ran behind the lizard, and with both hands grabbed the lizard's tail and bit it. Yep, the monkey bit the lizard! As soon as it happened, the lizard whipped around – the monkey only let go to point and laugh. Okay, maybe not your typical human laugh (hahahaha) but a serious point and glare that said, "That's what you get for stealing my food!" True story. It was quite a sight to see.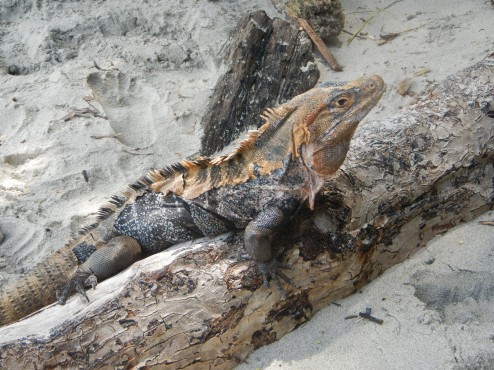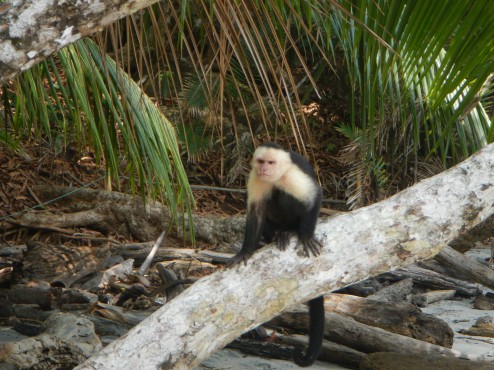 After the little monkey/lizard battle, I proceeded to photograph a dozen or so monkeys as they played nearby. Unfortunately, I took so many pictures that our camera died shortly after. Justin and I decided to choose our favorites, after looking through a bazillion pictures of monkeys.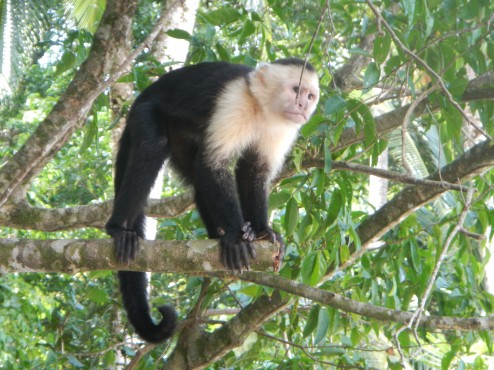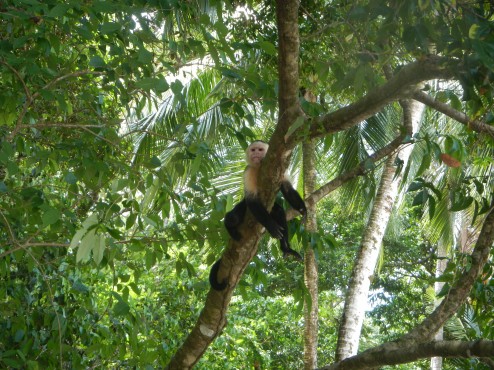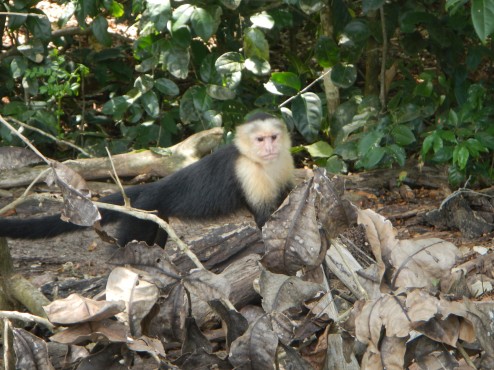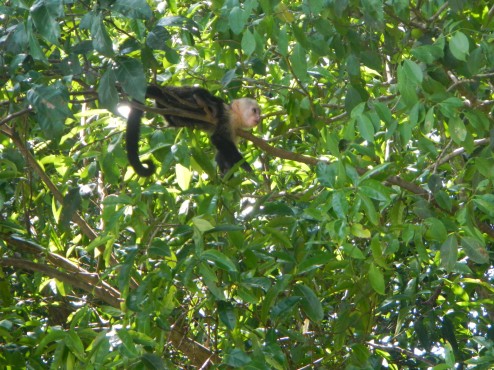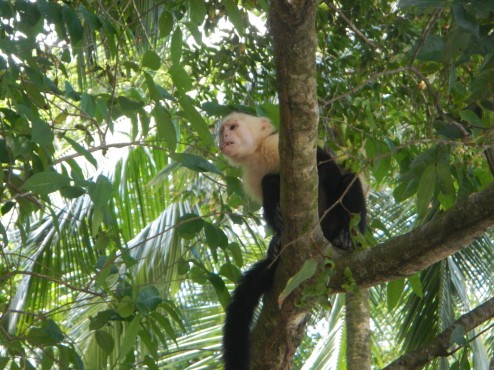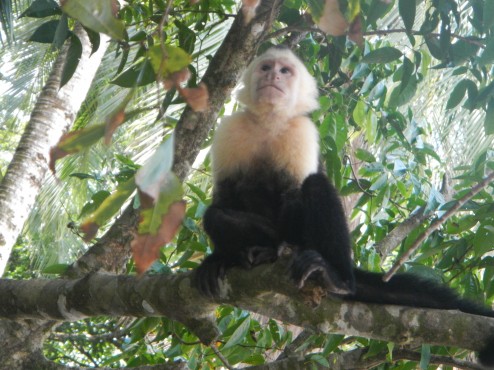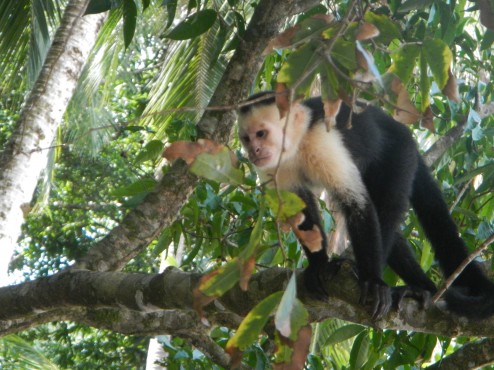 I couldn't leave out the Ctenosaur lizard. Although, Justin took most of these pictures because I was scared to get too close!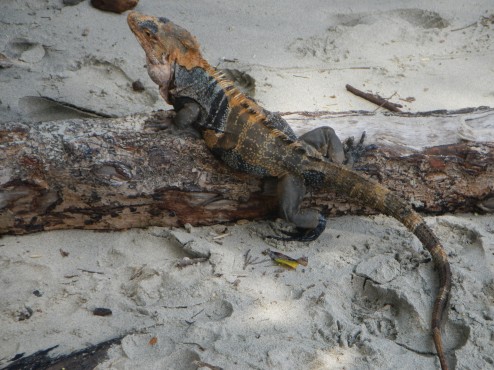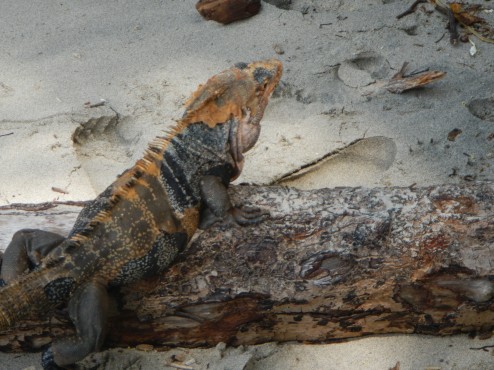 Since this post is dedicated to nature, I had to include photos of some incredibly beautiful flowers, trees, and beaches we saw while there.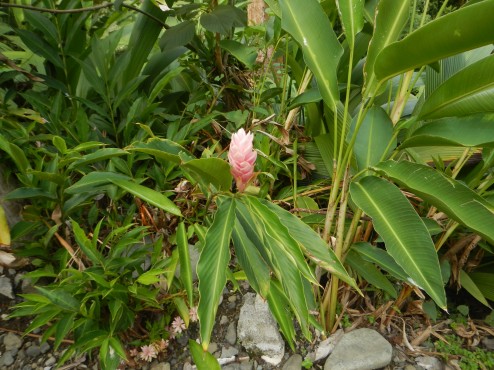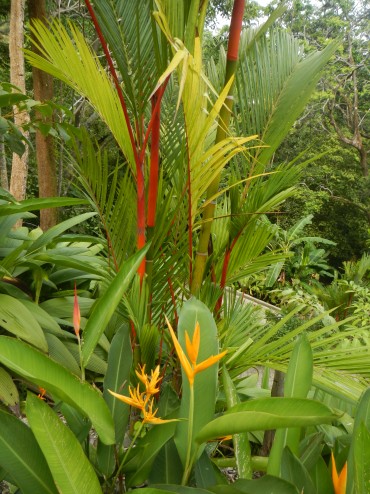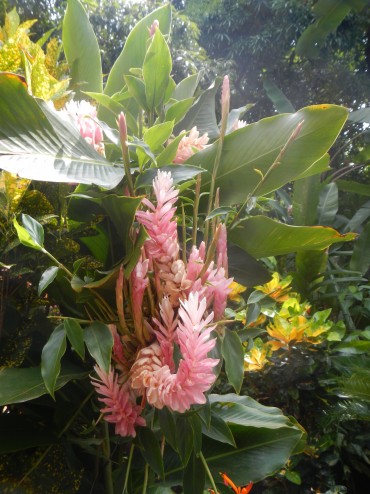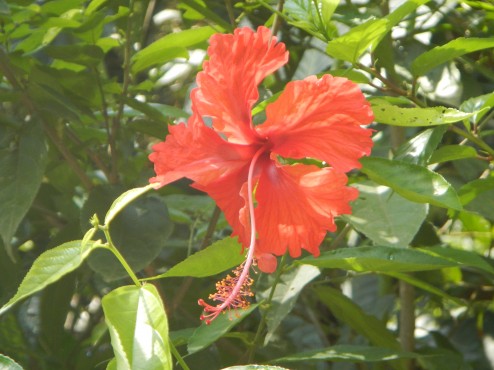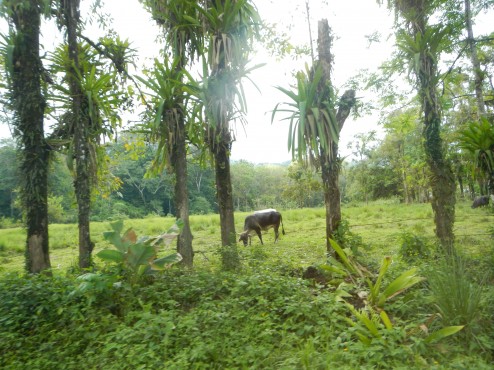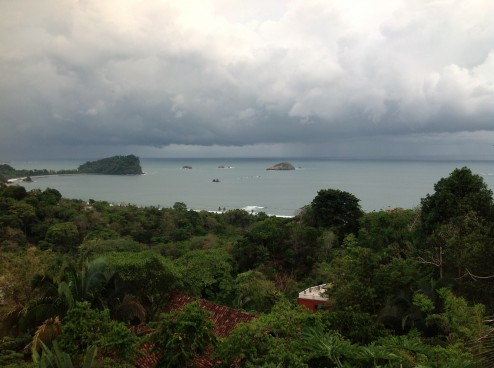 How great is our God? While in Costa Rica, I found myself continuously thanking the Lord for the beauty we'd discovered in nature. Each time we stumbled upon a new flower, unusual tree, or breathtaking beach, I was reminded of how incredible our God truly is.
At one point, Justin and I were raving about how beautiful everything was around us when one of the guides said, "You like it here? You think it's beautiful?" Of course we both agreed, then he proudly responded with a big grin, "This is my home."
Am I that proud to call Georgia my home? I'm not sure I knew the answer to that question at that moment in time, but boy do I now!
Although it isn't everyday that we see a mango tree or a field of bamboo or monkeys swinging in the treetops or a rainstorm forming over the Pacific Ocean, we are blessed to live in a beautiful country. For instance, instead of mangos and bananas, we have peanuts, cotton, and peaches, which so often we take for granted. And guess what? Juicy peaches on a hot summer day taste just as delicious as a fresh mango in Costa Rica. Yes, I am proud to live here. I'm proud of my Georgia peaches, peanuts, and pecans! So proud, to call Georgia my home.

Since returning from our trip to paradise, we've been taking moments to look around and truly be grateful for the nature around us. Today, we challenge you to do the same. Whether you take a moment to appreciate a norm or look for something new in nature to be grateful for, praise the Lord for the work of His hands.