It's my Daddy's birthday! To celebrate, Justin and I invited the family over for dinner at our house – which I'm so excited about. (More on this to come.)
In honor of my Daddy, I wanted to share some of my favorite photos of the two of us on my wedding day and to say thank you for being such an incredible Daddy.
Throughout my life, I've been extremely close to both my Daddy (and my Mama) – so, I was pleased to know Justin asked Daddy for my hand in marriage sometime in the fall of 2010. Of course, Daddy said yes. Once the ring was on my finger, the planning began – and so did the building of the barn. It is his love for me that inspired him to clear the land, lay the foundation, and endure the heat to make my dreams come true. Up until about 30 minutes before the ceremony, he worked and worked to make everything so perfect. We couldn't be more grateful.
As the time to walk me down the aisle neared, it was those few minutes we shared together that I'll never forget. We peeked out the window in my parents' dining room, waiting on our cue. I remember him saying, "There are a lot of people here. They've been steady going by for over an hour." But what I remember most… when he turned to face me. His cheeks were red and  his eyes were watery. We stood in foyer, fighting back tears – tears of sadness, tears of joy, sweet tears. He held my hand on the carriage ride to the hill, he wiped the tears that stained my cheeks, and he hugged me tight as he gave me away to the man he's prayed for, my whole life.
Whenever I think back to these moments together, I can't help but think of the lyrics to Butterfly Kisses,
She'll change her name today.
She'll make a promise and I'll give her away.
Standing in the bride's room, just staring at her.
She asked me what I'm thinking and I said I'm not sure,
I just feel like I'm loosing my baby girl.
And she leaned over…
Gave me butterfly kisses, with her Mama there.
Stickin' little white flowers, all up in her hair.
Walk me down the aisle Daddy, it's just about time.
Does my wedding gown look pretty, Daddy?
Daddy, don't cry.
Today, as I look back on my wedding day – I smile thinking about the time we shared before the ceremony and during our dance together. Both moments were a gift from God and time I needed just with my Daddy. After all, I'll always be his firstborn, his daughter, his baby girl.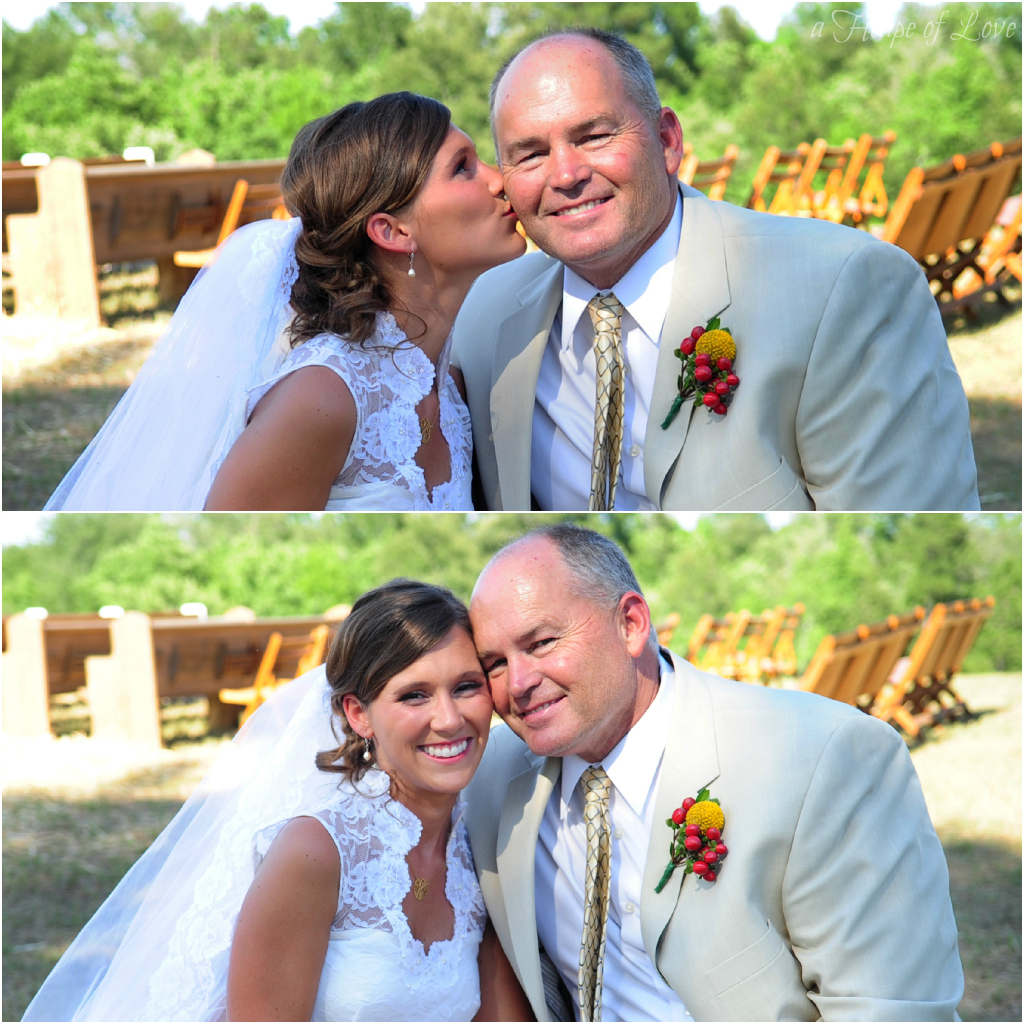 Above is a series of photos taken as my Daddy walked me down the aisle. It's evident, that it was an emotional – yet, happy – moment for both of us.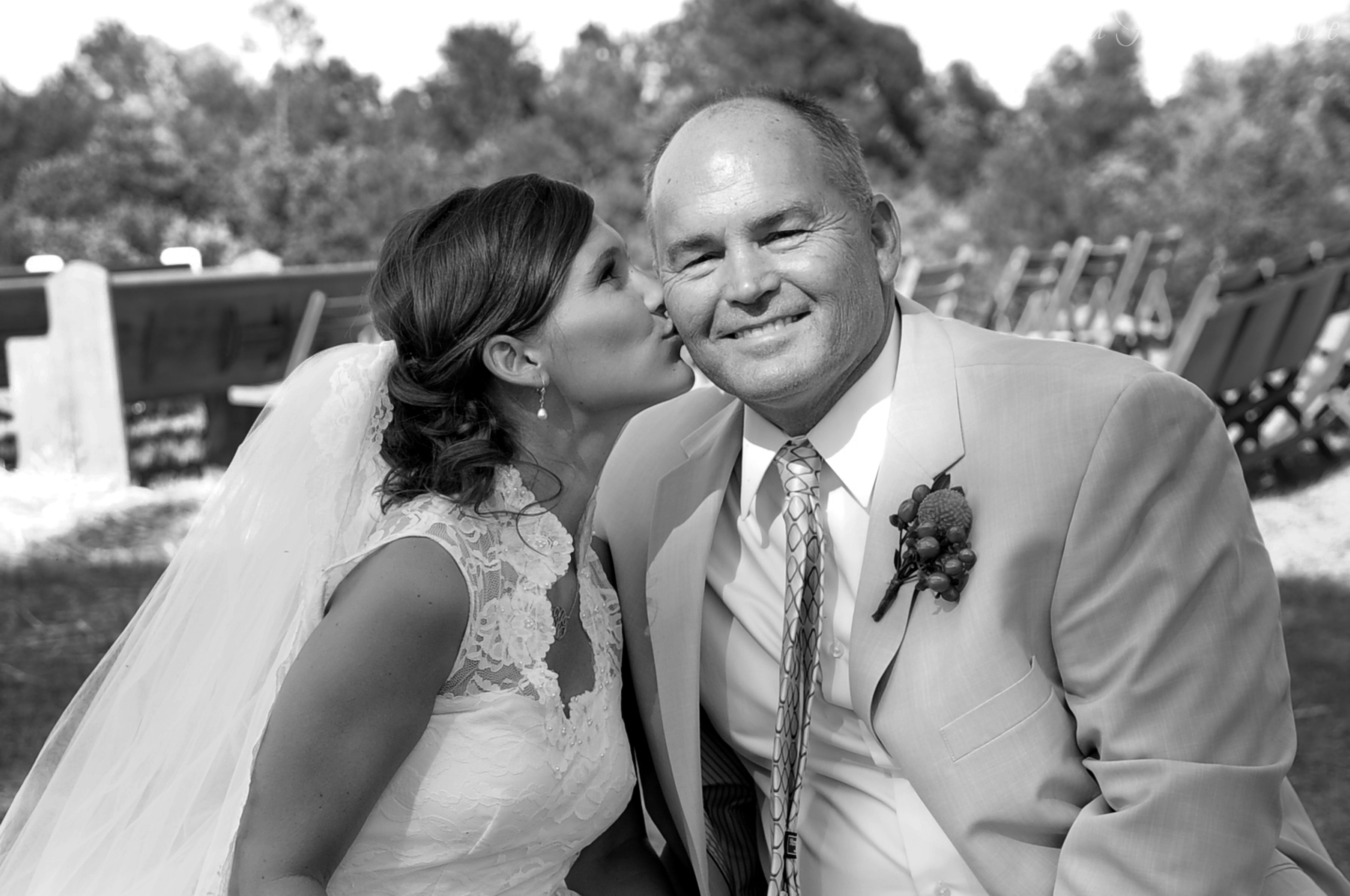 (photography by K&R Photography)
To end this post, I'm writing a letter to my Daddy… just to say thank you for being my Daddy and a darn good one at that.
to my Daddy,
over the years, you have been more than just my Daddy – you've been my Christian example, my leader, my teacher, and my friend. you've been my support system and encourager, you've made me smile through tears, but most importantly you've been there for me. as your firstborn, baby girl, I can't imagine how you felt walking me down the aisle on my wedding day. but, what I do know – is how much it meant to me. the time we shared before the ceremony, the tears in both of our eyes, and our daddy/daughter dance – all are priceless memories to me.
I can't say it enough, but thank-you. Our relationship means more to me than you'll ever know and I am so appreciative for every sacrifice you've ever made for me.
Happy Birthday, Daddy!
I love you,
Brianne, always your baby girl
ps. thank you for all the hard-work you put into building the barn