Three cheers, a hoot, and a holler – it's October and we are excited! With fall just around the corner (it's officially here, but we're still waiting on the weather to get the memo), we're looking forward to lots! Lots of leaves changing, temperatures dropping, boot wearing, pumpkin spices, Grey's Anatomy, bonfires, college football, deer hunting, dove shooting, fair fun, NFL games, and baked treats. We're ready to soak it all in!
To kick-off this new week, we are recapping our week through my Instagram photos. To follow along, you can find me on Instagram, @BrianneJoy!
Not only are the Heapes feeling fall, but Chevvy & Ron's is featuring some new fall products on Etsy – so be sure to check us out! We've been testing out some new pine-cone art for fall and have already begun on Thanksgiving and Christmas decor. What do you think of the pine cones? A or B?
This past week, Justin and I enjoyed a nice evening at his parents. They invited us over for stuffed poblanos and oh were they delicious! I'll have to get the recipe and try them soon.
In the spirit of fall, I took the plunge and bought colored pants. I went bold and rocked the red. I must admit, I think I'm a fan.
Chick-fil-A made my Wednesday, when I indulged on chicken minis and hash browns for breakfast.
After work, Mallory and I attended Witches Night Out hosted by Alice and Jay. To say we had a blast is an understatement. We dressed in witches hats (to receive 20% off our purchases), ate eyeball, cake pops, and shopped for fall decor! It was such a treat – literally. I can't wait to share my new finds with you!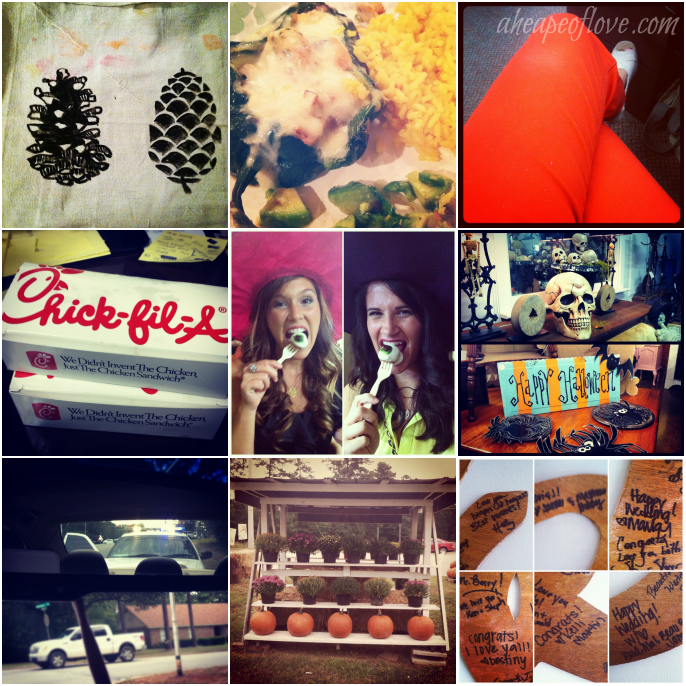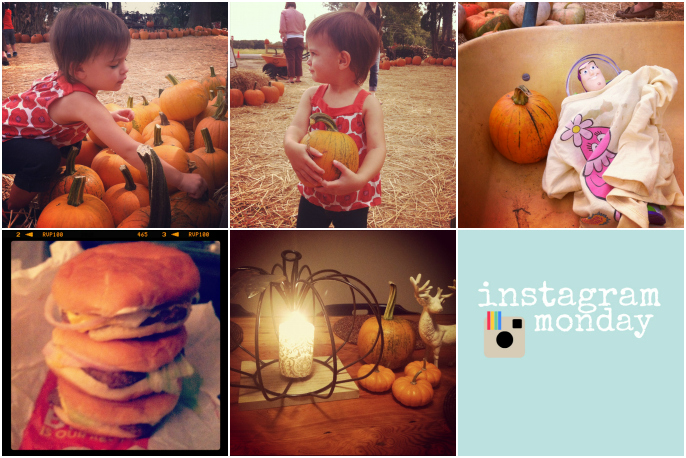 See the blue lights in my rear view mirror? That was an I-told-you-so moment. For over a month now, I've begged pleaded asked nicely for Justin to help me change my license plate. Literally, months. I said at least a dozen times, I'm going to get pulled over… And sure enough, I did. Friday on my way home from work, Officer Freddy pulled me over for an expired license. Ahem, I told you so. Thankfully, Officer Freddy had sympathy on me and only gave me a warning.
On the same drive home, I swung by this new (to me) farmer's market for the last of the summer's veggies. I can say, fresh fruits and veggies make me happy to live in south Georgia.
Bright and early on Saturday morning, okay more like 11-ish – Mallory and I took Beau (and Buzz) to Mark's Melon Patch for a little, pumpkin pickin'! We came home with lots of pumpkins, boiled peanuts, and one happy baby. Turns out, Beau loves pumpkins.
After a lazy, rainy Sunday afternoon, someone enjoyed 3 Jr. Cheeseburger Deluxes from Wendy's. Can you guess who?
With pumpkins on the table, by the door, and on the mantel, it's starting to look a wee-bit more like fall around our home. Above is a sneak peek of our fall decor – I can't wait to share more!
Coming up this week,
New, Pimento Cheese Recipe
DIY Scarf
and finally, a view of our gallery wall!!
happy October friends,
the newlyweds