So often we receive contact forms, comments, and emails filled with questions about various topics. From wedding planning tips, to relationship advice, we've been asked a lot. After a few repeat questions, we figured it'd be nice to give you all a mini FAQ session with the answers. Let's begin with common wedding related questions and then we'll digress into various other topics.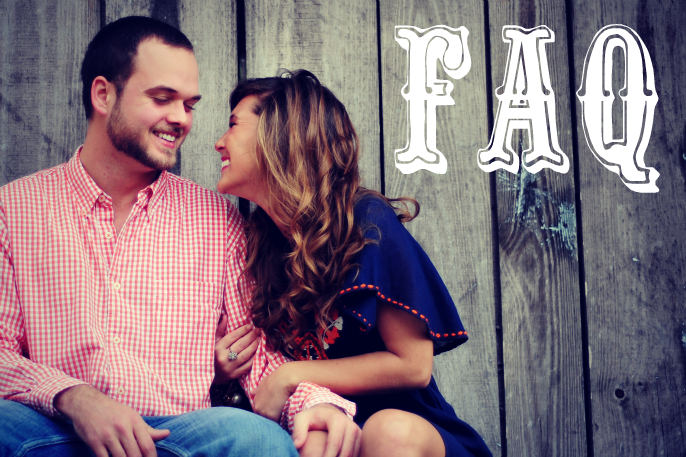 Our Wedding
How did  you find your wedding vendors? And what would you suggest for a low-budget wedding?
Many of our vendors were actually family friends. With a tight budget, it was very beneficial to involve family and friends. A few of our vendors including the Cake Artist and Florist, were actually recommended to us by other friends. Both of these vendors were locals whose talents are utilized more as a hobby than a career. Not only were they recommended for their exceptional work, but both were reasonable with pricing. Other people like our Caterer and some of the servers were family and friend volunteers.
(The people you'll really love while planning a wedding and for years to come!)
For the catering, our Caterer volunteered to do all of the preparation, as long as we paid for the food.
(Yep, she's awesome!)
We really wanted to have homemade ice-cream too, which is where the family volunteered. Not only did they make the delicious, cool snack, but they also volunteered their time to serve.
(They're pretty awesome too!)
For a complete list of our vendors, visit
our wedding details
page here.

To you, what was the hardest decisions to make during the wedding planning process?
The date. I don't know if other brides feel this way, but for me it was so hard to determine the date I wanted to say, "I do." Out of 52 Saturdays in 2012, we were suppose to pick
the best day
to get married – that just seemed so difficult. Prior to ever becoming engaged
(or really thinking about
my
wedding)
and after watching Run Away Bride, I dreamed of a fall wedding. Julia Roberts getting hitched to Richard Gere on a hill, with fall leaves as the backdrop – yes, please. However, it didn't work out that way. I was too eager to be with my man and waiting isn't my forte. March was my ideal option, but that was too soon for Justin and my parents.
(And probably me too, in hindsight.)
April was filled with other friend's weddings, which left May. We decided anything after the 1st weekend would be way too hot in south Georgia, so cinco de Mayo it was.  The ceremony music was a close second in the hardest decision race.

Who would you recommend for photography?
Justin and I were very fortunate to find
K&R Photography
, especially since we'd already determined the date.
(It's hard to pick a photographer when you're set on a specific date and you're picky like me.)
We really wanted a photography team
(Kim and Emily make a great team!)
, because I love the his/hers photos taken before the ceremony. And, we felt photography was
one of the most important
decision we would make and we really wanted
every
detail captured – which is why I really wanted two photographers. Kim and Emily were our photographers on our wedding day and they captured our day beautifully.
(At least I think so, although I'm bias.)
To view our complete wedding photos,
click here
. To see more of
K&R Photography's
work, you can view
our engagement session here
. Although
K&R Photography
did a great job capturing our wedding day, I was highly impressed with these other photographers as well:
Anna K. Photography
. She's shot several of my friends weddings and I'd love to use her in the future!

Who designed (and branded) your "a Heape of Love" concept?
The phrase was something I coined shortly after we were engaged – and it stuck. After all, we are Mr. & Mrs. Heape. The brand design was custom created by family friend, Joni Lay of 
Lay Baby Lay
. Initially, she began a wedding branding/invitation design company called
Chocolate Butterbean
. Since having her baby girl a couple of years ago, she has closed shop on
Chocolate Butterbean
, but was willing to work with me to create my ideal brand for our wedding. She was phenomenal to work with. After tossing a few ideas of our southern favorites and describing my vision, she quickly presented the peach logo you see on this site. It was also used on our wedding invitations, programs, and signage. To find out more about Joni's line of work now, be sure to visit
LayBabyLay.com
.

Other FAQs
What advice do you have on maintaining a long distance relationship?
First, know that it will take work. Nothing about a relation ship is easy, let alone a relationship separated by miles. But, it is possible. During our relationship, 4 out of 5 years of dating was spent with us living in different cities – at one point we weren't even living in the same state. Which is why we'd both say, a successful long-distance relationship is all about sacrifice and balance. He gives a little; you give a little. Second, the relationship should be filled with trust. Near or far, every relationship needs this factor. With trust, there is no room for doubt. Honesty can only help your relationship grow stronger, so be an open book with your love and erase the omission barrier.

How long was your engagement?
Justin proposed on September 1, 2011 and we were married on May 5, 2012. For those who aren't math whizzes, that's 7 months and 4 days.

Where do you like to shop?
H&M, along with local boutiques. Whenever I lived in Savannah, my favorite boutique was
Red Clover
; now, I find most of my boutique treasures at
Blush
. Justin prefers to buy everything at T.J. Maxx. He's a Maxxinista!

What cleansers and moisturizers do you use daily? If any? (This is actually a very, very common question.)
I'm not sure I'm qualified to give advice on skin care regimens, however I would be happy to share my preferences. My cleanser of choice is Purpose® by Johnson & Johnson; it has been for years actually. It's gentle, contains no medicines, and it does a great job at removing eye make-up. As for moisturizers, I recommend Alba Botanica® Hawaiian Oil Free Moisturizer. It's so light and doesn't leave my skin feeling greasy. Plus, it wears well under make-up! I've been using this product for awhile now and I have no complaints. Also, I have been using this moisturizer in the mornings that I discovered through Birchbox, Jouer Matte Moisture Tint. I love the finished matte look and it goes on light, like a moisturizer ought to! Remember, everyone's skin is different; so although I recommend these products, I can't make any promises.

What has been the hardest challenge of being a newlywed?
For me, adjusting to the roll of wife and homemaker. Although it may seem glamorous at times, juggling a job, cooking dinner, cleaning afterwards, and still finding time to relax with my husband and conquer the laundry pile is hard work! I'm not even going to attempt to answer this one for Justin and he's not going to answer it, because I've already had him working on another blog post today and two in one day is just not okay.

How long until there are a Heape of babies? or Any thoughts on little ones yet? or When will the Heape's be expecting?
Not soon! For now, we would like to enjoy our time together as a couple. As we've mentioned before, the majority of our dating relationship was long distance. So, we are taking full advantage of our time together and embracing our lives as newlyweds. In the Lord's timing, we would love to have "a Heape of babies" or maybe just a couple of little ones. But for now, we're just a Heape of love.

We hope this FAQs and answers helps you to understand and learn a little  bit more about us. If you have any other questions, or would like to just say, "Hello!" – be sure to fill out our contact form here or comment below. We'd love to hear from you and are always happy to answer your questions!
happy Friday,
the newlyweds