It's that time again. Time for our weekly, Instagram recap – photography by @BrianneJoy, follow me on Instagram!
1| Last week, whenever this strong desire not to cook overwhelmed me – Justin stepped in and offered a sushi, date night. It was one of those Justin-saves-the-day moments… relief. It was so nice not to come home, worry about cooking, and then having to clean up the mess I made. Not to mention, we ended the date night with frozen yogurt. It was perfect and exactly what I needed on a random, Thursday night.
2| Mallory and I have also been brainstorming and working hard on new, Chevvy & Ron's creations. We combined our powers during last weeks episode of Grey's Anatomy and were pleasantly surprised with our finished product. Check out this adorable, "Lucky in Love" decor. I'm basically obsessed and want one for  myself.
Shameless plug: There are only 3 available in the shop, ready to ship – so buy yours now!
3| On Friday, the Glows invited us over for dinner. Let me tell you, the blackened, red snapper we had… delicious! And so were those amazing, Red Lobster inspired biscuits.
4| Saturday morning, while Justin was working from home – I surprised him with breakfast for two. I've had a few requests for my scrambled egg recipe, so I'll probably be sharing that with you later this week. See that OJ? Yep, that's fresh squeezed from Ft. Myers, Florida. We had friends come in to visit and they surprised me with a gallon. It's my absolute favorite.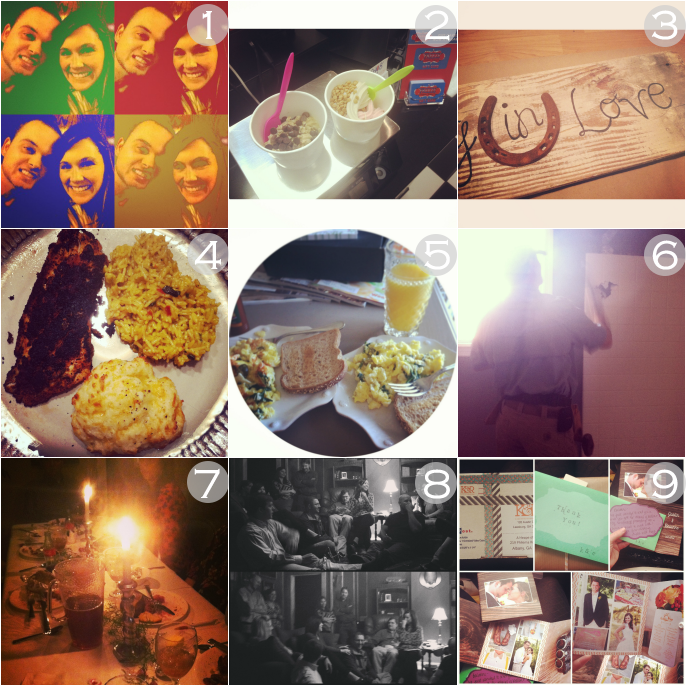 6| Saturday afternoon, my father-in-law helped Justin with our bathroom renovations. To kick start the process, the tub had to go.
7| Late Saturday evening, we joined our newlywed, Sunday school class for a early, Valentine's dinner and games. We enjoyed a beautifully prepared prime rib dinner, candlelight.
8| After dinner, we all gathered to play a few couples games. Unfortunately, the Heapes were not the winners. Although, I'm pretty sure we were tied for 2nd place.
9| On Sunday, after church, Kim and Emily with K&R Photography surprised me with 2 fabulous, CD cases with our wedding photos. Aren't they the sweetest? Be sure to "Like" them on Facebook!
—
Just because it's Monday and I'm excited about this week, I'm sharing with you a Pep Talk by Kid President, the YouTube phenomenon.
Isn't he awesome?
A few memorable quotes,
"This is life people. You've got air coming out of you nose!"
"What will be your Space Jam?"
"We can cry about it or we can dance about it."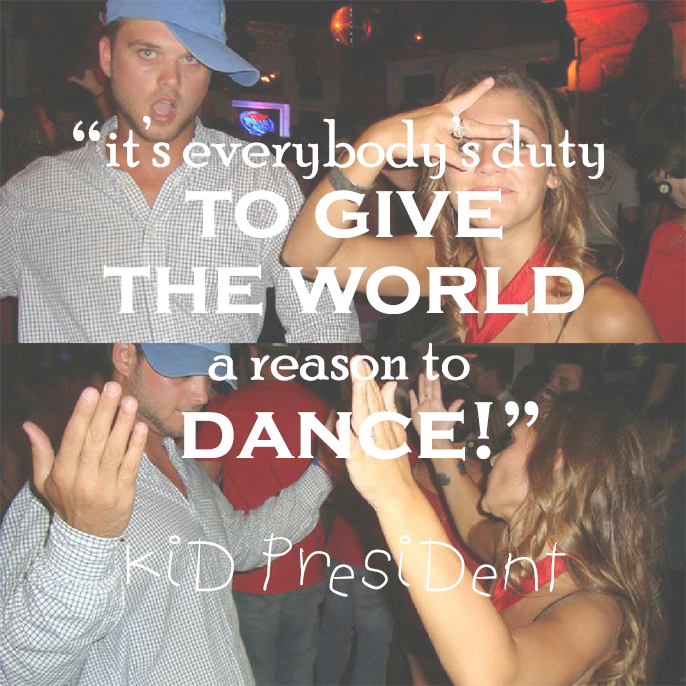 —
Now you know I hate strongly dislike Mondays, so why am I excited about this week? For one, it is Monday and "We can cry about it or we can dance about it." Two, it's Valentine's week. Three, we're going to Savannah! At the end of this week (5 days to be exact), we'll be roadtrippin' to my favoritest city. And guess what? I. Can't. Wait!
—
We were made to be awesome! This is your time. This is my time. This is our time!
happy Monday,
the Heapes