It's finally Friday and I couldn't be happier! I know I shouldn't constantly be wishing time away, after all – I can't get it back. However lately, it's been so hard. As soon as my Monday alarm bings, I begin wishing/hoping/dreaming for Friday. There is just something about the work week that I just can't help but wish away, or at least wish would pass faster. Maybe it's the newlywed bug that's still got me loopy, but all I want is free time with my honey. Unfortunately, that's unrealistic and a fairy tale; just a dream and not real life.
So as I do a happy dance and shout cheers of joy for the weekend, I'm sharing with you a few colors I'm lusting lately. Typically I'm not even a paint-your-nails kind of gal, but lately I've really been wanting too and Essie has some awesome colors that are ideal for V-day. (Valentine's Day, just another of my favorite holidays! Be prepared, we'll be celebrating V-Day for the next week or maybe longer.)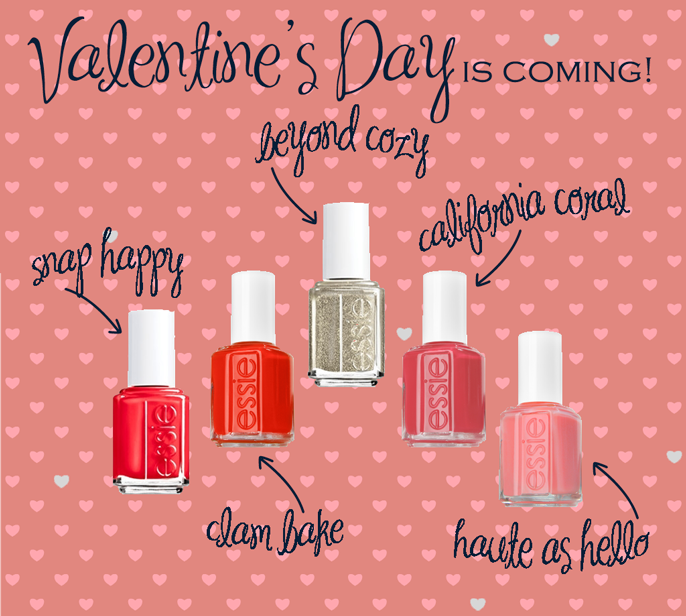 Top 5 colors I'm digging: snap happy, clam bake, beyond cozy, California coral, and haute as hello!
Dear Valentine, I'll take all of the above… hint, hint. Please and thank you!
—
We're going into the weekend with a hot date planned for Saturday evening! It's with our Sunday school couples, but we'll be dressing up and for some reason, that in itself makes me excited. Do you have any big plans for the weekend?
happy Friday,
Brianne & Justin
ps. Have you tried any of the Essie colors shown above? Either way, let me know your favorites!