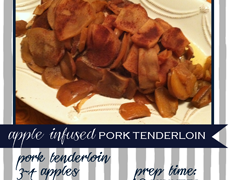 Apple infused, pork tenderloin or catnip? Obviously, I shouldn't reference anything I've cooked and am sharing with you as catnip… but there is a point, so stay with me.
A week or so ago, I tried my hand at apple infused, pork tenderloin – originally inspired by this pin on Pinterest. It was a super easy recipe and sounded delicious. For my first attempt with tenderloin, it wasn't too shabby. However, Justin dared to disagree at dinner.
To begin with, I decided to invite his parents over for dinner – on the same night I decided to try a new, Pinterest inspired recipe. A trial recipe is probably not the night you should invite company over. Mental note made.
Either way, I enjoyed it and so did his parents, unless they didn't want to hurt my feelings. But Justin didn't hold back; he told me upfront how he felt. In his words, "It's okay, but it smells like catnip." Weird? I think so. To everyone else, it smelled like cinnamon and apples.
The next day, I did receive this text from Justin: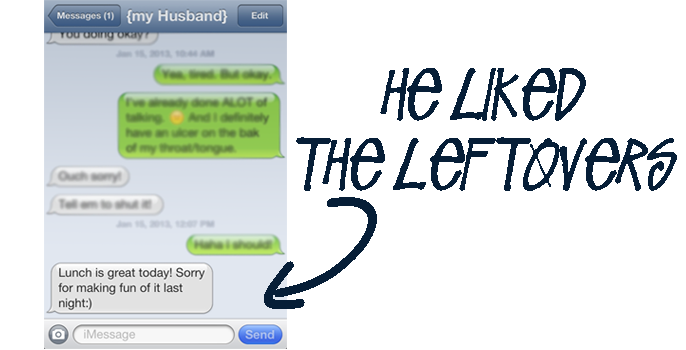 In case you can't read it – it says, "Lunch is great today! Sorry for making fun of it last night:)"
Ha, so I did do something right! Not only did I prepare this delicious, apple infused, pork tenderloin for dinner, but he had leftovers to enjoy for lunch. And obviously, it was better the 2nd time around for someone.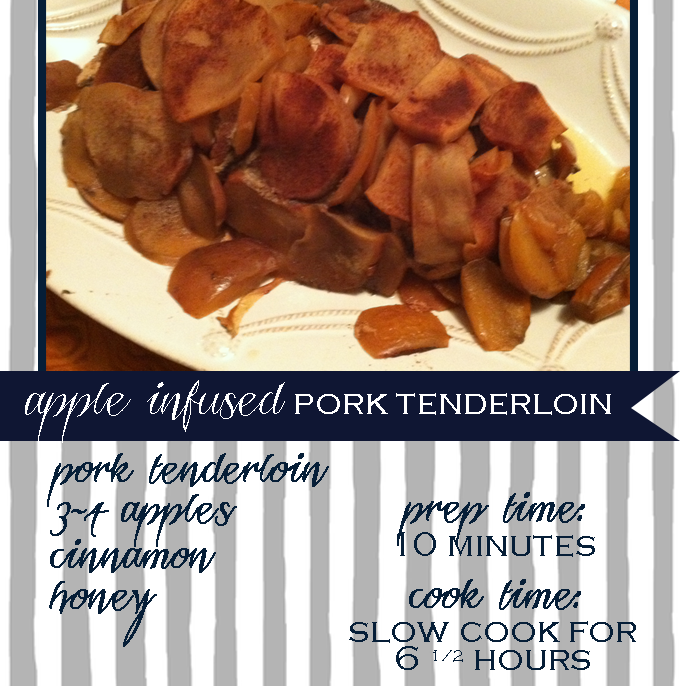 Without taking any more of your time, here is the recipe!
What you will need:
pork tenderloin
3 – 4 apples
cinnamon
honey
and a crock-pot or slow cooker – whatever you like to call it
Prep time:
10 minutes
Step 1
, slice up 3 – 4 apples.
Step 2
, slice slits into the pork tenderloin.
Step 3
, cover the bottom of the crock-pot with apple slices.
Step 4
, drizzle honey and sprinkle cinnamon into each slit of the tenderloin.
Step 5
, stuff the apple slices into each slit.
Step 6
, use the remaining apple slices to cover the pork tenderloin.
Step 7, sprinkle more cinnamon and drizzle more honey.
Cook time:
Slow cook for 6 ½ hours. Serve when ready!
For a side option, I sauteed squash and okra. But any veggie would be a great addition.
—
Is it really only Thursday? I feel like this week is dragging… at least for me. I'm ready for the weekend, big surprise!
Although we don't have a ton planned, I am excited about some new, Chevvy & Ron's orders and our Valentine's dinner with our newlywed, Sunday School friends. Do you have big plans for this weekend? Valentine's dates?
xo,
Brianne