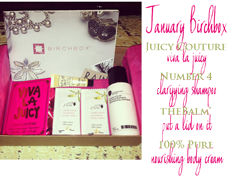 Mid-January, I received my monthly Birchbox. Eagerly I unwrapped my pink box of goodies, only to discover that I didn't receive all of my products. (I was missing this.) This has happened once before, but typically I'm pleasantly surprised with all of the awesome products. After receiving such a great box in December, I'll admit I was a bit disappointed.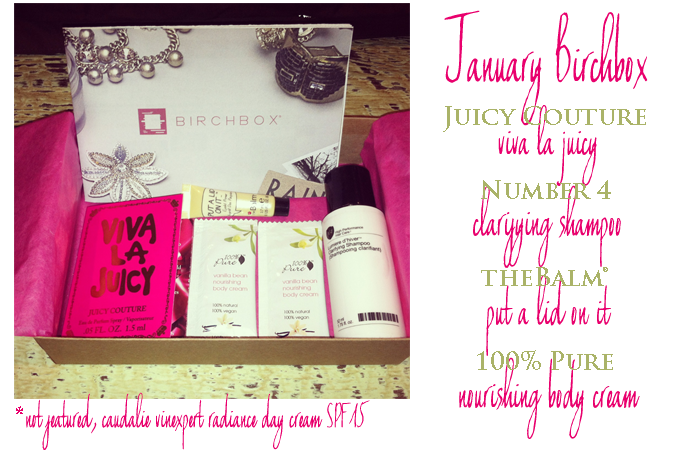 However, all of the products that I did receive were great! I love the Juicy Couture Viva La Juicy; and the 100% Pure Nourishing Body Cream was a nice, added bonus.
After using the Number 4 Clarifying Shampoo only one time, my hair felt like it'd received a makeover – instant results. Not only was my hair shiny and smooth, it felt uber healthy and the shampoo removed excess buildup other hair products leave behind! Although I loved the results of the Number 4 shampoo, I honestly don't think I could pay $32 for shampoo – even if a little bit goes a long way! But… if your wallet is thicker than mine, I'd say go for it. It really is a great product and smells great too.
Probably my favorite product in my January box, theBalm® Put a Lid on It™. I was first introduced to theBalm® cosmetics by Birchbox, in my first box. Since then, I've been hooked. Each product I've tried by theBalm® cosmetics has been great, seriously – which is probably why I'm such a fan of the Put a Lid on It™ primer. It's the perfect solution to a smooth application and came just in time for my Nude 'tude eyeshadow palette. At $18, I the eyelid primer is worth the price. Although I haven't purchased my full-size product yet, I definitely plan on it.
Are you a Birchbox subscriber? If so, join in the monthly link up and let me know what you received in your box. If not, click here for more information on how to receive your box!
xo,
Mrs. Heape