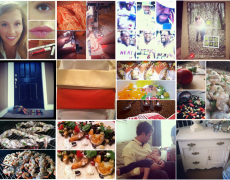 On this gloomy, rainy Monday morning in Albany, we're attempting to spice up the day! While looking forward to a bright week, we are reminiscing on our favorites from last week.
We ended last Monday with a salmon and fresh, vegetable medley – home cooked by me, the wife. I love saying that! Also on Monday, my sweet parents were keeping Stewart and were kind enough to seen me the adorable photo of him munching on a watermelon/dirt combination. Isn't he darling?
On Tuesday, I discovered quite a few hits on my BreezyJoy blog. After a little research, I realized our Bachelorette mugshots are quite the hype on pinterest – seen here and here! (Over 24,000 pins and counting!) That evening, I was surprised with my first Birchbox. Justin so kindly agreed to my Birchbox subscription, so I have him to thank for my June gift. Below, I'm rockin' my new favorite lip stain by Stainiac.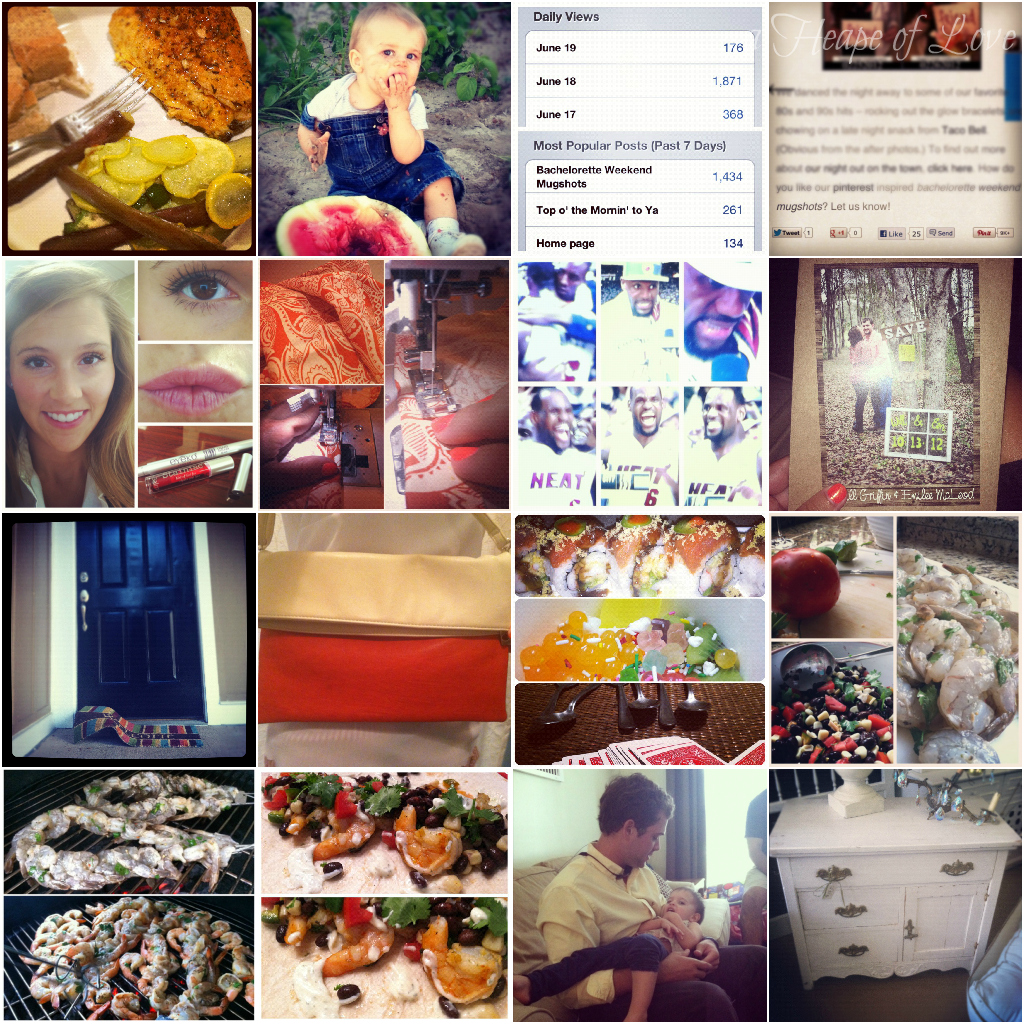 It was Wednesday evening before I put myself to work on our new bed-skirt. It's a project I really wanted to do, but just hadn't found the time to work on it. Fortunately, I found the time and am happy with the outcome – more on this later!
Thursday was exhausting, as I had two really important, work meetings and Justin was working on his latest project until late. So, we wound down the night cheering for the Heat – who won! The Miami Heat beat the Oklahoma Thunder, 104-98 – giving LeBron James his first, NBA Championship ring. Congrats to the Heat! (We're big fans, if you can't tell.)
On Friday, the postman delivered Justin's (replaced) wedding band, a save-the-date, and Justin's new shorts. Which was a pleasant surprise, mostly because it sort of equaled out the spending I did at Blush – where I bought a pair of shorts, earrings, a top, and that fabulous purse, seen above!
We spent the weekend our favorite way, surrounded by family and friends. On Friday evening, we went to dinner, indulged on fro-yo, and played a hand or two of spoons with friends! Saturday morning, Bethany, Bailey, and I drove to Dawson for some antique shopping at Alice and Jay's and our favorite, antique warehouse. (Thank you, Pam – for all the great finds!) It was a successful trip; I bought Justin a nightstand and a little something extra for a new project I'm working on.
Fast-forward to Saturday evening and we enjoyed the most incredible, cilantro/lime, grilled shrimp tacos! It's always a treat to have dinner with our parents, especially when the meals taste this good! Recipe to come, soon.
Sunday's showers brought on more time with friends. Justin and Buddy spend the afternoon on the water, casting lines, and reeling in big ones, while Mallory and I enjoyed time with the Littles and catching up. We closed out our weekend, with some quality time together watching The Ides of March. On a scale of 1 to 10, 10 being the best… We both rate it 8 1/2 squirts of goodness!
For more photos – follow me on Instagram, @BrianneJoy
How did you spend last week? Are there any new projects you are working on? We'd love to hear!
Happy Monday,
the newlyweds