It's Monday, again. To liven up this dreaded day, we are here with our weekly, Instagram Monday post to highlight our favorite moments of the past week!
Last Monday evening, we joined our friends Buddy and Mallory for The Catch's 1/2 price, oyster special. (Our 2nd oyster, date night with the McBride's – I'd say we're fans.) I will admit, since moving back to the 'bany (that is slang for the Albany, a common nickname for this small town) – double dates have become one of my favorites.
It was a short work week for us, as we hit the road on Wednesday night for a mini-vacation in St. George Island, Florida. On Thursday morning, Justin surprised me with a bouquet of flowers before breakfast. Then, we headed to the beach to enjoy sand in our toes and to soak up some sunshine. After a dip in the ocean, initial panic, and 2 hours of searching, Justin surfaced the beach ring less. Yep, Justin lost his wedding band! Honestly, Justin was more disappointed than I was. I guess I figured it was a matter of time and I was happy he'd held onto it for over a month. Fear not, we've already placed an order for another one.
Day 2 of our trip was overcast and rainy, so we headed into Apalachicola for some shopping and lunch. Justin found me a Kennedy book titled, The Other Mrs. Kennedy – which I can't wait to read. (He knows me well.) In good company, we found some great gifts for our fathers at a local, outdoors store. After shopping until we were dropping, we found this hole-in-the-wall, seafood restaurant – literally, Hole In The Wall Seafood & Raw Bar. The food was incredible and the service was impeccable. If you are ever in the Apalachicola area, I would highly recommend stopping by for lunch or dinner!
The rest of the week and into the weekend, we enjoyed some time with the Heape's, Jackson's, Smith's, Meme, and the future, Aiken's. Low-country boil + Phase 10 on the porch, equals a lot of mosquito bites and fun!
We spent Father's Day packing up and traveling home. However, a detour landed us in Mexico Beach and we couldn't resist dining at Toucan's – one of our all-time, favorite restaurants. A local secret, Toucan's is one place we've shared great memories and dozens of oysters.
After crossing the state line, Justin and I prepared to part ways to spend the rest of the evening with our fathers. Justin spent some quality time with his Dad, munching on pizza and catching the NBA finals. Meanwhile, my Daddy and I went walking through the pasture, checked out the barn, did a little apple pickin', and caught the beginning of the NBA finals. For those who may be curious, the Heape household is rooting for the Heat. (I'm a LeBron and Wade fan! And, it's about time LeBron got a ring!)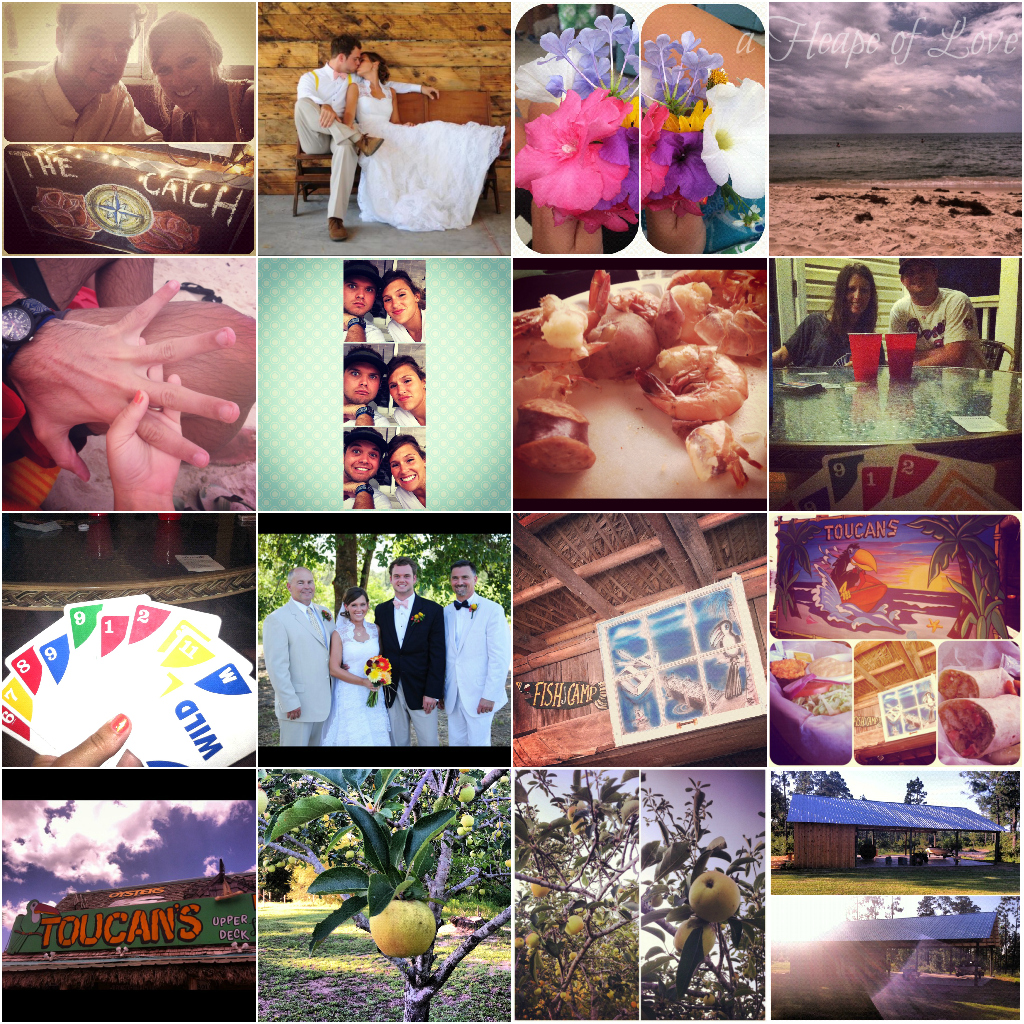 For more photos – follow me on Instagram, @BrianneJoy
After spending several days at the beach, you can understand why we were both dreading this back-to-work Monday.
How did you celebrate Father's Day? Fill us in by sharing your favorite, Father's Day memory!
Sayonara Monday,
the newlyweds