As some you may know, I have a slight Instagram addiction fascination. Now, I must confess that I wasn't aware of this addiction fascination until after our nuptials… However, after Justin threatened to delete my Instagram account on at least two occasions – I got the memo! His threat caused great alarm, causing me to immediately minimize my Instagram posts. (My fondness for the photo app has made me limit my Instagram usage out of fear of deletion, but it will remain my favorite iPhone app and guilty pleasure.)
With all of that said, Justin is thrilled to know that we will have a weekly, Instagram photo post to highlight my favorite pictures of the week. Since Monday is so drab, we will spice up the dreaded day with photos from the week prior. Below you will find a brief synopsis of how these pictures played into our week.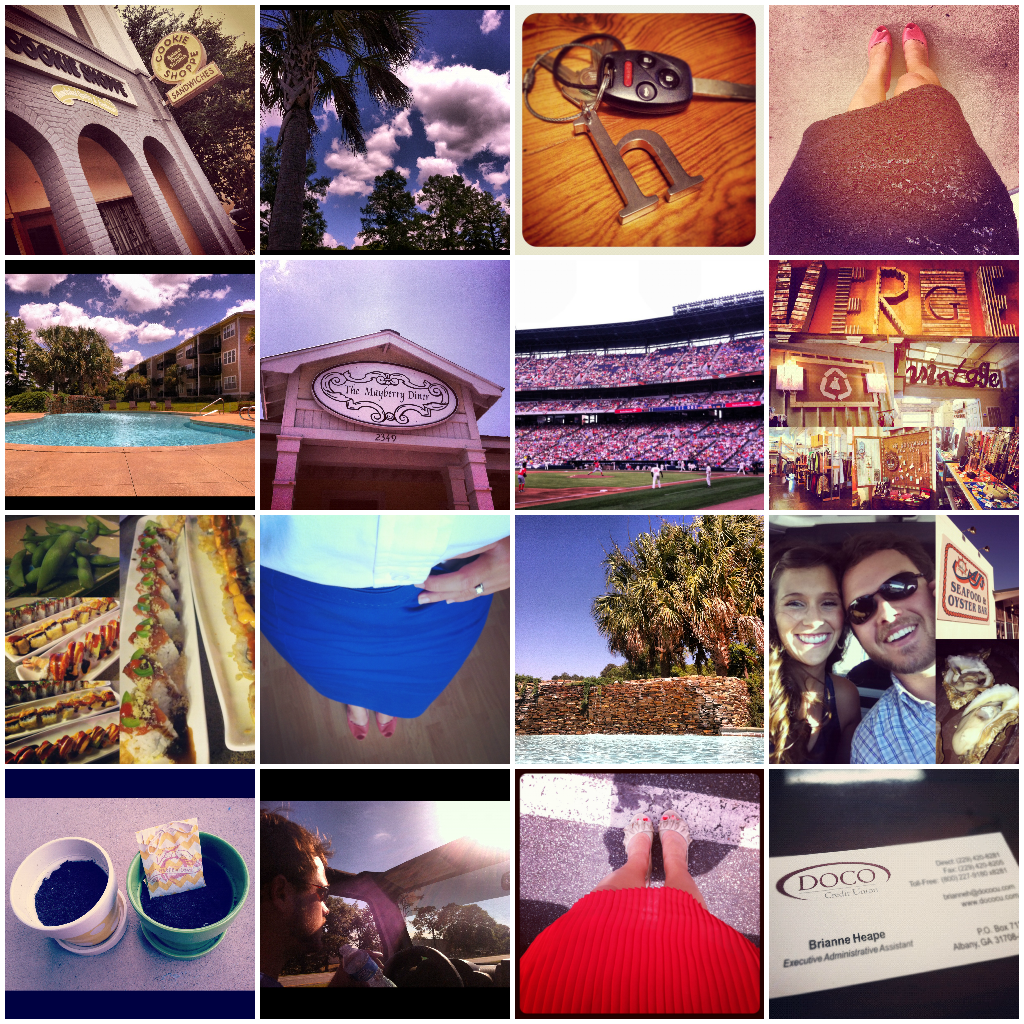 Over the past week or so, I discovered one of Albany's newest boutiques, Verge. Verge is located downtown, near The Cookie Shoppe – a must-eat in Albany, where I stopped for lunch because I couldn't resist. I also purchased that super cute, "H" key-chain to showoff my new initial. With Memorial Day last weekend, Justin surprised me with tickets to a Braves game. (Sadly, we lost!) On the way, we detoured to one of my favorite, Atlanta stores, H&M – where I bought all of the fabulous skirts you see featured above. (Okay, a couple may have came from Forever 21's Love 21 line.)
The rest of the weekend was spent on miscellaneous projects around the house and much needed pool time. (I'm a big fan of our pool & the view!) Tuesday meant back to work, but a spontaneous lunch with my mom made my day! We went to one of her favorite restaurants, The Mayberry Diner which is decorated with Andy Griffith memorabilia and serves southern delicacies. Springing into the weekend, we had not one but two dates! Date one, some time together at one of my favorite restaurants in town, Shogun. Man, do we love sushi! Date two, we enjoyed an oyster dinner with two of our closest friends, Buddy and Mallory. We ended date two at the movie theater, watching Snow White and the Huntsman – which scored two thumbs up from me!
iPhone users – find me on Instagram, @BrianneJoy!
If you are a fellow, Instagram lover – leave a comment with your Instagram handle and let me know what you think of my pictures. If not, I would love to hear about your favorite iPhone apps and why you love them.
Happy Monday!
xo, the newlyweds