It's Monday and we're back with our weekly recap via Instagram pics. From the pictures you can't tell, but last week was chaotic for us! Several late nights in the office for both of us, along with lots of running around and a very busy weekend. I planned my 1st big event for DOCO Credit Union, which is my day job – in case you were wondering. It was that event that took up most of my time this weekend.
1| Earlier in the week, I tried a braided scarf – a pinterest inspired concept! What do you think? Cute?
2| Dominoes = our new game… well, Mexican Train to be more specific. Lately, we'll get together with the McBrides for a late night
(after-the-kids-go-to-bed)
game. It's been a lot of fun and a great way to spend time with friends.
3| Last week, I told you about the Mango, Habanero Chicken my husband cooked for me. So, you already know how I felt about that deliciousness.
4| Whenever you need God most, He sends sweet reminders – like a beautiful sunrise. A picturesque moment that's sure to make you smile.
5| After forgetting to pay the water bill, I was forced to shower at my parents on Friday morning. In turn, I was greeted by the family donkey, Maude.
6| Going into the weekend, a few of my co-workers and I made a gamble on the halftime and final scores of the Superbowl XLVII game.
(Don't judge, I only paid $5 for a square and it's not a habit!)
Although I didn't win big, I'm thankful that the 49ers didn't take home the trophy and that the halftime show included Beyonce and Destiny's Child.
7| To make my Monday just a bit better than a norm, I used my new, Nude 'tude eyeshadow palette by theBalm®. I love all of the neutral colors.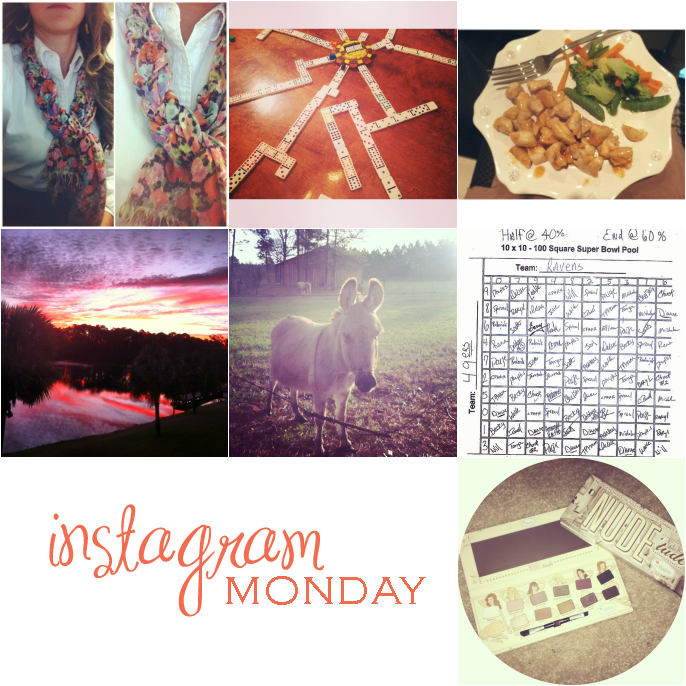 If you'd like to find us on Instagram, be sure to follow us me – @BrianneJoy. We're also on Facebook, Twitter, Pinterest, and now Vine! If you blog, we'd love for you to link up with your Instagram posts.
Hope you all have a wonderful week and a happy Monday!
Brianne & Justin