Yesterday was one of those days. You know, one that makes you think multiple times, "I wish I could start this one over." One of those days that nothing seems to go in your favor. Not only was it stressful, but seriously – nothing was going my way. First, I bit Justin's head off… for no reason! Then, a very, very, very important file mysteriously disappeared and couldn't be recovered. Fast forward through a busy afternoon, only to discover that I'd forgotten to pay our water bill. Yes, one of those days.
At the brink of tears, my husband so graciously cooked dinner for the two of us. Not only was it a pleasant surprise, it was delicious! Aside from all of my favorite, Mexican dishes, this one may trump them all – especially the simplicity factor. With a 5 minute prep time, about 10 minutes of cooking, and only three, main ingredients – you really can't beat it.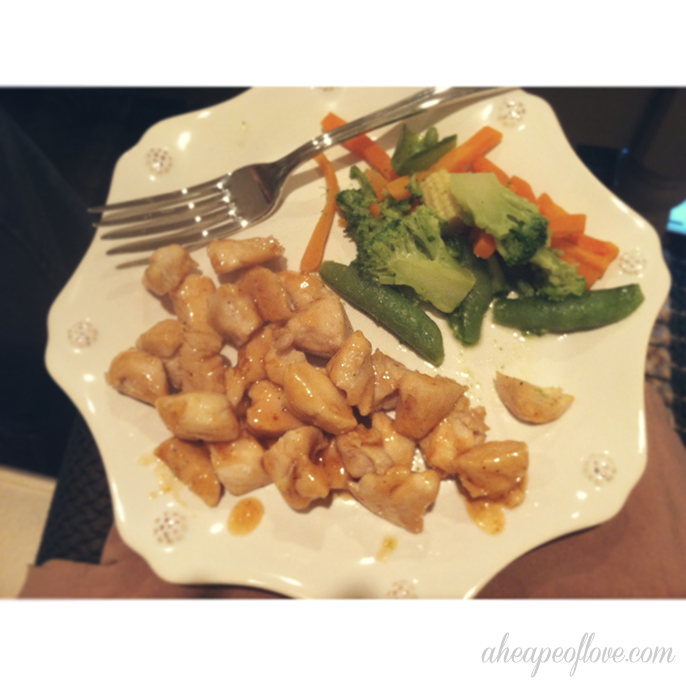 What do you need?
two, thawed chicken breasts (cut into bite size pieces)
house seasoning (salt, pepper, and garlic)
olive oil
Toss the chicken bites into a skillet, with two teaspoons of olive oil. Season and brown the chicken. Drain and add 4 tablespoons of BWW's Mango Habanero™ sauce. Stir, serve, and enjoy!
I should add, that the measurements mentioned above – totally estimates.
He added mixed, steamed vegetables as the side. It was all great, especially since I wasn't in the mood to cook!
This easy and delicious, Mango Habanero Chicken recipe is brought to you by Justin! We hope you enjoy.
happy eating,
the Heapes