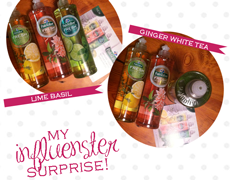 Earlier this month, when I was bedridden due to my wisdom teeth fiasco, I received this surprise package from Influenster. Similar to this box, Influenster surprised me with Palmolive's new, Fresh Infusions dish soap. As pleased as I was to receive a second box, I was pleasantly surprised to find that I received not one, not two,  but three full-sized bottles of the dish soap.
With the box came a couple of specific instructions:
test out the products
share one bottle with a friend!
What was the first thing I did? I smelled each of the fresh scents! Of course, after smelling each of the unique fragrances – I had to share with a friend.
Now, I could tell you all day long how this Palmolive soap is tough on grease, makes glass shine, and leaves no residue. What I can't do, is send these unique fragrances through your computer screen. The scents – all of them: lemon thyme, ginger white tea, and lime basil – are fabulous!
After using this product for a couple of weeks, I give Palmolive's new, Fresh Infusions two thumbs up! Although the performance is about average in comparison to most, household  dish soaps, the fresh fragrances make the Palmolive Fresh Infusions stand out among the rest. Of course, this is only my opinion and I recommend trying them out yourself.
*Note: I received these products complimentary from Influenster, for testing purposes only. I am not compensated for my review.
—
This weekend, I'm coordinating a quail hunt – my first big event on my job back home! As eager as I am, I'm praying for smooth sailing over the next couple of days. Your prayers are appreciative too!
—
Later – as in tomorrow and next week – I'll be bringing you new recipes and some ideas I've been brainstorming about our new house! Get excited!
xo,
Brianne