As I'd mentioned before, I bit the bullet and finally had my wisdom teeth removed. For me, it'd been something I'd dreaded for awhile. I'd never ever had any sort of procedure (out patient or legit) done and quite frankly I was terrified. Initially, the dentist suggested for me to have them removed in early 2012 – but, our wedding day was too close in my opinion and I dreaded chipmunk cheeks on my big day! So, I prolonged the inevitable.
Last fall, I met with Dr. White and scheduled dooms day for Monday, January 7th. In all my fears, I never dreamed it be a cake walk. For the first day or so, not only was I okay – I was chipper! Everything appeared to go as smooth as possible. Smooth until nausea set it; then it was adios smooth sailing, hello misery.
Since Monday, my days have been filled with Grape Powerade, orange and strawberry Jell-O, lots of medication, good company, and sweet notes from my Love. My sweet Mother-in-law so kindly drove me to and from the appointment, brought me generous amounts of juices, Jell-O, soups, and comfort. Likewise, my Mama was kind enough to bring me similar products and company! Plus, Justin babied me all week – which was just what I needed. I couldn't have asked for better care!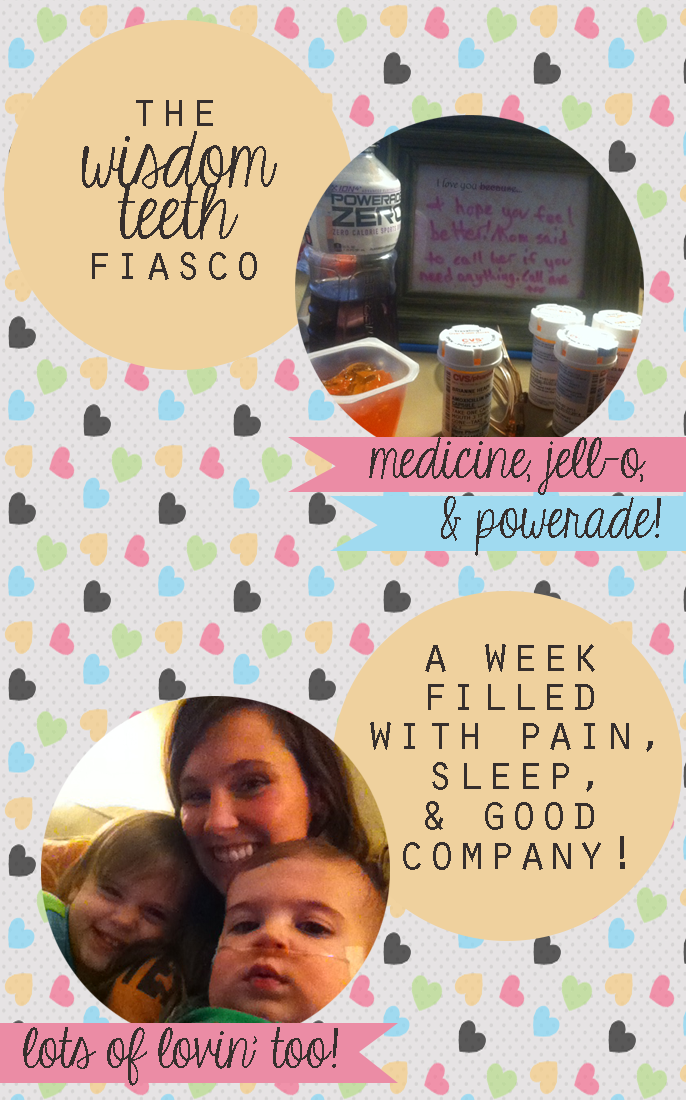 When I felt well enough to get out and about, I couldn't resist some lovin' by the two McBride littles. With James' chunky cheeks to kiss on, I didn't feel so bad about my chipmunk chompers. They are the perfect medicine of cheer!
After 7 days of bumming it, I'd like to say I feel much better. But, it seems I may have a sore case of dry sockets that is still causing me discomfort. Fortunately for me,  Dr. White takes patient calls on weekends and I've got a follow up appointment this week. I'll keep you posted on my wisdom teeth fiasco. Prayers and encouragement are appreciated!
—
Also, if you could keep my friend Hayley in your thoughts and prayers this week. She is traveling to south Africa to work with the International Mission Board for an indefinite amount of time.
Missions (specifically missions in 3rd world countries) are near and dear to my heart. Not that it is my calling, but I've been fortunate enough to have many friends passionate and personally chosen for ministry in 3rd world countries.
Although it is not my calling to travel, I have been called to pray, encourage, and support missions. Which is why I'd encourage you to read through Hayley's story and follow her journey as she spreads the love of Christ to the lost in south Africa.
—
As the weekend draws to an end and a new week lies ahead of us, know that I plan to be back in the blogging grove with our weekly, Instagram recap and some exciting new posts too!
enjoy your Sunday,
the Heapes
ps. Did my awesome, picture board impress you? I was pretty pumped with my mad, Photoshop skills and all I've learned recently.