Earlier last week, I was pleasantly surprised with a Cosmo VoxBox from Influenster. Initially, I wasn't sure how I'd managed to get my hands on one of these boxes. However, shortly thereafter I received an email stating I'd been chosen to give my honest opinion and feedback on a few new products.
Eagerly, I unwrapped my box to reveal the following items:
I have nothing but positive feedback for all of the products listed above!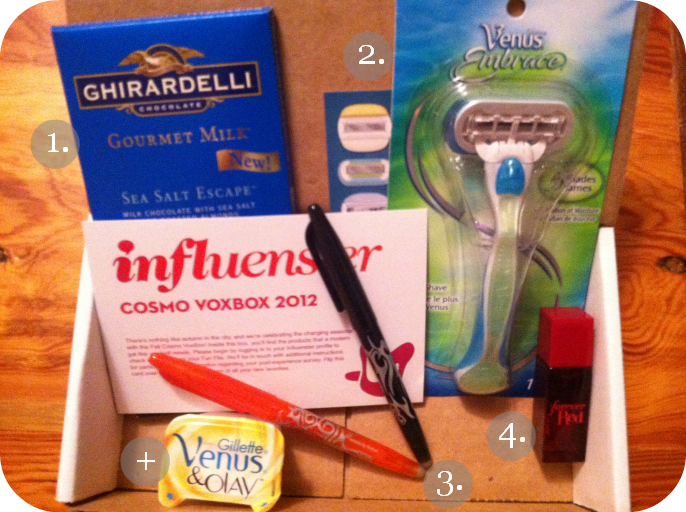 Of course, I couldn't resist biting into the Ghiradelli Chocolate first. If you're a fan of sea salt – this is your escape. It was the perfect combination of milk chocolate, almond slivers, and sea salt. This chocolate bar received two thumbs up from me and the husband!
Next, I tried the two, FriXion Ball® pens and love them both. It's rare that I find a good pen, especially one that I really love. The FriXion Ball® is definitely a new favorite. Not only does it write incredibly smooth with it's gel ink, it's erasable too! To me, it's like magic – seriously. It's no typical eraser; there is a rubber/plastic tip on the end that erases the gel ink. I can't rave enough about the effect. I've got one on my desk and one in my purse.
For what seems like forever, I've been a fan of the Gillette Venus® razors. At no surprise to me, the Venus Embrace and the Venus & Olay refill blades only add to the long list of fabulous products by Gillette. Not only did they both leave my legs incredibly smooth, but moisturized too. Both blades would be ideal options for stocking stuffers this Christmas!
Now I must confess, of all the Bath & Body Works products I've ever tried – perfume is not one of them. However, I was pleasantly surprised whenever I sprayed Forever Red on my wrists. The aroma was filled with scents of pomegranate, peach, apple, and vanilla! I'm not a fan of heavier fragrances, so this light perfume is perfect for me.
*Please note, the Cosmo VoxBox products are complimentary from Influenster for my review only. All opinions are my own. In no way am I  compensated for my feedback.

As you may have noticed, this week's typical Instagram Monday post was non-existent. Sincere apologizes, but for this week – we will be skipping the Instagram post all together. In the meantime, you can follow me on Instagram – @BrianneJoy.
Hope you all have a wonderful Tuesday,
the Heapes