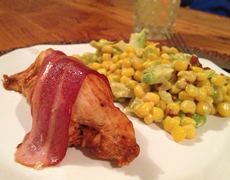 Like I've said before, I'm no chef –  but I do love preparing a good meal for my husband, something healthy and delicious! Often I find myself scrounging Pinterest and cookbooks for a good recipe, but it can't just sound/look good, it has to be easy to prepare too. After working an 8 to 5 day, neither one of us wants to spend all evening in the kitchen. So whenever I stumbled on to this Chipotle, Bacon-wrapped Chicken recipe, I couldn't resist trying it. I found this recipe in a magazine, years ago actually – and just happened to find it the other day. I'm so glad I did too. It's going in the books as a favorite.
Chipotle, Bacon-wrapped Chicken
What do you need?
8 tender size pieces of chicken
1 can of chipotle peppers in adobo sauce
8 strips of bacon (I used turkey bacon)
What do you do?
Marinate the chicken tenders in the chipotle peppers and adobo sauce (for about 30 minutes, at least)
Wrap 1 strip of bacon around each tender
Bake at 400° for 30 minutes*
*The original recipe called for frying the chicken tenders, but I opted for a healthier option.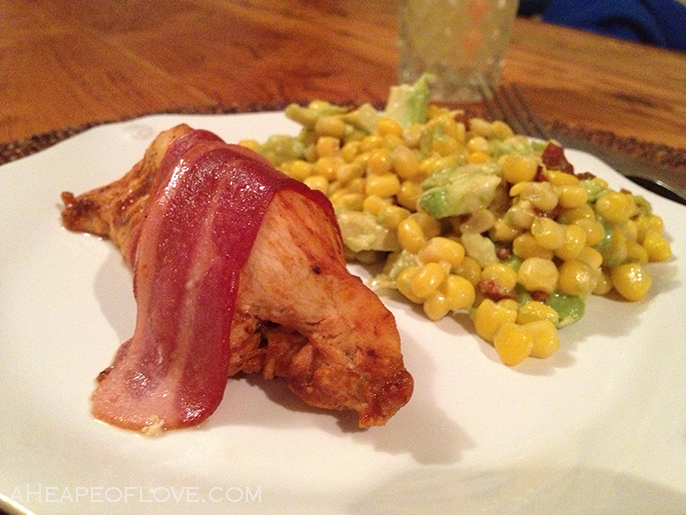 Avocado and Corn Salsa
What do you need?
1 can of Mexican corn (11 oz.)
1 chopped, chipotle pepper (from the recipe above)
1 diced avocado
1 lime
salt (to taste, I like garlic salt)
What do you do?
Drain the can of Mexican corn
Combine the corn, pepper, and avocado into a bowl
Drizzle the salsa with the lime juice (of 1 lime)
Serve with the Chipotle, Bacon-wrapped Chicken and enjoy!
We had this duo for dinner last night and it's definitely a new favorite in the Heape home. Not only was it delicious, but super easy to prepare and easy on a budget. I should warn anyone who attempts this recipe, that it is a bit spicy –  but we're fans of spice.
—
In case you missed it, yesterday's post included a James IV update and a recap from our week/weekend.
hope you enjoy!