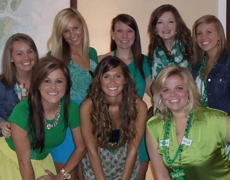 It's the weekend and I'm excited about a few things…
1| The beautiful weather in south Georgia, with 78º temperatures I'm going to be dreaming about the beach… by the pool, hopefully! 2| Mallory and I have several BIG orders to complete this weekend for
Chevvy and Ron's
. Lots of "I dos" and "happily ever afters" on our to-do list! 3| One of my younger cousins, Derek
(also referred to as Lil' Derek for most of his childhood)
is getting hitched. I still can't believe it, because when I was a senior in high school, I may or may not have been picking him up from
elementary
school. That means I'm
old
, not that the random 7 or so grey hairs on the top of my head didn't prove that one. 4| We're steadily making progress on our house. Did I mention our move-in date is rapidly approaching? At least we're making progress, right? I'll fill you in on more details as the process continues. 5| Sunday is
St. Patrick's Day
. This is only significant to me because I've spent the last 4, consecutive St. Pat's in Savannah, Georgia; and in case you missed the memo,
St. Patrick's Day
is a
big
deal in Savannah! I'm sad I won't be there with all of my friends, but you can bet your bottom dollar that I'll be rockin' out some
green
attire.
To commemorate, here are a couple of pictures from years past,
—
And just for fun… On the Today Show today, a discussion was centered around the wacky, registry items some couples have been adding to their registry. As they announced trips and cars have replaced the traditional toaster, I couldn't help be think back to our wedding registry. One unconventional item (you may have seen) on our registry was a trampoline. Oh yes, you read correctly. Only once did I get Justin to help with this pre-wedding task and that's what happened. Needless to say, he lost his registering privileges that day.
What is a crazy/wacky/off-the-wall item you and/or your beau registered for? A new car? Or a trampoline, like us?
wishing you a wonderful weekend,
ps. Like most bloggers, I'm sad to see Google Reader go –  but you can subscribe to my blog feed through Bloglovin' here.
facebook / twitter / instagram / bloglovin'