Inspired by a Pinterest photo, I recreated a meal to mimic the image that I couldn't find a recipe to. I didn't repin, because the link was a phony. However, it just looked too delicious to bypass and I'm such a big fan of avocados (which are on sale at Publix right now! salmon too, actually.) that I had to try it.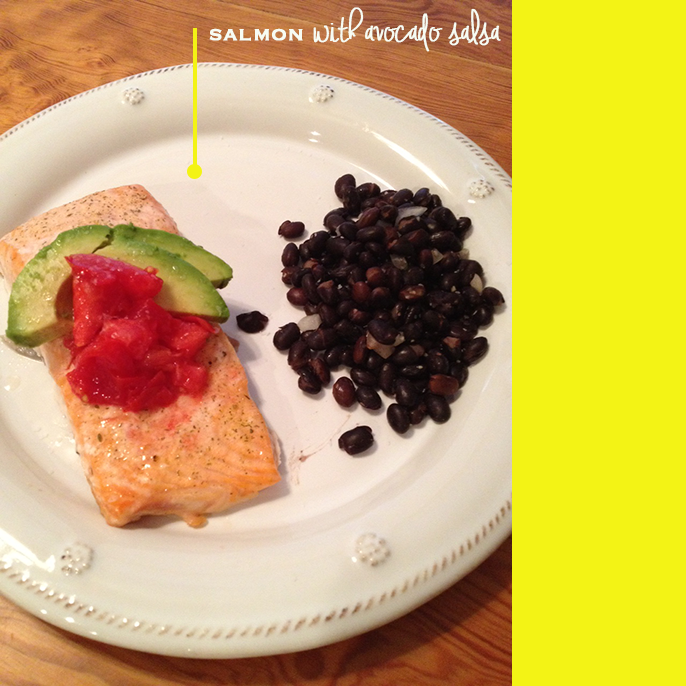 What do you need?
Salmon

Lime (1)

Tomato (1)

Onion (1)

Avocado (1)

Salt and pepper, to taste
Pre-heat the oven to 350º – then, prep the salmon filets with lime juice and Tone's Citrus Grill seasoning.
Bake for 20 – 30 minutes, depending on the size of the salmon filets.
While the salmon is baking, combine diced tomato, onions, more lime juice, with salt and pepper to taste. Slice the avocado.
Once the salmon is done, top with the avocado slices and salsa. Voila! We paired with black beans, but rice or a salad would be great sides too.
Huge hit in the Heape home and added bonus, it's healthy! With plenty to go around, I will definitely be looking for ideas to incorporate the leftover salmon. Any suggestions?
—
James IV Update: James' biopsy and broviac line removal went smoothly. He is actually back home, healthy, and happy! Thank you all for the continued prayers. Our God continues to work miracles in this little tyke and I'm just happy to standby and watch Him work.
ps. If you can't tell, I'm really into neon yellow right now – & pink!

facebook // twitter // instagram // pinterest // bloglovin'