With Mother's Day just around the corner and our anniversary this weekend – I decided to compile a gift guide for mom! Of course I created the list, so it's basically my wish list right now. Ahem, Justin.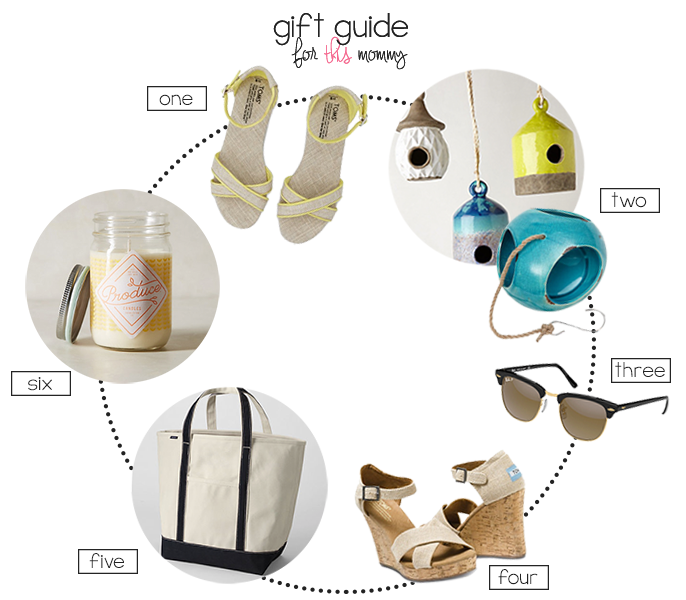 one / two / three / four / five / six
Obviously I've got summertime on my mind and dreams of beach trips and sunshine!
First on the list are these adorable, neon trimmed sandals by TOMS. I seriously own 3 pairs of TOMS (which Justin pointed out whenever I mentioned these), but I firmly stand by the One for One® cause and the statement, "You can never have too many pairs of TOMS." Not only are they super comfortable, but they are obviously attractive too! As you'll notice, number four is another pair of TOMS – summer wedges. Like I said, they're pretty awesome and yes, I really want both pair.
Next on the list, bird feeders. The previous owners of our house planted several fruit trees in our yard. The only problem is the birds keep eating our fruit! Now I'm willing to share the abundance of pears with the flighty creatures, but they better keep their beaks off of my peaches and apricots. So… To help them get the message, I'd like to put a bird feeder on the opposite side of the yard. Hopefully this ploy will lure them away from my fruits! I'm a big fan of Anthropologie's adorable bird feeders, but this one by Threshold is more affordable.
Ah, number three. Ray-bans®. If you've talked to me in the last month, I've probably asked you, "Have you seen my Ray-bans®?" The day before leaving for NYC, I realized that my glasses were not in the case. I mildly panicked… After an hour or so, I realized that they were not in my purse, my car, Justin's truck, the clutch I'd used for church the previous Sunday, in the couch cushions, under the bed, in any drawer, or at the McBrides. They were no where to be found. (Insert extreme meltdown.) I'm not even slightly embarrassed to admit that I cried. These were special to me, a birthday gift last year. And too expensive to be lost! I don't know if I was more sad or angry. I blame no one but my pregnancy, forgetful mind. But one month later, they've yet to return. Bottom line, these Ray-bans® Club masters are on my wish list.
See number one for the scoop on number four.
Five, a new tote/beach bag. Back in '05, I was gifted with one of the most perfect, beach tote bags ever for a graduation present. Since then, I've yet to find a tote that compared or stood the test of time like these by Lands End. So this year, I'm officially retiring my old, sun-bleached purple/blue tote and (hopefully) upgrading for an equally fabulous and updated with snazzy pockets tote. This one is just like my '05 version with a facelift.
Number six  is really a gimme. I love candles, the end. Recently Justin brought me home this one from a trip and I love the grapefruit/cilantro scent! This one by Produce is available locally at Alice and Jay's in Sasser and is available in kitchen-y fragrances like kale, cilantro, honey, and melon.
Do you have any must-haves you're dreaming of this Mother's Day or for some other special occasion? Please share!
facebook // twitter // instagram // pinterest // bloglovin'