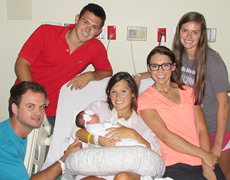 Today, we said good-bye see ya soon to my sister, Bethany. Her and her husband are traveling to South Korea today and will be stationed there for the next two years. Meaning that we won't be seeing Aunt Bethany, Uncle Michael, or Pippa (their puppy) for at least a year, other than via FaceTime.
Below is one of my absolute favorite photos from our stay at the hospital. It was the only time all six of us were together before saying our good-byes. (Fortunately, Aunt Bethany got to spend two extra weeks with us after we came home from the hospital! And oh did she spoil us!)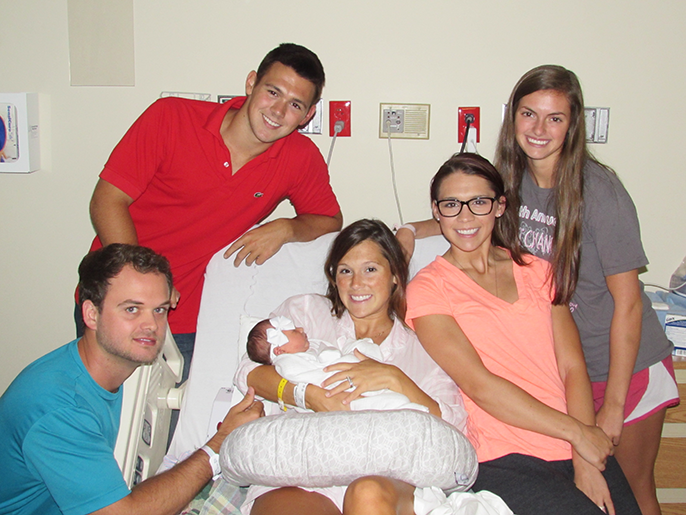 (Left to right: Justin, Brian Ray, Joy Belle, me, Bethany, and Bailey.)
Right now, they are flying over the Pacific and Bethany is full of anxiety. So if you would, please say a prayer for her, Michael, and Pippa. It's a 14 hour flight and a whole lot of new when they land. As new and exciting as this journey will be for Bethany and Michael, the Heapes are so sad to say good-bye – even if it's only temporary.
If you are interested in keeping up with her travels and life as a newlywed,  you can find her blog here. I can't wait to keep up with adventures in South Korea!
Aunt Bethany, come home soon! We miss you already!!
a Heape of love,
Justin, Brianne, & Joy Belle
facebook // twitter // instagram // pinterest // bloglovin'