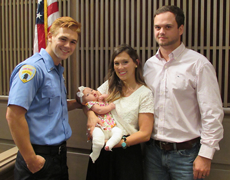 It's been awhile since I've updated you all on life lately and although I promise to do so soon, I want to take this time to talk about how incredibly proud I am of my brother. Growing up, you could have called him a pyromanic. He's been obsessed with fire for as long as I can remember. In fact, one year at the beach, we found him in front of our condo starting a fire – just because he wanted to roast marshmallows. Seeing as we grew up in the middle of nowhere and starting a bonfire wasn't a big deal there, he didn't see anything wrong with lighting a fire in the front of our beach condo. Granted, he was only 6 or 7 years old – but back then, I would have never dreamed that he'd grow up to become a fireman.
Well this past week it happened, the Albany Fire Department recruited 15 new firemen and Brian Ray was one of them. Below are a couple of photos of our family with Brian Ray.
Brian Ray, I can't tell you how proud I am of the young man you've become and the career path you've chosen. I will forever be praying for your safety, both on and off of the job. We love you!
a Heape of love,
Justin, Brianne, and Joy Belle
facebook // twitter // instagram // pinterest // bloglovin'