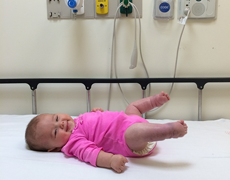 On Sunday, we studied 1 Samuel 2 and I walked away with a new perspective on how I ought to be praying. If you aren't familiar with the scripture, 1 Samuel 2 is Hannah's prayer. Although there are so many things we can learn from Hannah's prayer, there was one thing that significantly stood out to me – it was how she completed her prayer. She prayed, she put her faith in Him, and then she let it go. It was a completed prayer. She didn't pray and then continue to worry – she gave her request to God and trusted Him to fulfill it.
That's what I needed. I needed an example and lesson on letting go and letting God.
This Monday, my faith will be tested. I've prayed for a lot, specifically an indescribable peace to overwhelm me. I want to walk so closely with Him – to trust Him wholeheartedly, that I don't doubt His faithfulness or ability to take care of my baby girl. That whenever I hand my girl over to the surgeons, that I remember that I am not in control – He is. And He is faithful, He is The Healer, and He is good.
—
In the midst of chaos – from Joy Belle's casts slipping over the weekend, her pre-op appointment, sizing her for her corrective shoes, and her recasting appointment on Monday – it completely slipped my mind, that this was our very last set of casts before surgery! No more weekly (or more) visits to Atlanta. The end is in sight!
Here are a couple of photos from her cast free day.
And here are a few photos from her pre-op appointment.
Complete Update // This past week was Joy Belle's last serial casting appointment. Since she was one week old, she's gotten new casts on her legs and feet each week (sometimes more). At our last appointment, the doctors scheduled her surgery (a tenotomy: a procedure to lengthen her Achilles' tendon) for Monday, October 13th. This is a huge answer to prayers! With her surgery scheduled, we can officially see the light at the end of the tunnel. The procedure will take place at Children's Hospitals of Atlanta and will be at 7:00 am.  We are asking everyone to keep our baby girl, the doctors, and us in your prayers!
After the surgery is complete, the doctors will recast her for her very last set of casts – ever! Unlike the serial casting, she will wear these casts for one month. So on Tuesday, November 11th – we will be at the end of phase one. She will be out of casts for good!
Once this phase is complete, Joy Belle will wear these little white shoes that attach to a bar. It will serve almost as a retainer to keep her feet in the correct position. She will wear these 23 hours a day for approximately 2 – 3 months. At that time, she will begin to wear the shoes and bar only at night and while she's napping.
Prayer Request // On Monday, October 13th, Joy Belle will undergo a tenotomy at Children's Hospitals of Atlanta at 7 am. Please pray for Joy Belle, the surgeons, Justin, and myself. Specifically pray that the Lord will guide the surgeons, as they work on my baby girl. Please pray that the Lord will provide a comfort and healing for Joy Belle. Although this is not considered a major procedure (it is to me!), she will be under anesthesia, receiving oxygen through a breathing tube, and may be uncomfortable for a few days. We are praying that the Lord will miraculously take that discomfort away from our sweet girl and that He will heal her exceptionally fast. Please pray for Justin and I to know the indescribable peace that only the Lord can provide. Right now, I can not imagine handing my tiny and sweet baby girl over to the doctors. I want that pit in my stomach to dissipate and I know in my heart, only the Lord can make that happen.
We are blessed with an amazing group of prayer warriors – from our family, friends, and church family, to each of you. We can not tell you how much we appreciate your prayers!
a Heape of love,
Justin, Brianne, & Joy Belle