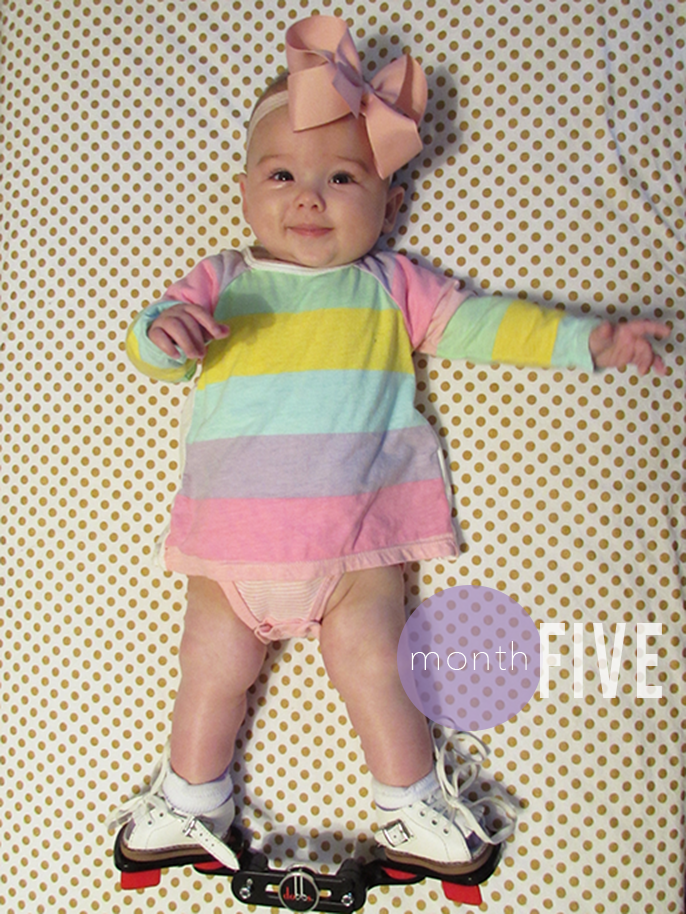 Joy Belle, five months.
How old is baby?
5
 months.
Best moment(s)?
Getting her last set of casts off, for good!
Favorite food(s)?
Milk.
Sleep? 
Since transitioning into the shoes & bar, she's backtracked on her sleeping at night. Over the last week, she's begun waking up every 3 hours in the night to nurse.
Activity?
Joy Belle enjoys bright colors, soft toys, and chewing on just about anything. She's recently discovered the Bumbo and it's currently her favorite seat in the house. She sits up so proudly in the seat. She is practicing rolling over. She came really close with the casts and has already been trying with the new brace. She also enjoys kicking! It probably has something to do with the new freedom of her legs.
Mood(s)?
Happy, almost 100% of the time. Like any baby, she may become fussy if it's time for a nap or nursing, but all in all she's in a great mood.
Growth?
We haven't gotten updated measurements, but she's probably still around 13 pounds, 2 ounces and 23 1/2 inches long. Since getting rid of her casts, she seems so long!
Favorite toy(s)?
Big fan of her Bunnies by the Bay® bunny and Sophie teether, right now.
What is baby's favorite thing to do with Mommy? She loves to take afternoon walks with Mommy and to give me slobbery kisses. She also loves for Mommy to give her kisses – she just giggles.
What is baby's favorite thing to do with Daddy?
She loves to sit on Daddy's shoulders and when he entertains her with his singing and silly voices.
Likes?
She loves to sit up (in her Bumbo!), Soothie pacifiers, walking outside/strolls, ceiling fans, bright lights, Chipper, daddy, and mommy. She loves to lay on her activity mat and practice kicking her legs! She's also a big fan of fingers – they just taste so yummy. She's recently discovered her voice and will talk all day. (Not sure who she gets that from?)
Dislikes?
She's not a fan of loud noises, specifically Chipper's bark or crinkly paper. And she doesn't like putting her new shoes on, but who could blame her.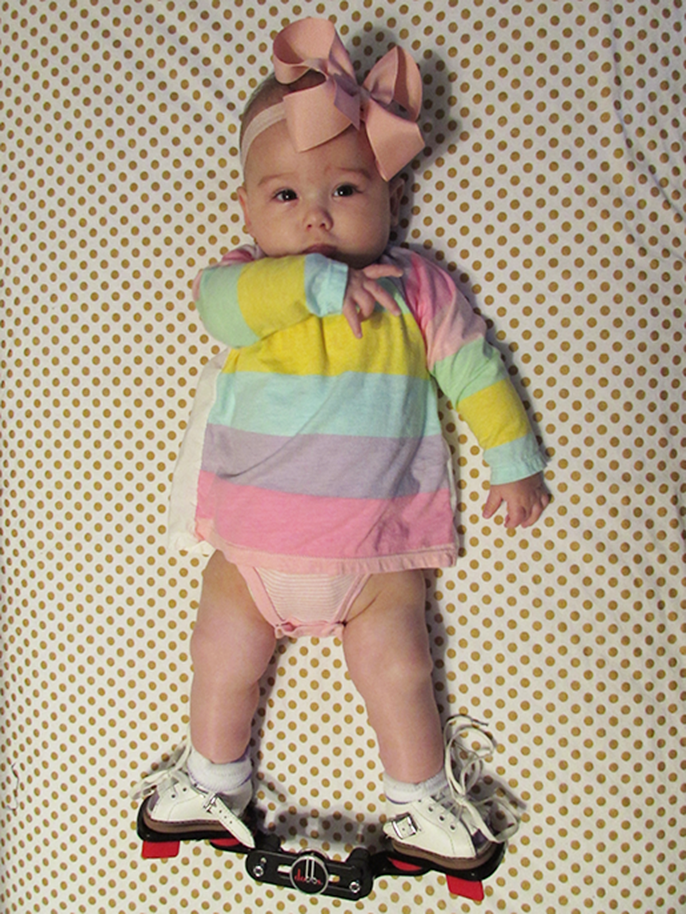 Check out those white legs!
shirt, h&m / bow, Georgia Belle's Bows on Etsy
She doesn't look too thrilled to be sitting in the corner, but I wanted one photo of my supported sitter.
It's so hard to believe that 5 months ago (yesterday!), I met this cutie for the first time. She's lived up to her name and brought so much joy to our family. She's full of spunk and has such a feisty personality already. At 5 months old, she's already been through more than I have in 27 years. I couldn't be more proud of this little bundle! Happy 5 months, baby girl!
—
In case you missed it on my Facebook page, Joy Belle has been nominated for the new, Gerber baby search. You can vote for her once a day through December 13th, so cast your vote today! Click here to vote for Joy Belle!
 facebook // twitter // instagram // pinterest // bloglovin'