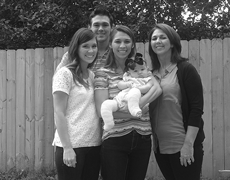 These days, the best surprises fly in from Korea and are beautiful sisters. If you remember from this post, my sister left for Korea whenever Joy Belle was only a few weeks old. Her husband is stationed in south Korea, so that's where they now call home. It's been so hard going through so much without my sister and it wasn't easy for her either. Since Joy Belle's surgery, she's been trying to get home via an Air Force rotator plane. Since it's no guarantee that she could get a flight home, she decided to keep it a secret.
She let my dad in on the secret once she finally got the flight home. And he lured my mom to Atlanta to pick her up from the airport. She cried with excitement! The next day, Bethany surprised me by showing up at my house with my mom. I squealed in happiness. Despite these photos, Miss Joy Belle was equally excited to see her Aunt Beffy.
We enjoyed spending the week with Bethany and were so sad to see her go. In the meantime, we'll be counting down the months until we see her, Mike, and Pippa. You can read her recap of her visit here.
a Heape of love,
Justin, Brianne, and Joy Belle
 facebook // twitter // instagram // pinterest // bloglovin'