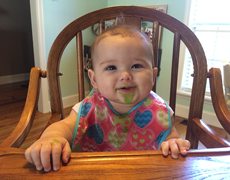 A few weeks ago, I decided it was time to let Joy Belle have her first taste of real food. All along I had intentions of introducing foods at 6 months, but when the time rolled around, I just wouldn't do it. I'm not sure why, but I think it had something to do with me giving it 100% and not wanting my baby to grow up. If you know me, you know I like to do things right – by the book, with my whole heart, giving it my all – and at 6 months, I just couldn't do it. So I made it my new year's resolution and ordered this recommended cookbook by Norah O'Donnell, Baby Love: Healthy, Easy, Delicious Meals for Your Baby and Toddler. Once the cookbook arrived, I was eager to whip up my first batch of homemade baby food.
Not only are the recipes healthy for baby, but they are easy too, which was a necessity for me! First on the list, sweet peas. You may have seen the video I posted on Instagram, but if not you can view it here. A priceless response to her first taste!
Initially she didn't know what to think of the peas. She let me feed them to her, but in the end she gagged. We tried them for a few days, but the combination of a cold and ear infection made her lose her appetite. After she started feeling better, we tried a few more foods too.
For other parents that aren't sure where to start, our pediatrician recommended the greenest of veggies first. (Hence, the sweet peas.) We tried each new food for a minimum of 3 days before introducing a new food. We actually stuck with the sweet peas a bit longer than the other foods, due to her being sick and the fact that the recipe made enough sweet peas for weeks!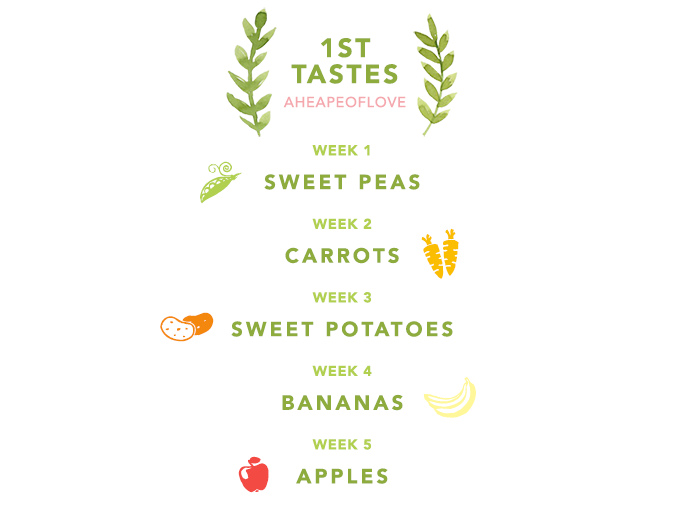 Since I didn't want a freezer full of vegetables and fruits that Joy Belle didn't like, I decided to buy a variety of Earth's Best baby foods to help me figure out her palate. As it turns out, we've yet to try anything that she didn't gobble up. I plan on trying squash, green beans, avocados, and pears before I pull out the cookbook again.
*I chose Earth's Best because they were the only organic baby food brand (that I found) that simply used the vegetable/fruit and water. For babies, those are the only ingredients necessary. Pureed goodness.
I'm eager to see her reactions to other foods. (She gagged at her first taste of bananas, but seems to enjoy them now.) Are there any foods you introduced to your babies that they really loved more than others? Any they really hated?
 facebook // twitter // instagram // pinterest // bloglovin'