It seems like just yesterday that Joy Belle reached the half-year mark. I can't believe she's already 7 months old! Over the last couple of months, she's truly blossomed. Her little personality is shining and she's growing and changing daily. It seems as if she's constantly hitting milestones. Since she loves to be outside, I thought it only suiting to take advantage of the mild winter temperatures and take a few photos outside. You'll see below that she's more interested in the pine straw and leaves than mommy's silly faces.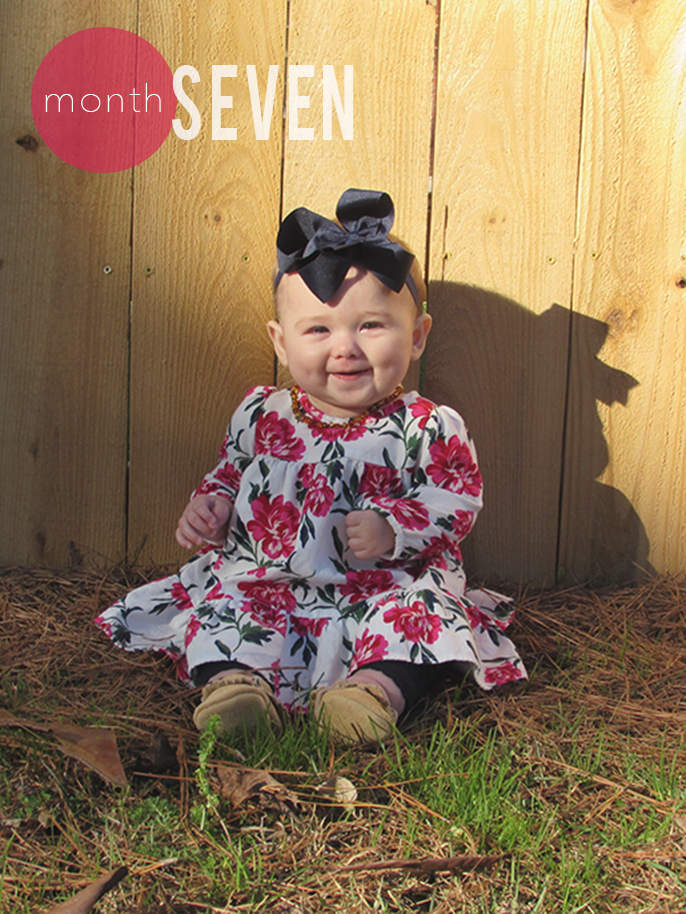 Joy Belle, seven months.
How old is baby?
7 months, 2 days.
Best moment(s)?
So many special moments this month, but a highlight was definitely her baby dedication. (More on this to come!)
Favorite food(s)? 
Milk, sweet potatoes, and carrots. She's not too much a fan of the sweet peas and still not too sure about oatmeal.
Sleep? 
She's still waking up in the night – whether it's due to teething, sniffles, growth spurts, and most recently ear infections.
Activity? 
She's rolling all over the floor, scooting towards toys, sitting up on her own (very well now!), and practicing standing up with help too.
Mood(s)? 
Happy, happy, happy.
Growth? 
At her last check-up, she was 17 pounds and 25 inches. She's steadily growing, but is still wearing 3-6 months clothing.
Favorite toy(s)? 
Her Sophie teether is still a favorite, but she lovers her stacker toys and baby dolls too.
What is baby's favorite thing to do with Mommy? 
She loves for me to read stories and sing to her. She likes for us to play outside and for me to help her standup. She really likes taking baths withe mommy too. Lately, she doesn't let me get too far and rarely out of her sight.
What is baby's favorite thing to do with Daddy? 
She loves for Daddy to lift her up high above his head. She really likes to sit on the back of Daddy's truck with him, when it's warm outside. And on cold days, she loves for Justin to pull her in the wagon around the house. 
Likes? 
She loves walking outside/strolls, anything she can chew on, using a straw, FaceTime, bright lights, music, tags, daddy, mommy, and her grandparents. She enjoys riding in her new wagon – inside and outside. She likes to cuddle before naps and bedtime. She's into grabbing and reach for things. She really likes to "tap dance" with her shoes, but loves to have her shoes/brace off.  She loves to drink out of her new sippy cups and trying new foods.
Dislikes? 
She's still not a fan of putting on her new shoes/brace. She doesn't like for mommy or daddy to leave the room. She doesn't like to take naps. She dislikes loud clapping and cheering. She (like her mommy) hates to be aggravated. And we just discovered that she isn't the biggest fan of balloons!
dress, Carter's / bow, Georgia Belle's Bows on Etsy / necklace, Art of Cure / moccasins, Freshly Picked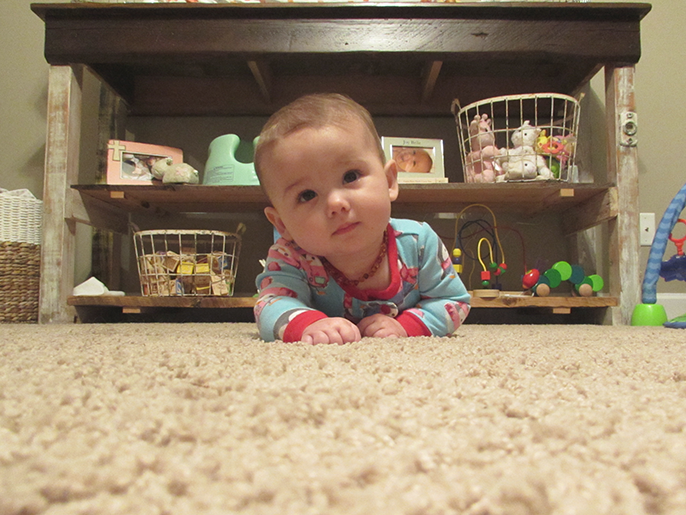 Oh you know, just learning how to crawl before bed. It's crawling bootcamp at the Heape home!
facebook // twitter // instagram // pinterest // bloglovin'