In 28 days, my baby girl will be T W O years old. I don't know where the time has gone. Each day I think, I couldn't love her more and then each day I wake up, my love has only grown.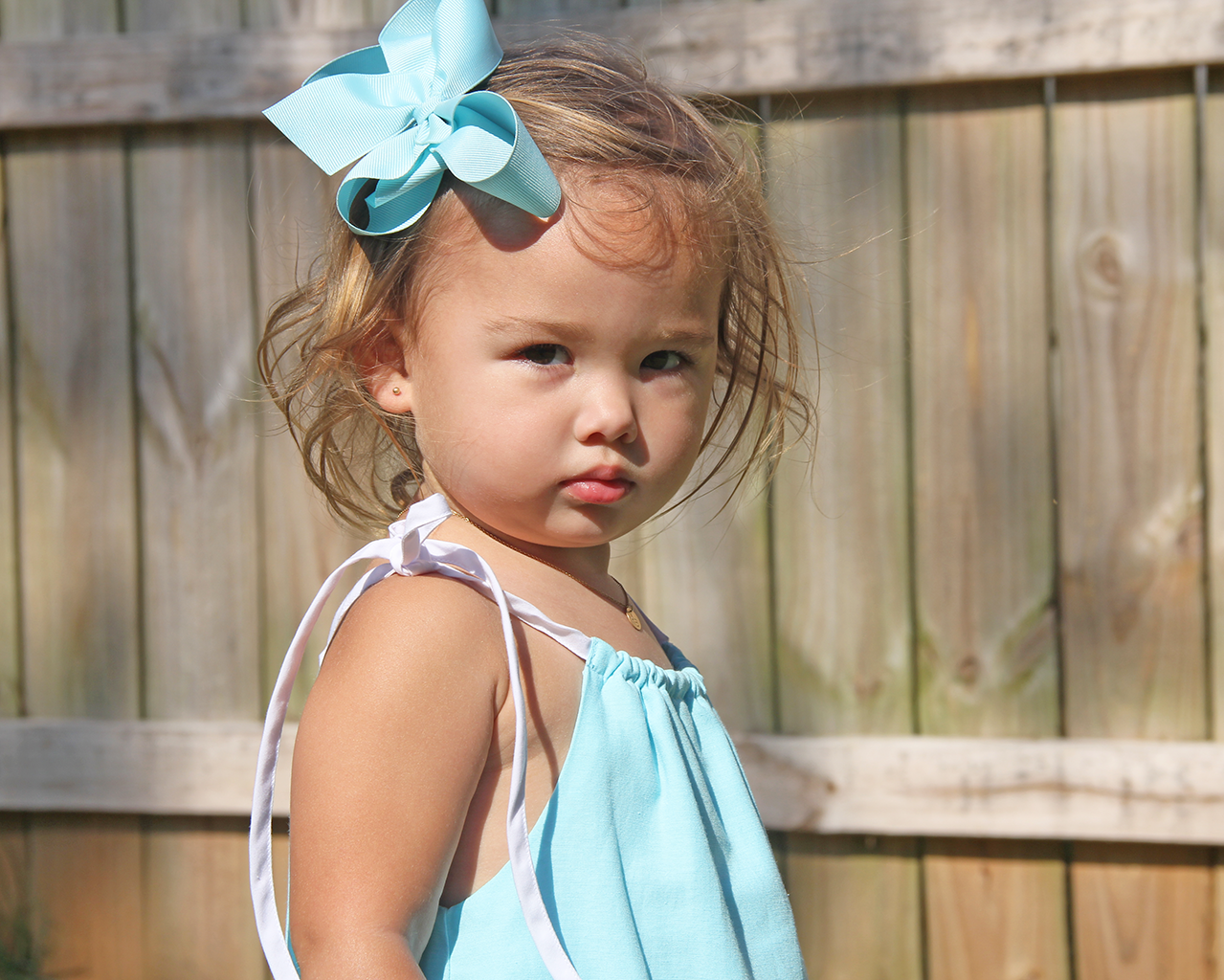 Joy Belle is everything her name means: happiness and beauty. She's spunky, prissy, and a snuggler. Her personality lights up the room! Her smile is beautiful and contagious; but she's got a scowl that'll hurt. She's opinionated and knows exactly what she wants and when she wants it. She loves to be outside and is truly a free spirit. Her demeanor reads quiet and she can be timid, but she's boisterous and loud most of the time. She plays well by herself, but loves to be around other kids. Her favorite color is pink; black being a close second. Flowers, Chipper (our dog), "choca" (chocolate), and water make her happy. I rock her to sleep every night. In the past twenty-three months, I've watched her grow into such a beautiful, sweet, and genuinely kind little girl. Everyday, I thank God she's mine.
Joy Belle, 23 Months
HOW OLD IS TODDLER?
23 months, 3 days. (In the photos.)
BEST MOMENT(S)?
So many to choose from, but I'll have to say the first time she said, "Loves you, Mommy." (May 17, 2016)
FAVORITE FOOD(S)?
She loves rice, Plum Organics Might 4 Bars, olives (black & green), Annie's Cheddar Bunnies/Goldfish, Daddy's spicy chips (Sweet Honey BBQ by Lays), black beans, Chick-fil-A chicken nuggets, edamame, cheese, and pickled anything!
SLEEP?
She naps for about 2 hours in the afternoons and goes to bed (typically) between 8:30 and 9 p.m. She's a terrible sleeper though and usually wakes up a few times in the night.
ACTIVITY?
She's into everything and all over the place. She's running, nearly swimming, and loves to walk up and down the stairs.
MOOD(S)?
Happy, sassy, and hangry – covers all moods of our girl. She's only cranky whenever she's hungry or sleepy (hangry), but who can blame her. Whenever she's sleepy or gets a boo-boo, she cries to go "night, night," which really means she wants me to rock her.
GROWTH?
She's 24 pounds, 15 ounces and 32 inches long. She's wearing 2T clothing and a size 4T shoe.
FAVORITE TOY(S)?
She loves her dolls, puzzles, books, and playing with her kitchen set. She's very imaginative.
WHAT IS TODDLER'S FAVORITE THING TO DO WITH MOMMY?
We do so much together, it's hard to say her favorite, but she really enjoys helping me with anything – cooking, cleaning, folding clothes. She also loves to get ready for the day with me – from clothes, to make-up, she loves it all. 
WHAT IS TODDLER'S FAVORITE THING TO DO WITH DADDY?
She loves when Daddy spins her really fast in her swing! She'll laugh and laugh. She's also a big fan of him tossing her in the air and flipping her around.
LIKES?
She loves snacks, any outdoor activity, drinking from a straw, ice, Chipper, FaceTime, babies, stickers, and flowers. Her favorite family includes Mommy, Daddy, Lala/Lolli, Blue, Honey, Papa Bear, Uncle Chris, Kaylee, Aunt Beffie, Uncle Mike, Uncle Ray Ray, cousin Ty, and her new cousin, Avie. She really likes her new friends Powell and Claire too. Her favorite friends (the ones she talks about often) are Hays, Millie, Ty, and Powell. She likes to sing, dance, and play in her kitchen. She enjoys cuddling and being rocked to sleep for bedtime and naps. Minnie Mouse is her favorite cartoon character and her favorite movie is Aladdin. She likes tutus, "pincess" dresses/gowns, crowns, socks, and bows.
DISLIKES?
She any drink but water – no juice, milk, nothing. She doesn't like for strangers to touch her and she's not a fan of the doctor.
IS TODDLER DOING ANYTHING NEW?
She's become a little chatterbox. She repeats almost everything we say. She's learned to walk backwards, a trick we were suppose to work on from PT. She's into "climbing" on everything to be "high." She's also running everywhere.

Some of my favorite things she does:
grasping her hands to pray and throwing her hands in the air at the end of prayers to shout "Amen!"
how she said, "too" whenever she wants to do or have something too (i.e. I'm putting on make-up, "too, Mommy!")
picking flowers, especially when they are for me
when she yells, "race!" or "catch!" and takes off – down the hall, across the yard, out of the room…
whenever she twirls
how excited she gets whenever Daddy (Dada) gets home from work
each time she says, "thank you, Mommy"
the handful of times she's said, "loves you, Mommy"
how she bounces herself to sleep, while I rock her
how much she loves a bubble bath
her love for all things girly – nail polish, jewelry, dresses,… (She got her ears pierced this week!)
whenever she sternly tells Chipper, "Move, Chipper. Now!" (I wonder where she's heard that.)
how she always asks to wear make-up "too"
the way she says, "holda, holda" whenever she wants us to hold her
how she says, "tb" and "mobie" whenever she wants to watch something
the way she pretends to call Daddy or Lala on the phone (pronounced like "chone")
her imagination generally – she's had such an imagination from such a young age
the way she waves a wand (or straw) to do magic and says, "abba dabba sleep!"
when she calls herself princess, pronounced more like "pincess" (I like when she says, "Mommy pincess too!")
her big smile and urge to dance whenever she hears music
her super girly, high-pitched squeal that's almost a laugh, whenever she sees a bug
She's saying, "Thank you, Mommy!" in the photo above.
…
Joy Belle,
Our prayer for you is that you'll come to know and love the Lord at an early age. That you'll use your gifts for His glory and to write His story, sweet girl. We pray that you continue to bloom into the carefree, lively spirit that you have become. It's our prayer that you are always so loving, generous, and kind. The one thing that nobody else has is you. Your voice. Your mind. Your spirit. Your vision. Your heart. Your soul. Your story. God created you special, my girl. So laugh, sing, dance, play, write, color, draw, create, build, love, and shine. Always stay true to yourself, embrace your inner beauty, and remember to live life as only you can.
We love love you much, most beautiful darling.
Mommy & Daddy