I'm a couple of weeks late sharing, but our precious baby boy is one month old! (He's actually 6 weeks now.) Time is flying by despite me trying to slow it down. He's gone from our tiny, 6 pound baby to our growing, 11 pounder.
Britt Colby, 1 Month
HOW OLD IS BABY?
1 month, 3 days. (In the photos, but 6 weeks now.)
BEST MOMENT(S)?
Every single time Joy Belle holds him or "kiss bro'er." He acts like she's smothering him and I think it's both cute and slightly terrifying.
FAVORITE FOOD(S)?
Milk!
SLEEP?
He's not quite on a schedule yet, but so far he is a good little sleeper. He sleeps 3-4 hours during the night and for hour increments during the day. 
ACTIVITY?
He's most active on his changing table and in the bathtub. He sucks on his fist and fingers, but won't take a pacifier. In recent weeks, he discovered the ceiling fans. And oddly, he doesn't hate tummy time.
MOOD(S)?
He's happy most of the time, with the exceptions of hunger and sleep deprivation. But hey, that's all of us, right?
GROWTH?
He's 11 pounds and wears 0-3 month clothing. He's been styling newborn sizes until last week!
FAVORITE TOY(S)?
He hasn't really discovered any toys yet, but I'm trying to make this lion his favorite. 
WHAT IS BABY'S FAVORITE THING TO DO WITH MOMMY?
Right now, I'd say his favorite thing to do with me is eat. But he also really loves my snuggles, cooing, and whenever I tickle his cheeks with a soft blanket. All usually get a good smile out of him!
WHAT IS BABY'S FAVORITE THING TO DO WITH DADDY?
He loves when Justin rocks him side-to-side on his legs. It usually makes him smile or puts him to sleep.
LIKES?
He likes to eat, sleep, and poop. And he really likes his mommy, daddy, and sister! A few of his favorite things are having his diaper changed and bath time. He's also a fan of peek-a-boo and when I tickle his face with a soft blanket. He likes to be swaddled too.
DISLIKES?
He hates having a gassy tummy, being cold, waiting on milk, and when sister squeezes a little too tight.
IS BABY DOING ANYTHING NEW?
He has recently started sucking on his fist. He did it before, but it's become more consistent. He's also started cooing back to us, which I can't get enough of.
MORE ABOUT BRITT COLBY
His eyes are still blue. He was exactly one month old when he outgrew newborn size clothing. He favors big sister.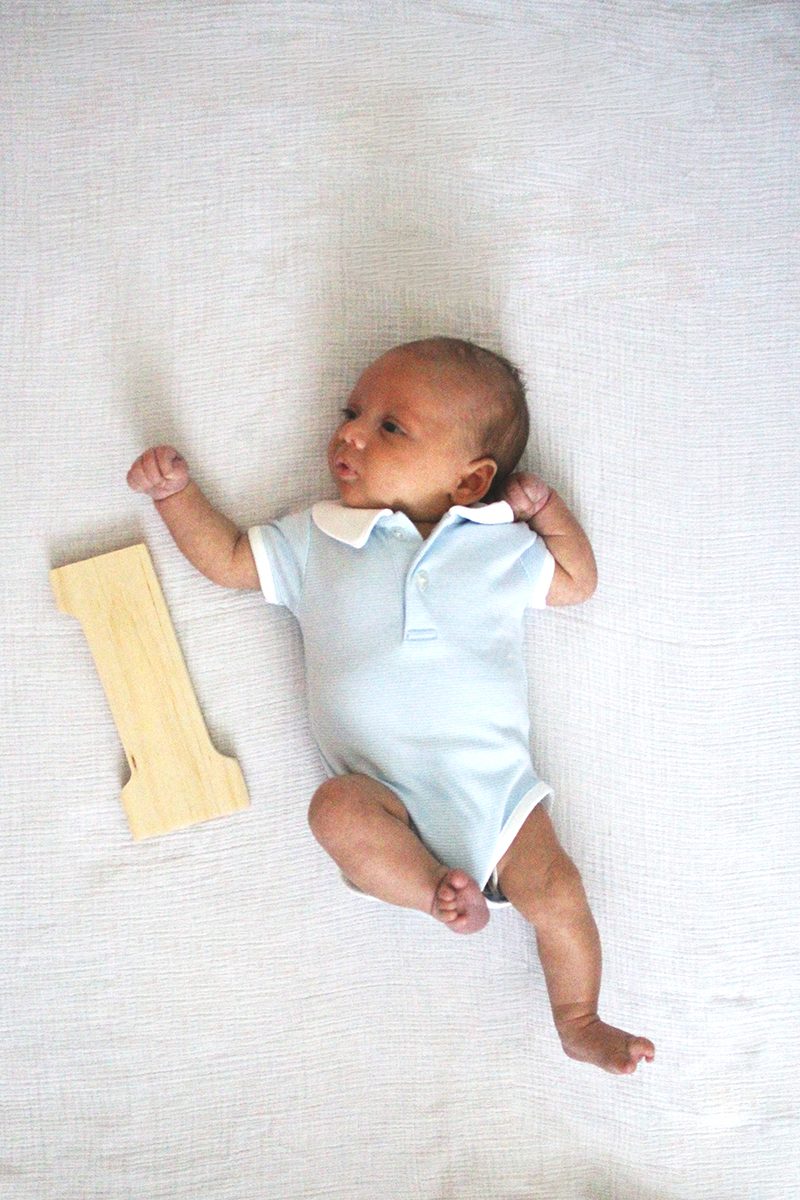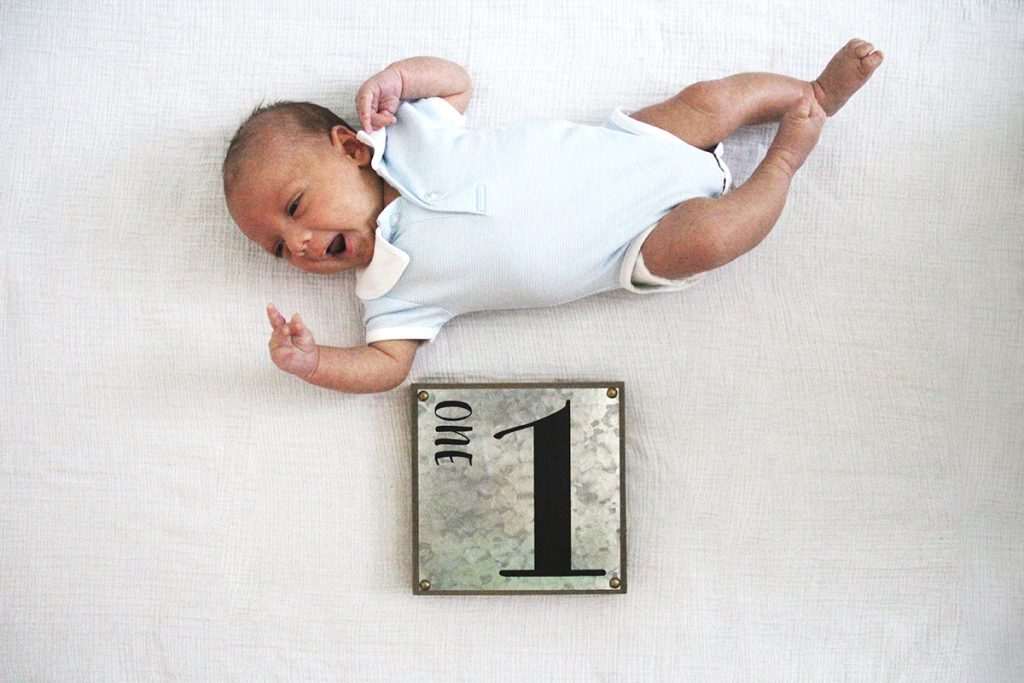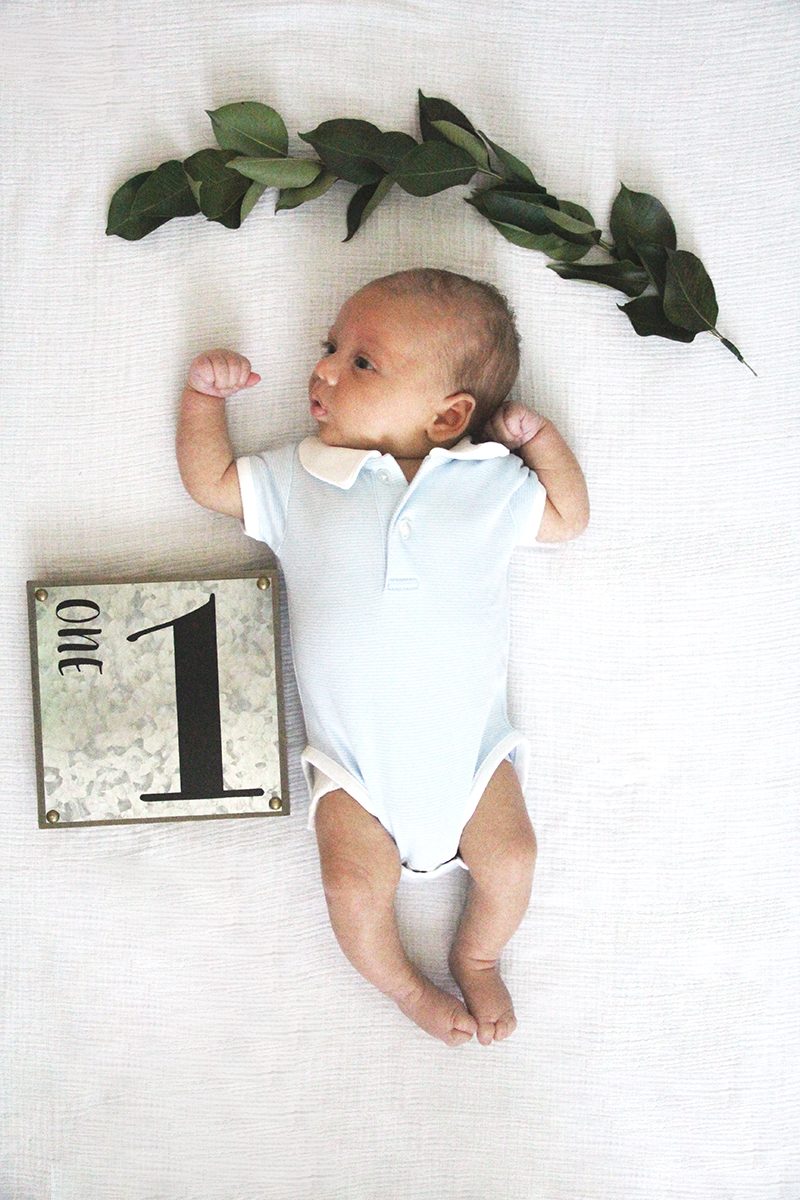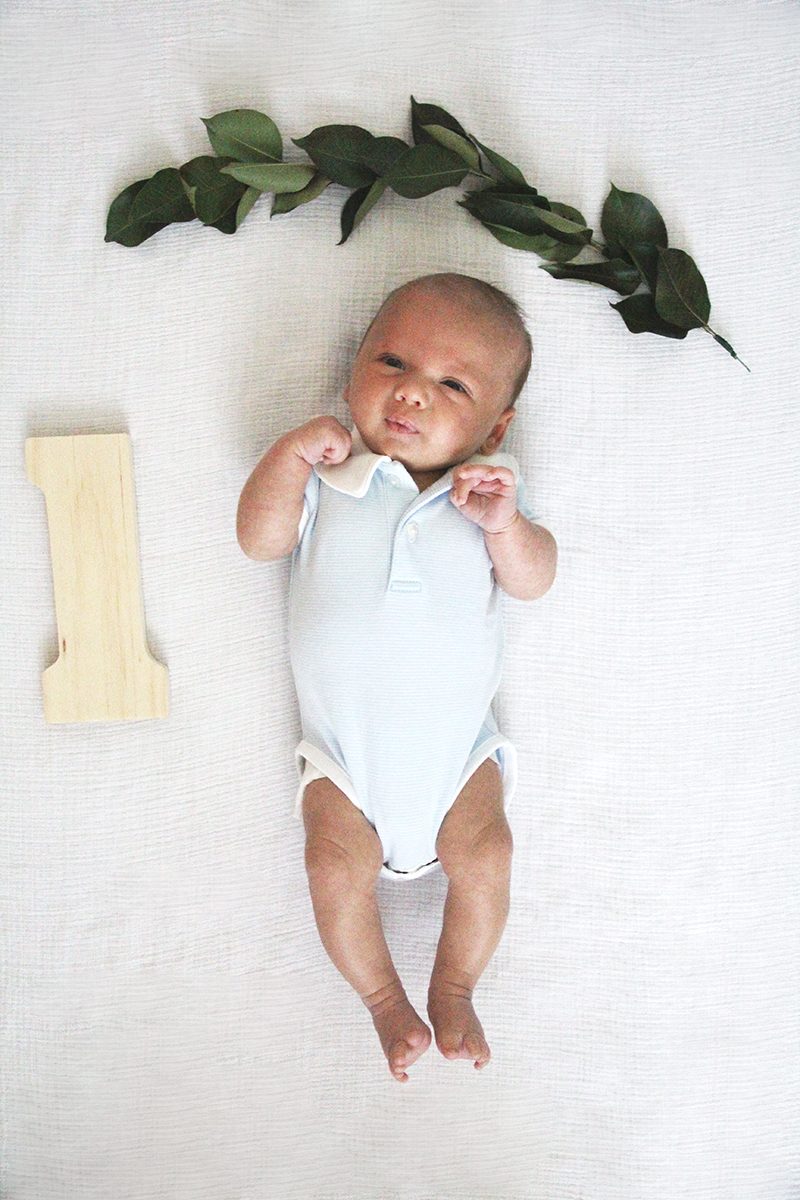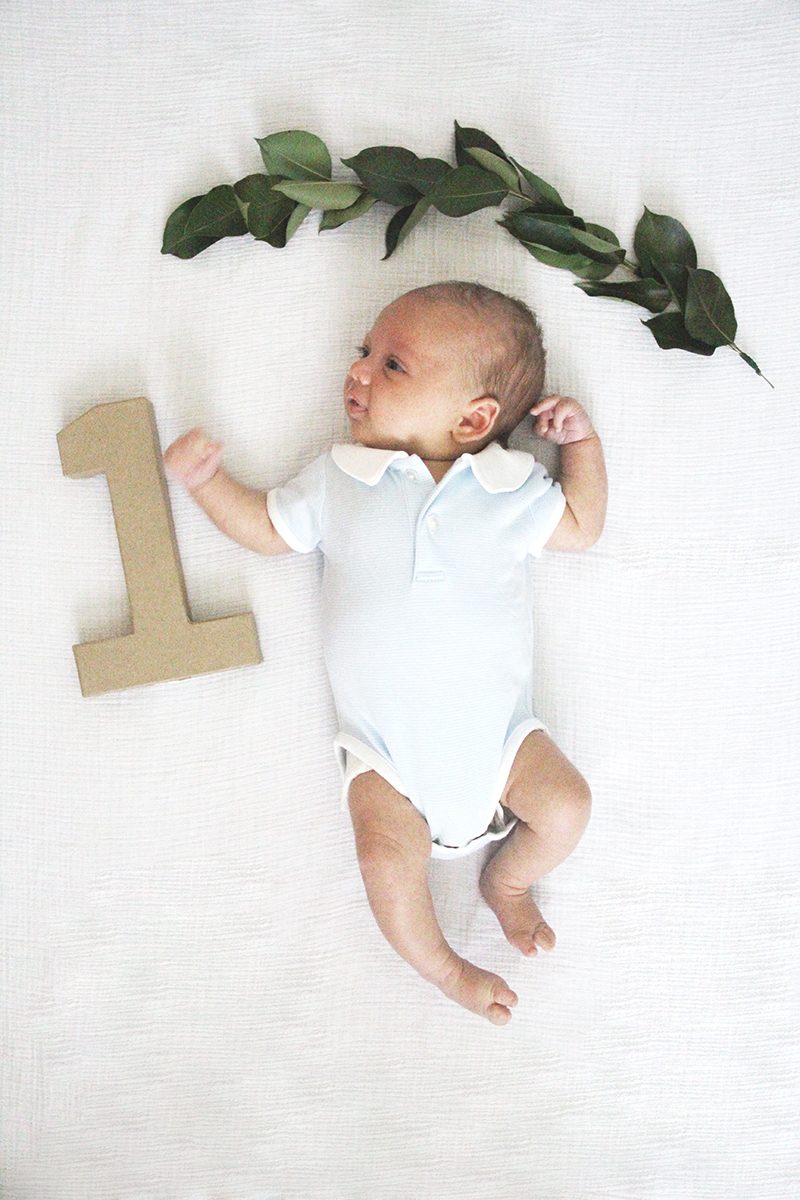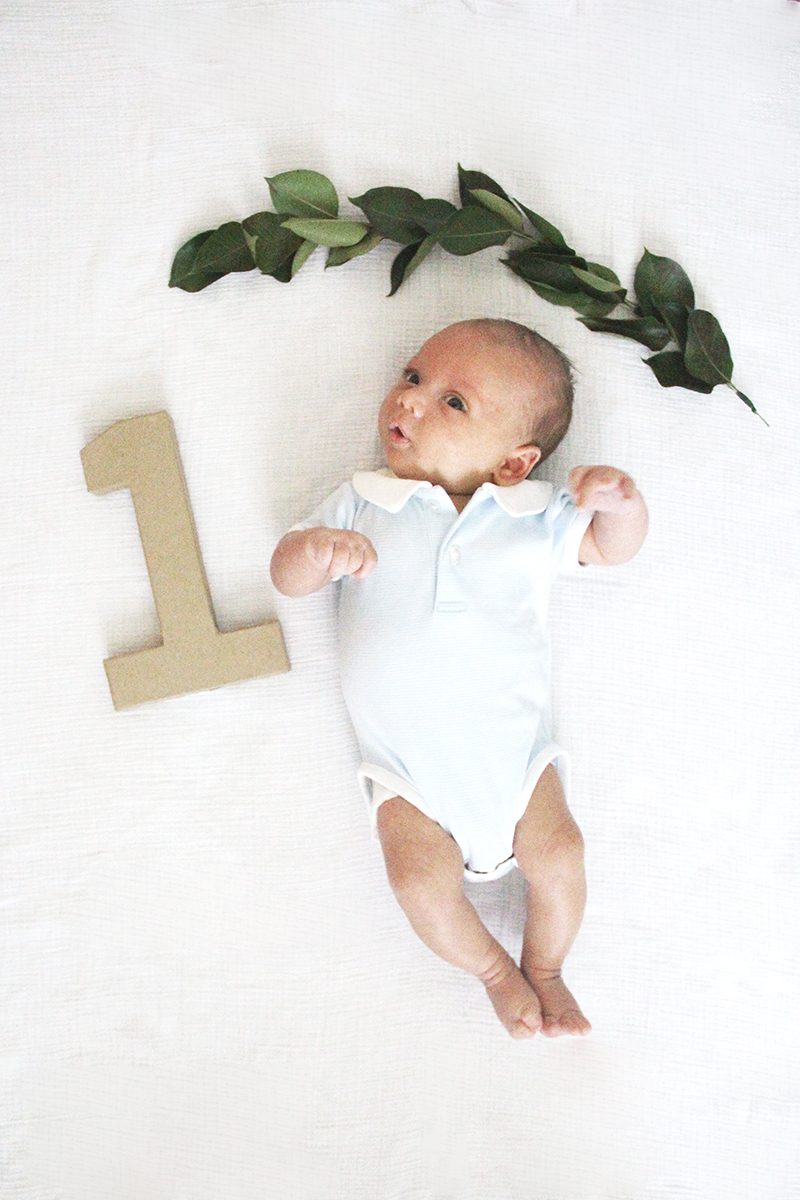 I'm hoping to keep up with monthly photos to document his growth, but trying not to set the bar too high. After all, keeping up with two is keeping me busier than I ever imagined.
You can view big sister's one month photos here.