Valentine's Day/month is one of my favorites, because I so enjoy celebrating love and our loved ones. Gift giving is my love language, so it's just another day to give gifts and make my loved ones smile. Just for fun, I thought I would compile a list of some gifts the kids would love, along with some things that would for sure make me happy!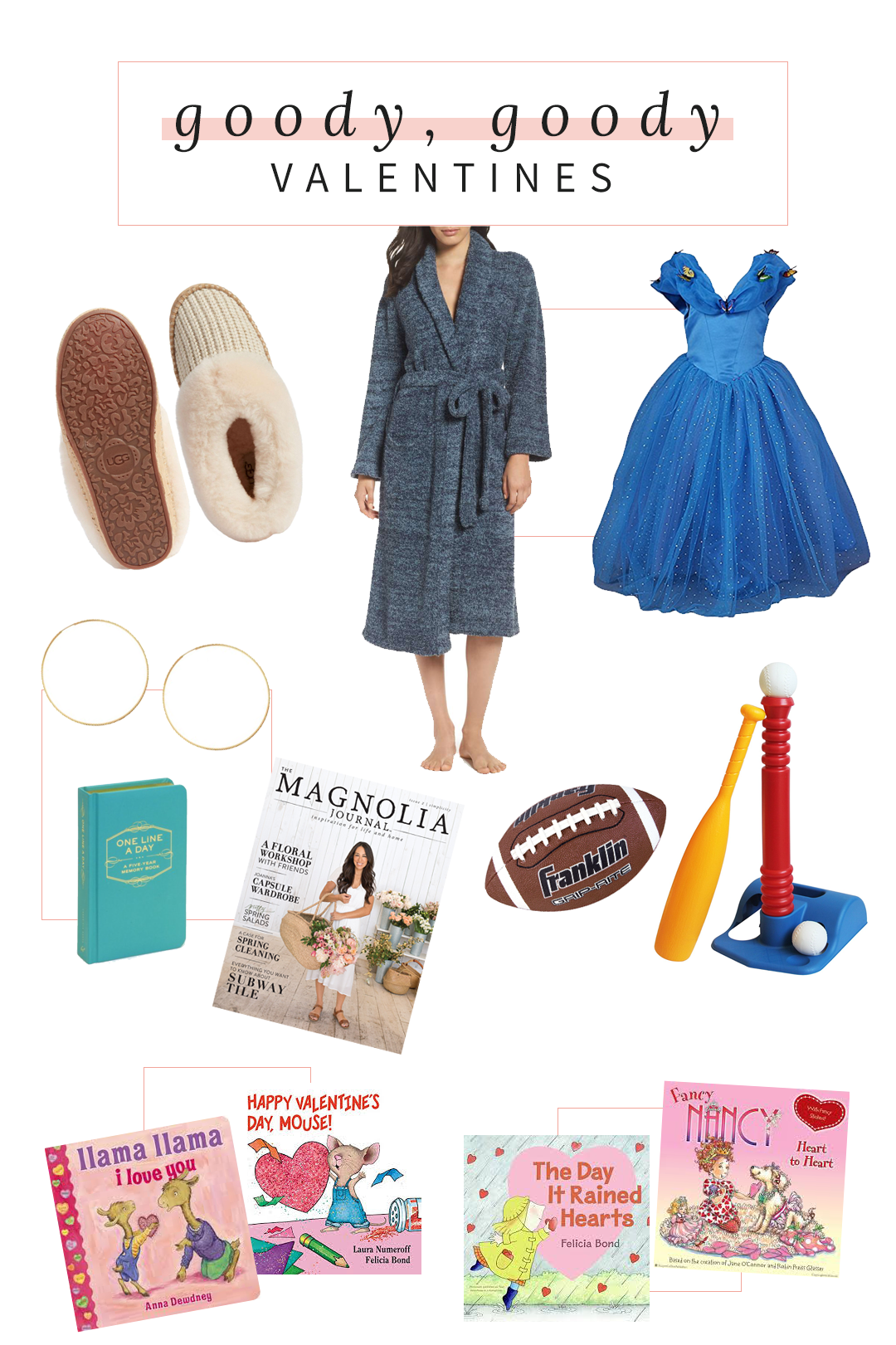 (Left to right, top to bottom: house slippers, robe, Cinderella costume, endless hoop earrings, junior football, t-ball set, one line a day, Magnolia Journal subscription, Llama Llama I Love You, Happy Valentine's Day Mouse, The Day It Rained Hearts, Fancy Nancy Heart to Heart books.)
Right now, Britt is into all things sports. He got a basketball goal for Christmas and wants to play all the time. He's also super obsessed with one of Justin's home run baseballs from high school. He carries it around constantly; so much, I'm afraid one of us is going to end up with a black eye. Since he's so into sporting balls, I thought a football and t-ball set might be fun gifts for him.
Joy Belle is our drama mama. She's always dressing up and is obsessed with her Elsa dress. She's specifically asked for "more princess dresses" for Christmas or Halloween. She's not too sure which one comes first, so I think I'm going to surprise her with one for Valentine's Day and one for after her surgery.
As for the rest of the list, what woman wouldn't want comfy, house slippers and a robe? One of my gifts for Christmas was a One Line a Day book and it's just so sweet, I can't think of a mom that wouldn't love it or a subscription to Joanna Gaines' journal. And those endless, hoop earrings are available in gold, silver, and rose gold!
Want to shop those earrings? Emma Jane Designs has so generously offered all of you a 25% off discount through the end of February. Just use HEAPEOFLOVE at checkout! Plus, she's recently launched monthly, jewelry boxes that are simply beautiful. With a subscription, you'll receive a box of jewelry handpicked and designed by Emma Jane each month. For $10 off your first month's subscription, use code SIGNMEUP.