It's that time – time to share my monthly finds! In June, I discovered some really awesome things that I am loving and just couldn't resist sharing with you. So, here it goes!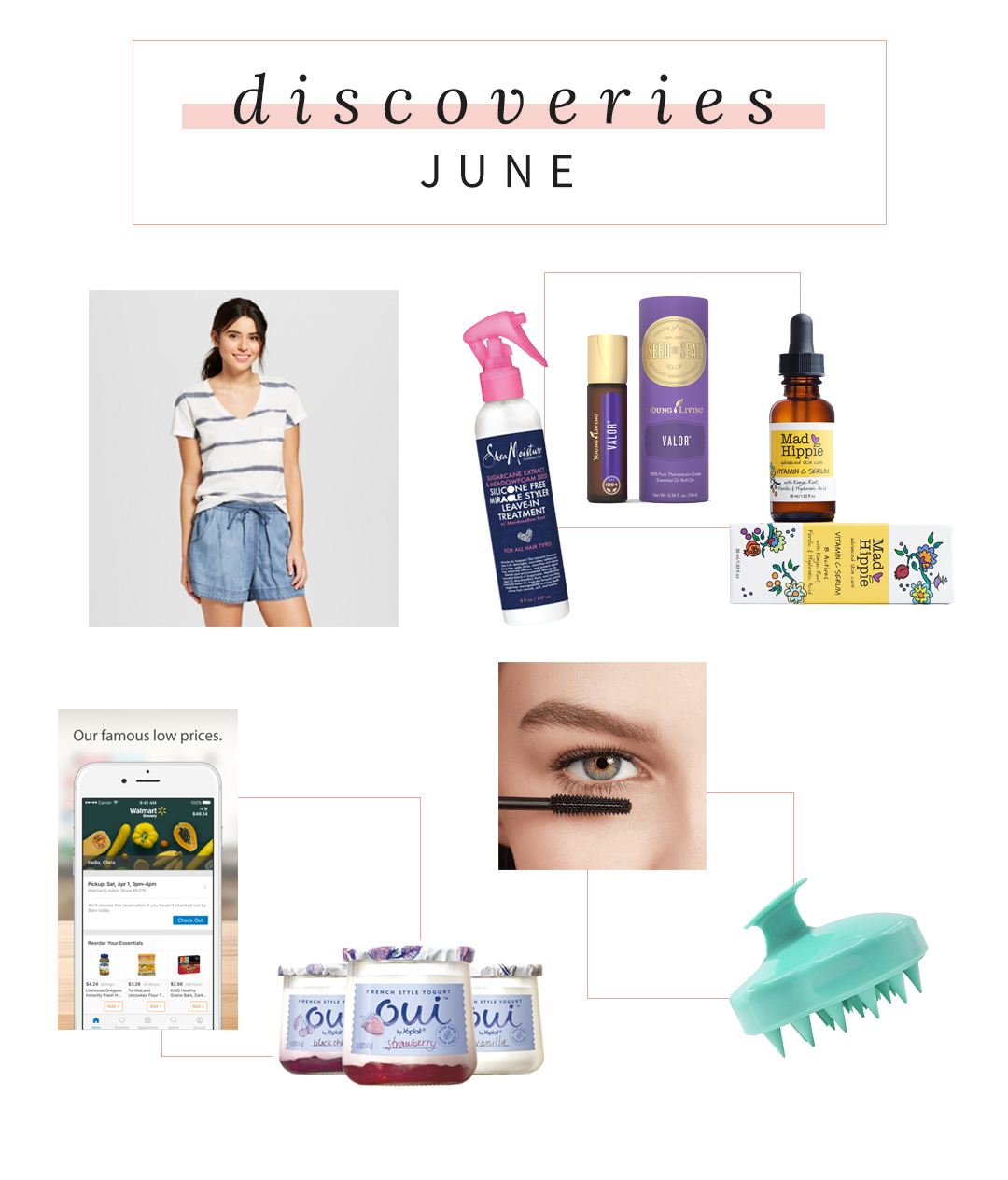 Sources (left to right, top to bottom): Universal Threads at Target , SheaMoisture leave-in treatment, Young Living™ Valor® Roll-on, Mad Hippie's Vitamin C serum, Walmart Grocery app, Oui Yoplait yogurt, Thrive Causemetics™ mascara, and scalp massaging brush.
Have you seen Universal Threads at Target? I have become obsessed with their $8-ish tank tops this summer. In fact, if you see me – I'm likely wearing one. They are so comfortable, soft, and affordable, and I love the distressed look of most of them. Just last week I grabbed two more, because how could I pass up a 2 for $10 deal? They also have the cutest, denim jackets right now. And if I weren't 30+ weeks pregnant, I would most definitely be squeezing into some of those denim shorts!
This Shea Moisture leave-in treatment is amazing! I'm not sure how I stumbled on it, but I love to pump 2-3 sprays into my hand and thread it through unwashed hair. It adds a little texture, but leaves my hair smelling amazing and feeling extra soft.
If you've been reading my blog for long, you know I'm a big fan of essential oils. However, it's only been recently that I've discovered the amazing properties of Valor®. Young Living's Valor® roll-on has become my go-to for all achy, pregnancy symptoms.* There is rarely a night I don't roll this beautiful, blue oil down my spine.
In search of a good, vitamin C serum for my skin, I reached out to you all in my Facebook group and on Instagram. As usually, you all came through for me. I tried several, but fell in love with Mad Hippie's Vitamin C serum. It's definitely the best bang for your buck (after some comparison) and it feels heavenly on your skin. After just weeks of use, I've already noticed a decrease in my sunspots/melasma and forehead wrinkles.
Ok, this one is for anyone that hates grocery shopping! Let me introduce you to Walmart Grocery Pickup. I use the app to create my list as I notice we're low or out of something. Once I'm ready to checkout, I choose the day and time I would like to pickup my order. It's really that easy! Whenever I pull-up to Walmart's pickup parking, I click "Checkin" on the app and a representative brings my groceries to the car, loads them, and brings me a cold bottle of water. Not only is it convenient, but it's helped us save lots – particularly on my in-the-moment purchases I can make while I'm hungry. Plus, they have a great referral option. For every friend or family you refer, you'll save $10 and they'll save $10. Isn't that great? Click here for $10 off your first order!
Oui! Literally means, yes. Yoplait® recently released Oui, a French style yogurt and let me tell you, it's delicious. It's so good, my kids think it's ice cream. I've started mixing their probiotics in and they haven't even noticed.
I posted a question on Facebook awhile back, searching for an all-natural, paraben and sulfate-free mascara. I had tried a few brands but wasn't pleased with the fall-out under my eyes by midday. A few people recommended Thrive Causemetics™ and woah! Not only is the mascara truly a great mascara, but the Thrive Causemetics™ story is a tearjerker. Makeup artist and product developer, Karissa, lost her 24 year old friend, Kristy, to cancer. Kristy's vivacious spirit inspired Karissa to a create cruelty, paraben, and sulfate free, vegan product that gives back. The brand's philosophy is beauty with a purpose and for every purchase, a donation is made to help another woman thrive. Give me a good product that gives back and empowers women, and I'll be a valued shopper forever. Shop my link here for $10 off your first purchase!
Postpartum with Britt, my scalp was dry and I noticed my hair thinning a lot too. After a little reading, I learned that our scalps need exfoliating and massaging. Cue the most wonderful, scalp massaging brush ever. For only $7-$8 on Amazon, I snagged this silicone brush. I use it daily – while shampooing my hair OR when I'm getting ready, just to add some volume to my unwashed locks. Not only has it helped with the dryness, occasional bumps, and hair growth too, but it feels absolutely amazing.
Want to discover some of my other favorite products? Check them out here.
.
If you're shopping Amazon Prime Day, visit smile.amazon.com to shop with a purpose! A percentage of our purchases supports MiracleFeet. I cannot wait to see what deals pop up on Prime Day 2018.
Click here for $10 off your first order from Thrive Causemetics™.
Click here for $10 off your first order with Walmart Grocery Pickup. (You get $10 off, and so do I.)
*Please note that all suggestions are of my own opinion and specific to Young Living essential oils. My statements have not been evaluated or approved by the FDA. In no way am I suggesting that these oils will cure, alleviate, treat, prevent, or diagnose a disease, symptom, or injury. Please do not replace your current prescriptions or OTC medications based on the information provided on this blog. Keep out of reach of children. Click here to join my oily community and get 24% off future Young Living purchases. I would love to have you!
SaveSave
SaveSaveSaveSave
SaveSave
SaveSave