Over the years I've managed to compile a collection of Christmas books – some from my childhood, some new. I love them all and so do my little ones! We start reading them on December 1 and on into the new year. Most of my childhood books are no longer available, but here are a few of the newer ones in our collection.
Unwrapping the Greatest Gift and The Greatest Gift by Ann Voskamp are two I like to read together. We read Unwrapping the Greatest Gift with the kids and I read The Greatest Gift as my daily devotional for December. Each book was written to read a section daily. Even though the daily excerpts are short, my little ones are still a little young to stay focused. We still try and I hope it becomes something they look forward to over the years.
A few years back, I first discovered The Giving Manger. I cannot read this one without crying, seriously. Even after years and knowing the story's end, I cry every single time. It's a beautiful story that encourages children to serve others.
The Christmas Promise is actually on my wishlist. I ordered it for the babies this year, but it's out of stock and may not make it. But the story and illustration are absolutely beautiful! I can't wait to add it to our collection.
The Tale of Three Trees tells a story that reminds us that God's plan for us is far greater than our own. It's not particularly a Christmas book, but it does end with the birth of Christ. Have you read this one? I feel like most people have at least heard the story.
Itsy Bitsy Christmas and The Crippled Lamb are authored by Max Lucado. Itsy Bitsy Christmas is a story of two tiny mice that learn Christ was born for everyone – big or small. The Crippled Lamb was actually gifted to us this year and quickly because a new favorite. It's about a crippled lamb named Joseph that comes to realize God has a special plan for everyone – even those that feel alone. Both are really beautifully illustrated and stories you want to teach your little ones.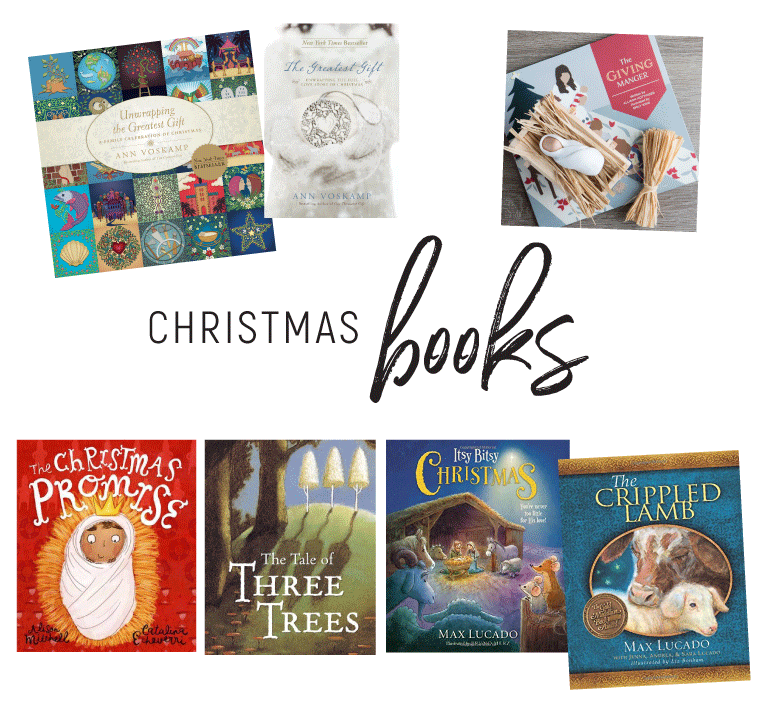 Sources: Unwrapping the Greatest Gift, The Greatest Gift, The Giving Manger, The Christmas Promise, The Tale of Three Trees, Itsy Bitsy Christmas, and The Crippled Lamb
Books are timeless and such a great gift for all ages. What are some of your favorite books to read this time of year?