Do you struggle to find gifts for her? I know my husband isn't the only one! If you're on the search for gifts for her – I've got a handful of ideas you can still snag on Amazon Prime + some of my favorite things right now.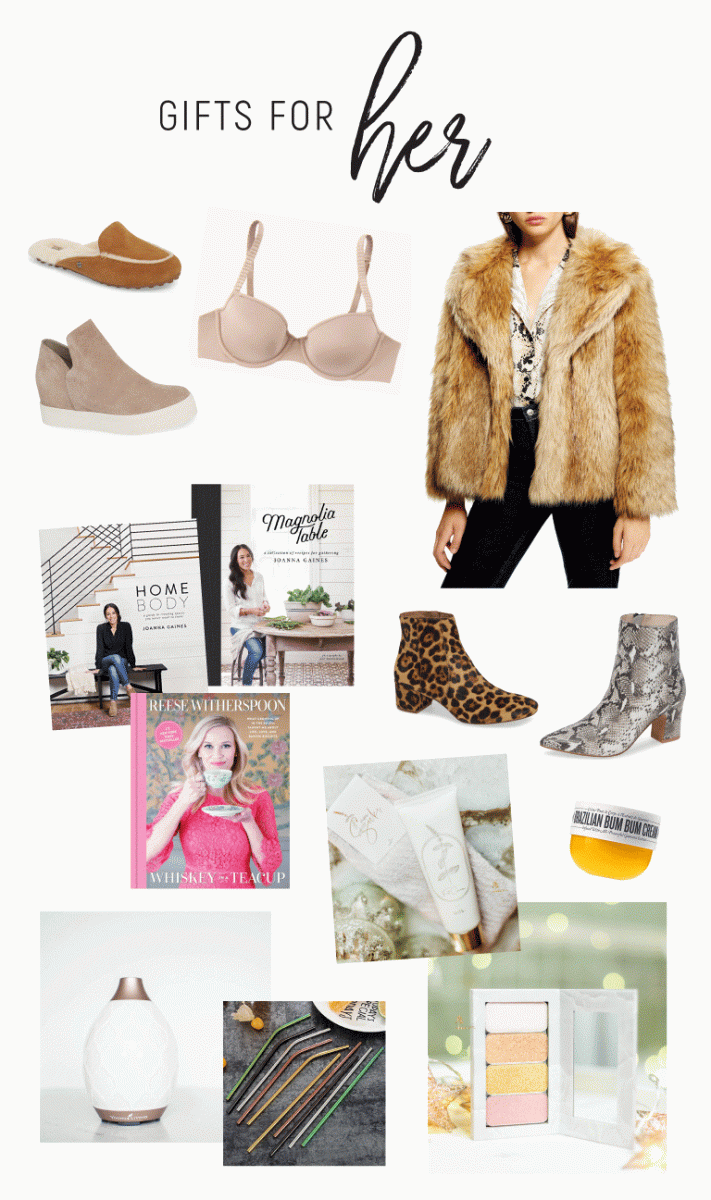 Sources: Ugg slippers, Steve Madden sneaker wedges, Third Love t-shirt bra, fur jacket, Home Body by Joanna Gaines, Magnolia Table cookbook, Whiskey in a Teacup by Reese Witherspoon, printed bootie, MILK foot cream, Bum Bum Cream; Young Living diffuser, stainless steel straws, custom makeup palette.
I've worn cheap slippers in the past and eventually traded those in for my hospital, no-slip socks – just keeping it real! But I've wished for some cozy, Ugg slippers for quite some time. This particular pair were my #1 wish this year. Maybe I'm getting old, but I just want warm toes and soft soles. Just another reason I snagged this MILK foot cream and sock set for myself and gifts this year. It's basically an at-home pedicure in a bundle.
Shoes are my thing. I tend to find one or two pair that I can't get enough of and wear until they're worn out. With small feet, it's often hard to find a good fit and something on trend. This year I've noticed the trends to include lots of printed shoes, which is why these two styles made my gift guide. I'm also in love with my sneaker wedges I snagged this fall. They're perfect for feeling fashionable, but still being able to chase a 2 year old.
I splurged a year or so ago and got this Third Love t-shirt bra. Y'all, it's so comfy. Ladies, we live in these things. We might as well pay a little more for comfort. I know I'm not the only woman out there that wants to take her bra off as soon as she walks in the door to her home. No more! I hardly remember I'm wearing it and can't say enough positive things about it.
Let's talk fur. It's back, but really, was it ever out? I have no clue, but I would love a fancy fur jacket like this one. There are definitely some cheaper options floating around the internet (and locally, friends!), but this one is my personal favorite. I love the color and fit.
Cookbooks are always on my gift lists, because I just love a good cookbook. Even with Pinterest recipes out there, my go-to dishes are from some classic cookbooks. Magnolia Table is a goodie, but I've been wanting to read Home Body by Joanna Gaines and Whiskey in a Teacup by Reese Witherspoon. One is a recipe/style guide to decorating your home and the other has everything from recipes, to how to curl your hair.
The Brazilian Bum Bum cream and custom, makeup palette are my suggestions for a little self love. Sol de Janeiro sells the Bum Bum cream that has won many awards for the magic it does for your skin. (Also available on Amazon and would make a great stocking stuffer!) And you all know I love Maskcara Beauty and the many variations of compacts you can customize for your skin. The holiday bundles are b e a u t i f u l and sure to be a hit for any lady in your life.
Our entire family (with the exception of Aurelia) are obsessed with drinking form stainless steel cups. That's why these stainless steel drinking straws are perfect for everyone and will be found in our stockings this year!
Young Living has the most amazing collection of essential oils, and my favorite way to get the benefits of these oils is from a diffuser. Pictured is my favorite, the Desert Mist diffuser. It runs for up to 10 hours and has a gorgeous, candlelit flicker mode. We have one in every bedroom and use it as a night light for the littles. It doubles as a humidifier for the wee-one too! (If you're interested in any Young Living products, message me about how you can receive the wholesale discount prices.)
What's on your must-have list for Christmas this year?