I absolutely love showering my little people with gifts. Seeing them light up brings me so much happiness! In years past, the children have been overwhelmed with the number of gifts they receive – so we decided last year to limit the gifts. From us, each child receives 3 gifts – something they really want, something "to do", and something they can play together.
With that in mind, I created a gift guide for the little ones.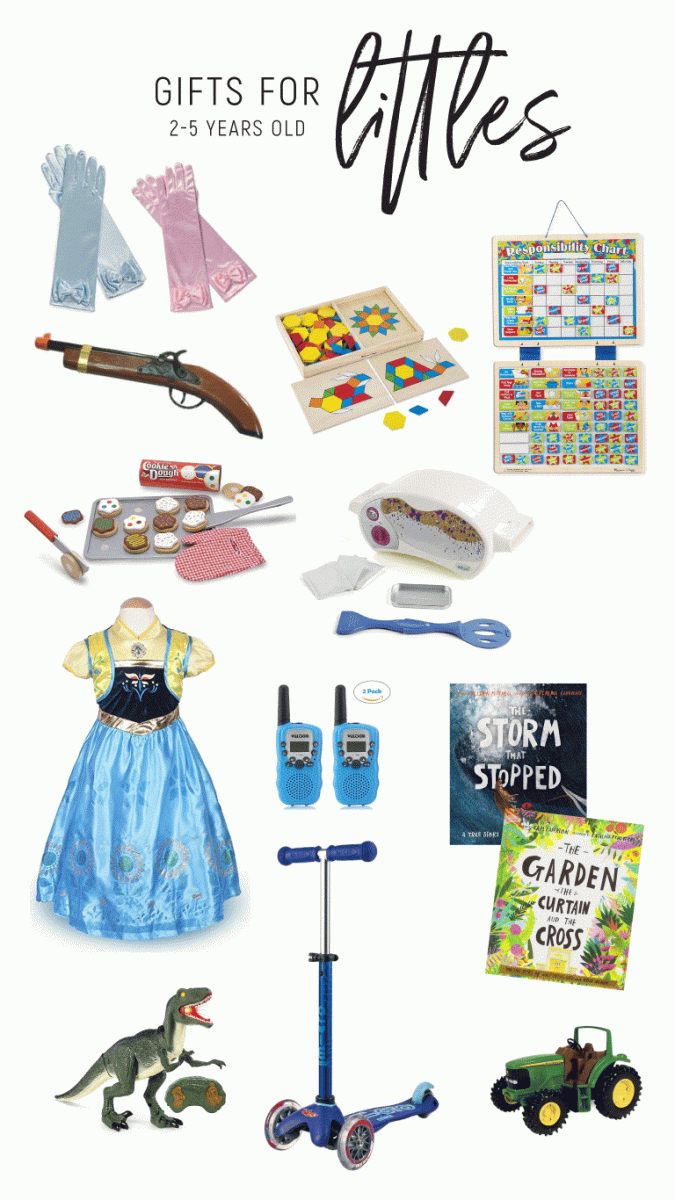 Dress-up: Joy Belle loves dressing up. On any given day, she dresses as Cinderella, Belle, and Elsa (Disney princesses). Her favorite dresses are these. They're quite realistic and are very durable for everyday wear and play. She loves to wear these with a princess crown and coordinating gloves. I found these gloves on Amazon for her Halloween costume and they were an instant hit with our little princess.
Toy Gun: While this one probably isn't the most politically correct gift, our little boy is obsessed with "shooters", dinosaurs, monster trucks, and tractors. He'll turn anything into a "shooter", so we found this antique style pop-cap pistol for him. I think he'll love it!
Imaginative Play: A few years back, my dad and I built Joy Belle a toy kitchen. It's still by far the most played with toy. It's easy to find toy foods, but this cookie tray by Melissa & Doug has been a favorite. Not only do the kids enjoy pretending to bake cookies, but it's a great learning tool for matching and learning patterns.
Educational: Melissa & Doug create some of the most classic toys. I love this pattern blocks and board set for activities that are fun and educational. This one is for ages 3+, but Britt is 2 and really enjoys it. The Responsibility Chart is another Melissa & Doug favorite that encourages the kids to help out around the house. I love anything like this that gets the kids thinking and I can use as a teaching tool.
Books: A dear friend recommended these Tales That Tell the Truth books. I purchased one for my niece and can 100% recommend these books. They're all about teaching little ones about who Jesus really is and they are beautifully illustrated. I'll be adding each of these to our book collection over time. The Christmas Promise is the perfect book for the holidays.
Baking: The Easy Bake Oven was a classic toy I loved growing up. Now that Joy Belle is a little older, she really enjoys watching baking shows on t.v. (She's especially fond of Nailed It.) This one didn't make the cut, but I have no doubt any little girl around her age would love it.
Walkie Talkies: These were actually a gift Joy Belle received last year, but the kids love them. They're so cute talking to each other from room to room and outside. I would recommend these for kids 3+

Toy Dinosaur: Last year we got Britt a container of miniature dinosaurs and he still plays with them. If your little one loves dinosaurs, you can't go wrong with this remote controlled t-rex.
Scooter: Growing up in the 90s, we played outside a lot. My favorite memories were made riding bicycles and scooters up and down the driveway for hours. My little people love to be outside, so I thought these scooters would be great. They come in various sizes making them the perfect gift for kids of all ages.
Toy Tractor: Britt is obsessed with all things with wheels, specifically tractors and monster trucks. He can play all day with toys like this set. I'd imagine this is a good gift for most little boys with an imagination.
I really like to get them a game too – something they can share and play together. Connect Four, Hungry Hippos, Mancala, and Candyland are a few that I would recommend.
Christmas is in less than a week, my shopping is done, but not one present is wrapped. I wanted to be more intentional with our time this season, but as usual the time is slipping away and the holiday season is floating by. Maybe I'll get a present under the tree before Christmas is here!
How about you? Are you a procrastinator like me? Or do you already have gifts wrapped and tied with bows?